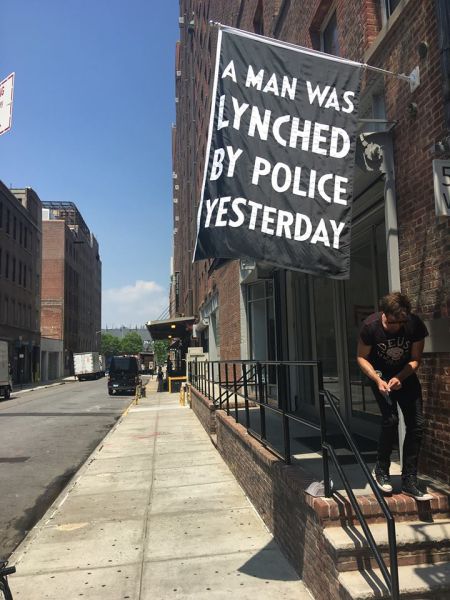 Artist Dread Scott responds to recent shootings with flag installation. The artist has created a piece inspired by a 1936 flag that once hung outside the New York NAACP headquarters. Scott's flag that reads "A Man Was Lynched By Police Yesterday" in stark white letters against a black backdrop. The work has been installed outside Jack Shainman gallery on West 20th Street in Chelsea, and Scott told Artnet News it's a direct response to the killing of Walter Scott, a black man shot by police in South Carolina during a routine traffic stop.
Warhol Museum director departs for gig at Sotheby's. Eric Shiner, who has been with the Pittsburgh museum for the past eight years, will be a senior vice president for Sotheby's new art advisory arm. He will focus on private sales of 20th and 21st century art, according to a release.
Old Master painting sells for $58 million, sets new world auction record. Peter Paul Rubens' Lot and His Daughters fetched a record price for the category at Christie's London after a heated 14-minute bidding war.
Brooklyn Museum loses AC in the middle of New York's sweaty heat wave. The museum will be closed through next Wednesday, and while it may be a mere inconvenience for visitors, it's a serious situation for staffers who will busy monitoring artworks closely and moving more delicate pieces to climate controlled spaces.
Museum exhibit takes Star Trek fans to the the deck of the Enterprise, and beyond. "Star Trek: The Starfleet Academy Experience" opens at the Intrepid Sea, Air & Space Museum this Saturday, and proposes to take visitors through the experience of being a space-exploring cadet. It's a bit of a promotional play for the new Star Trek movie, but for any hardcore Trekkie it's a must.
Gagosian to represent German artist Katharina Grosse. The artist recently transformed an abandoned building in the Rockaways into a whimsical and colorfully spray painted immersive art installation. Grosse will have her first show with the gallery in 2017.