It took over one year and more than $1 million in price reductions, but famed German artist Georg Baselitz has finally managed to bid adieu to his Chelsea loft.
Baselitz and his wife, Elke, purchased the sixth-floor condo at 223 West 19th Street in 2008 for $2.7 million, and put it on the market in 2015, when they attached the (apparently rather ambitious) $4.9 million price tag.
It would seem that buyers weren't quite as interested in Baselitz's three-bedroom, 2.5-bathroom abode as they might be in his art—at least not initially, anyway.
Baselitz's work is known for being a bit controversial at times (by which we mean his sculpture that many claimed portrayed a Hitler salute), and there are also those rather (actually, incredibly) offensive comments he made about female artists. First, when he declared, "Women don't paint very well," in 2013, and then his lovely follow-up in 2015, in which he stated that "if women are ambitious enough to succeed, they can do so, thank you very much. But up until now, they have failed to prove that they want to. Normally, women sell themselves well, but not as painters." He also said that this is all seen through the art market because female painters don't fetch high prices at auction like men do. Cough, gender pay gap, cough.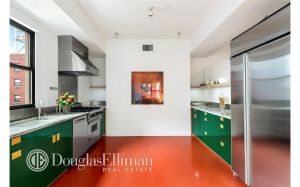 But back to the apartment, which, per the listing photos, doesn't look to have any especially offensive qualities. The full-floor pad is accessed by way of a private elevator landing that opens directly into the apartment, and the master suite has a walk-in closet as well as a bath with a double vanity, soaking tub, and a sauna. The corner living room is "ideal for entertaining," says the listing, held by Douglas Elliman (DOUG) broker Matthew Mackay.
The kitchen has emerald green-painted cabinets, and, as one may have imagined, it looks like there is lots of wall space for any potential art collectors. The space also features a balcony with views of the Empire State Building, all of which must have appealed to Casey and Noah Weiss, since they just paid $3.43 million to take up residence in the 2,342-square-foot abode.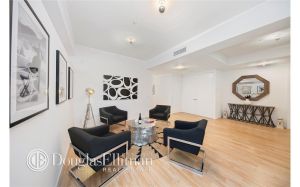 As for where the acclaimed artist will go next? Perhaps the city just wasn't able to hold up when they compared it to their European homes—Baselitz and his wife have resided in Austria and Germany for a number of years, and they do, after all, own Castle Derneburg, located outside Hanover. And really, what's a Chelsea loft compared to a castle?