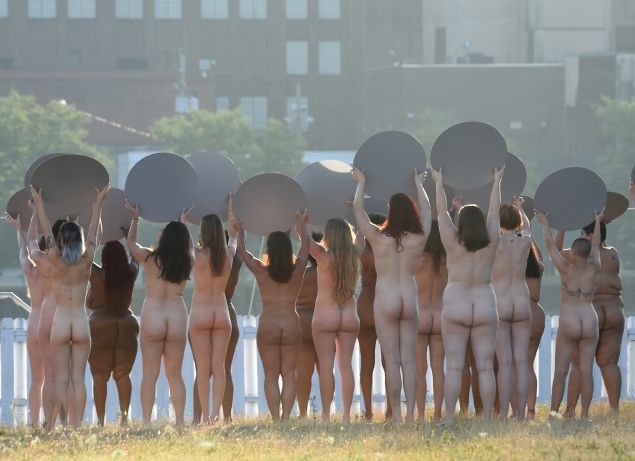 Artist Spencer Tunick recruits 100 naked women to stand outside Republican National Convention. The artist just finished painting 3,200 people blue in Hull, England for a massive photo shoot. On Sunday, 100 women stood, in the buff, holding mirrored disks outside of the Convention in Cleveland.
Over 100 employees offered buyouts at three New York museums. On Friday, 56 staffers at the Met took buyout deals as the museum shaved costs to help balance its $10 million deficit. Meanwhile, 42 people at MoMA accepted buyouts and 24 at the Brooklyn Museum
Author of report on Damien Hirst formaldehyde sculptures retracts leak claims. Pier Giorgio Righetti, a chemistry professor in Milan, is retracting a controversial study that claimed works by Hirst shown at the Tate Modern in 2012 leaked formaldehyde fumes. Now, Righetti says his findings were "inaccurate and unreliable."
Austrian government to seize control of Hitler's childhood home. New legislation will give the government ownership of the house in Braunau Am Inn, Austria where the Nazi leader was born. However, officials remain divided on what to do with the house; some feel it should be torn down, and others would like to turn it into a museum.
Cleveland artists respond to Republican convention. Writer Jillian Steinhauer takes the temperature of the city's local artists as they prepare for Donald Trump and the Republican party to descend on their city.
17 Le Corbusier buildings added to World Heritage List. Historic designs in Marseille, Antwerp and Tokyo are among those added to the Modernist section of UNESCO's list.