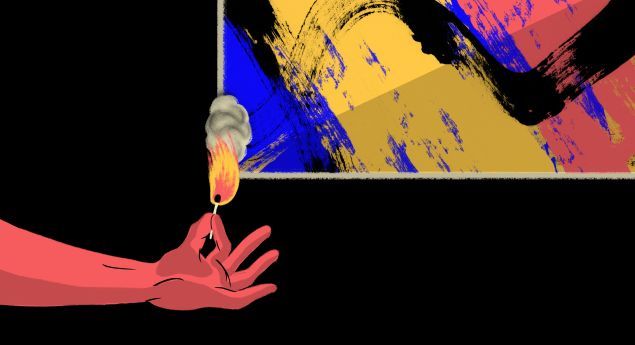 The Public Projects section of sculptor Elyn Zimmerman's resume is lengthy and includes public art installations from 1982 through 2010. Two projects, however, aren't on the list. One of those, from the mid-1980s, was for the plaza outside an office building in Bethesda, Md., involving large pieces of stone that channel water emanating from a fountain. "A contractor, looking at it, couldn't figure out where the water would drain out, so he just drilled this big hole in the bottom," Zimmerman told the Observer. "I had a plan for how the water would drain and where it would go, but this contractor just made this big hole in my work, and there was nothing now I could do. I just said, 'I can't have my name on this,'" and walked away, leaving behind a decorative assembly of stones for which no credit was listed anywhere. As though the stones fell from the sky. If it looks like an Elyn Zimmerman, well, it isn't…anymore.
Most artists want their names and reputations to live on through their work. But from time to time, some will demand that the owner remove their names from the artwork they created when something happens that makes it less of a credit to their name and more of a liability. The artwork is "disclaimed," "disavowed" but not destroyed—it becomes art without an artist.
It certainly isn't just Elyn Zimmerman. Sculptor Athena Tacha had her name removed from a mid-1970s installation in Smithtown, N.Y., after town administrators stopped taking care of it ("the waterfall stopped running, the pool was a mess") and made what they viewed as improvements, such as "planting a tree in the middle of it. It became totally unrecognizable to me," she said. In the past three years, artist Cady Noland has disclaimed authorship of two of her artworks, a 1990 image printed onto an aluminum surface (Cowboys Milking) and a sculptural 1990 piece Log Cabin Blank with Screw Eyes and Café Door, both times claiming condition problems. Both disclaimers affected sales of the respective pieces and, as a result, triggered lawsuits. The lawsuit involving Cowboys Milking, which named Noland as a defendant, was dismissed by the courts, while the one for Log Cabin is ongoing.
Demanding that their names be removed from artworks is one of the principal actions that artists may take when something happens (drilling a hole in it, planting a tree on it) or doesn't happen (ordinary maintenance, such as rust removal) to these pieces that render them quite different than their original look and condition. Of course, the owners of the art may not be happy with such repudiation
A federal law, the Visual Artists Rights Act of 1990, or VARA, permits artists to disclaim authorship of their art if that artwork "has been distorted, mutilated, or modified so as to be prejudicial to the [artist's] honor or reputation." Certainly, it cannot be expected that art objects will look pristine indefinitely: Colors fade, metal rusts, organic materials decay. With regards to Cowboys Milking, the type of physical changes that took place in the work allegedly resulted from the passage of time and inherent fragility of the materials used by the artist; the lawsuit against Noland by a dealer who had brought the work to Sotheby's to sell was dismissed by the courts on other grounds. Log Cabin was in need of restoration before it was purchased in 2013 (it had been displayed for 10 years outside unprotected as the artist intended), and the German gallery that sold it to a Cleveland, Ohio-based art collector had brought in a conservator who replaced the cabin's rotting wood without consulting the artist, leading the artist to declare that the entire piece was ruined and that her name could no longer be associated with it.
VARA exempts "the passage of time and inherent fragility of the materials," as well as changes to the artwork as "the result of conservation," when an artist looks to preemptively block changes that the artwork's owner might make or to collect damages, unless the conservation is grossly negligent. The right to disclaim authorship, however, has fewer impediments.
The audience for disclaiming authorship of an artwork is not just its current owner but future buyers who may be dissuaded from purchasing something that the artist claims has been distorted or mutilated. A successful artwork disclaimer would become part of the object's provenance. VARA also gives artists a right to prevent some types of modifications to a work under limited circumstances, but that right is more narrowly drawn than the artist's right to disclaim it once the damage is done. "Under VARA, an artist's right to disclaim a work is a bit broader than his ability to prevent its modification or destruction," said Kate Lucas, an attorney with Grossman LLP, a Manhattan law firm specializing in art law. "And it seems reasonable to give an artist more control over how his name is connected to a work, and less control over what the owner of an artwork can actually do with his or her own property. In this regard, VARA is an attempt to strike a balance between private property rights of an owner and the less-tangible moral rights of an artist."
There have been relatively few cases decided under VARA, and none of those have decided the contours of when an artist may disclaim authorship or what sort of changes in the artwork might trigger a disclaimer. The care and maintenance of artwork by its owner represents a gap in the law, or at least an area where the courts have not yet provided clarity through rulings. Many artists who are commissioned to create public works of art often seek to fill this gap through signed contracts specifying how and how often their creations are to be cared for. Sculptor Donald Lipski, for example, noted that his lawyer, art attorney Barbara Hoffman, has inserted clauses into these contracts that require the buyer "to provide reasonable maintenance of the Work in accordance with instructions to be provided by Artist on Final Acceptance" and that the buyer "agrees to consult with the Artist for any repairs or restoration of the Work and pay Artist a reasonable fee if Artist engages in conservation or repair service." In one of these contracts with a municipality, the option of Lipski disclaiming authorship of the work, in the event of poor or absent maintenance, is stated:
The City shall maintain the Artwork in accordance with the maintenance instructions provided by Artist. If the City fails to maintain the Artwork in accordance with the maintenance instructions provided by the Artist, the Artist may make a written request to the City that the Artwork no longer be represented as his work, then the Artwork shall no longer be so represented and the City shall remove all references to Artist on the Artwork or other items or documents under the City's control.
Government agencies have a relatively good record in maintaining the condition of public artwork, according to Jean Efron, a Washington, D.C. art consultant who has arranged public and private art commissions for over 40 years. Local, state and federal governments have maintenance crews that inspect, clean and refer for restoration artworks that they have commissioned. If she learns of an artwork in need of cleaning or some other treatment—usually, "after the artist brings it to my attention"—Efron will "go look at the work and then talk with the commissioning agency about what needs to be done." More problematic are private building owners and developers who commission artists and then sell the property (including the artwork) to someone else. "That's when I have less control. The commissioning agreement requires the buyer to perform certain tasks, but the new owner may well not be subject to a legal requirement to maintain the artwork." In a few instances, she noted, artists have found that their creations were physically removed and presumably scrapped by a new owner. "It's just gone."
Artists sometimes do not want to be associated with their own work for other reasons than alterations made to it through time, neglect or poor conservation. In some cases, they have thrown unsuccessful works out only to find people going through their garbage to retrieve these pieces and put them on display. Robert Arneson (1930-92) discovered this when he taught at the University of California at Davis. Periodically, he had trouble with the glaze on one of his sculptures, taking the piece out of the kiln and breaking it on the floor, then putting it all in the school's dumpster. "Students would go through the dumpster, picking out all of the pieces and gluing them back together," said Sandra Shannonhouse, administrator for the Arneson estate, "and then they'd keep them or sell them, mostly sell them. It irritated him, first, that students would retrieve things he thought were below his standards and, second, that they would rip him off."
The second life of thrown-away artwork is more likely to be the art market; pieces that an artist had discarded and presumably disavowed may generate high prices and (possibly) damage to his or her reputation. At least once, the matter has found its way into a court of law. Frank Stella, who had placed some damaged artwork outside for trash pick-up only to find the work placed on exhibition at a Manhattan art gallery several months later, sued for the return of his work. He won but had to purchase the work back.
Stella's second try at getting rid of the piece was more successful. It usually takes only one time to find a discarded work up for sale to make artists more careful about how they destroy items. For his part, Jamie Wyeth, who claims that he destroys "a third of what I do," sometimes tearing artworks up into small pieces, although his method of choice is burning. "It's an integral part of my work," he added, "destroying unwanted art." Sculpture foundries tend to be highly systematic about completely obliterating the molds used in producing bronzes. "We destroy the molds, and we photo-document the destruction," said Eliot Gantz, the owner of a foundry in Farmingdale, New York, and Ranieri Sculpture Casting in Manhattan makes a point of cutting up the mold in small piece "in front of the artist," according to foundry president Domenico Ranieri.
Other artists reject their early work for not reflecting their more mature aesthetic ideas, such as German artist Gerhard Richter who excluded his realistic, figurative paintings from the early to mid-1960s from his catalogue raisonné, and Pablo Picasso who tried to deny painting the 1902 or 1903 La Douleur, which depicts a nude woman with her head in a young man's lap. Picasso later described the work as a "joke" among his friends. Artist Richard Prince produced paintings, drawings, collages and etchings in the 1970s before he became, in the 1980s, a celebrated neo-conceptualist known for appropriating images from advertising and elsewhere. Prince claims to have destroyed 500 of these early works: "Just ripped them up," he said in a 1988 Flash Art magazine interview. He "put them in garbage bags." Why? "I didn't like the work I did 10 or so years ago."
He didn't destroy everything, however. He couldn't. A certain number of these pieces were sold during the 1970s, to corporations (Prudential Financial owns the largest single number of them), museums (the Brooklyn Museum, Walker Art Center and Worcester Art Museum, among others) and private individuals. Prince isn't disclaiming these pieces (he acknowledges that he made them and cashed the checks he received for them) but is claiming that these early works no longer represent him. As the legal copyright holder for them, Prince has refused to allow any of their images to be reproduced in books or catalogues.
The artist's biography, posted on his Web site, lists no exhibitions prior to 1980, and the rest of the art world has followed his lead. Much of the remainder of the art world has followed suit. The Guggenheim Museum in New York, which organized a touring Richard Prince retrospective in 2007, also dated the artist's career from 1980 in its discussion of the artist: "Since his first solo exhibition, at Artists Space in New York in 1980…." In this, the Guggenheim was following the lead of the Whitney Museum of American Art, which staged a retrospective of Prince in 1992 and did not include a single early work by the artist.
Like most of us, the artist Richard Prince wishes he hadn't done certain things earlier in his life, but his actions—and those of Gerhard Richter and perhaps even Cady Noland—pose the difficult question: Can, or should, an artist define what is his or her career output? Or, when that career began. Are they the best judges of their own work? Readers of fiction are undoubtedly pleased that Franz Kafka's friend Max Brod chose to ignore Kafka's death-bed directive to destroy all his writings, instead giving the world a group of celebrated novels, short stories and the word "Kafkaesque." Few artists and writers haven't tossed out something and, sometimes, quite a lot; those works may be mistakes or, perhaps, the artist makes a mistake in discarding them. Who are we to judge? Or, are we the only judge?