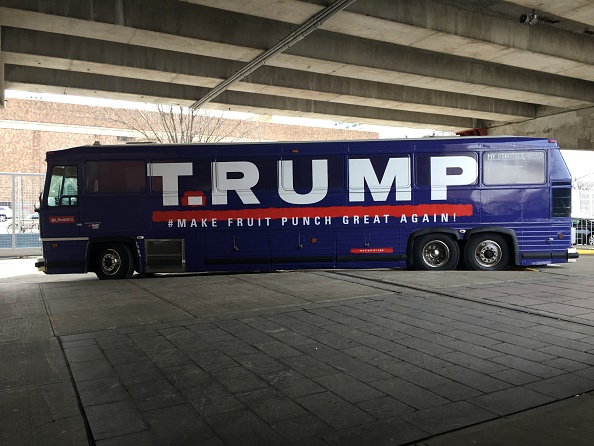 Artists start construction on Trump's border wall, send Mexico the bill. David Gleeson and Mary Mihelic first made headlines last year when they purchased a former Trump campaign bus and turned it into an Anti-Trump artwork on wheels. Now, the artists have started building a border wall near San Diego, California in homage to the extreme immigration policies Trump has touted in his campaign. Gleeson and Mihelic have also sent Mexican president a $14,635.42 bill for creating the work, and instructed the leader to send payment to Trump Tower. It's a little unclear how helping the presumptive GOP nominee build his wall between the U.S. and Mexico is "protest art."
Banksy art in Melbourne destroyed by construction workers. Three stencils of rats painted by the famous British street artist in 2003 were accidentally removed by workers during installation of a new door.
British antiques market suffers as post-Brexit anxieties heighten. Sales at Somerset's Shepton Mallet antiques and collectibles fair were downright dismal, while dealers reported better sales at the annual luxury Masterpiece fair in London.
3,200 people stripped naked and painted blue pose for epic photo op in Hull, England. Thousands painted three distinct shades of blue posed for artist Spencer Tunick at sites across the city such as the Scale Lane swing bridge and Queen's gardens.
Frida Kahlo's Mexico-U.S. portrait to go on view before November presidential election. In 1932, Kahlo painted Self-Portrait on the Borderline Between Mexico and the United States, which features the artist in a pink dress holding a Mexican flag and cigarette while standing against a backdrop of skyscrapers, smoke stacks and ancient pyramids. The painting will be featured in the Philadelphia Museum of Art's exhibition "Paint the Revolution: Mexican Modernism 1910-1950," which opens October 25.
Richard Prince to collaborate with High Times magazine on art exhibition. The appropriation artist will partner with the pot periodical on its September issue, and his upcoming exhibition at Los Angeles gallery Blum & Poe will feature lots of new marijuana-inspired art.