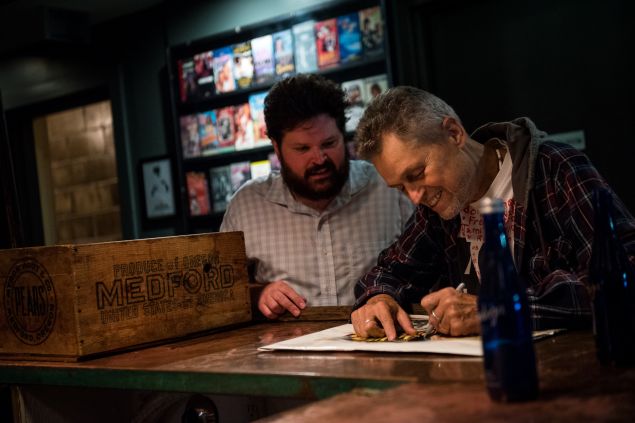 Gnarly.
That was the first word that came to my mind while watching the 35mm print. Mottled, splotchy, and 42 years old, it was at times so garbled you could barely make out what was happening on screen. And Max Cavanaugh, technical director and programmer at the Nitehawk Cinema in Brooklyn, was overjoyed.
Having the director of the movie, 1974's Caged Heat, in attendance didn't hurt. Cavanaugh had spearheaded the invitation of 1991 Academy Award-winning director Jonathan Demme (Silence of the Lambs) to Nitehawk. Now, Demme was watching as his first directorial effort, a women-in-prison exploitation film for Roger Corman's New World Pictures, shocked and delighted the Williamsburg audience.
 Cavanaugh, senior programmer Caryn Coleman, and cinema director John Woods are the force behind a week of big names at Nitehawk. Three Oscar-winning Best Directors made appearances at their cinema over a span of seven days. First was John G. Avildsen (for 1976's Rocky) on July 7, followed by Steven Soderbergh (for 2000's Traffic) on July 12, and lastly Demme on July 14. "They're all very much actor's director's in addition to having strong visual aesthetics and sense of cinema. They all create films that have a real artistry at work as well as being populist," Woods wrote the Observer. And surely, the prestige from having won Hollywood's biggest honor couldn't hurt.
The film community is tight-knit, even in a city like New York, and having connections is crucial in landing household names. Cavanaugh had met Demme's producer a decade ago, while Woods had met Avildsen through a mutual friend. Coleman contributed hers by bringing on Soderbergh, and suddenly Nitehawk was looking at a star-studded summer week.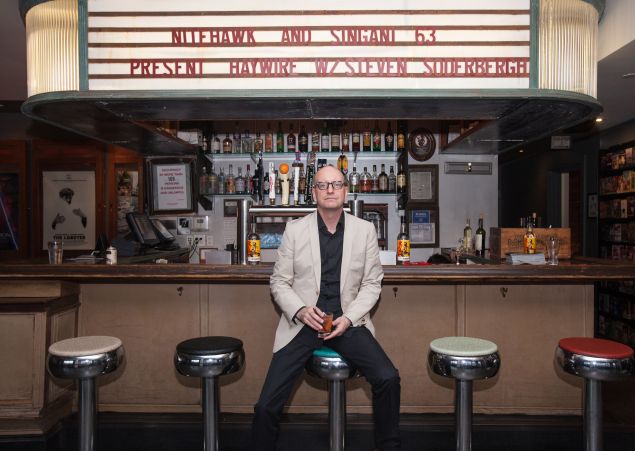 What's even more tight-knit than the film community, though, is the 35-millimeter film community. Nitehawk is one of a dozen or so cinemas in the city, according to Cavanaugh's estimate, that still show 35mm prints. 35mm has been on the decline for over a decade with the advent of digital projection; finally, in 2014, Paramount Pictures became the first major studio to no longer release films in 35mm film in the US.
That adversity has made the purists even more ardent. The act of acquiring a film becomes a treasure hunt: cinemas brag about having gotten their hands on a particularly high-quality print, and the buffs themselves are known to have rooms piled high with big metal wheels. Cavanaugh describes a die-hard film geek community, whose members swap reels like trading cards and pack theaters like Nitehawk on nights when a 35mm film is set to be shown. It becomes an event, with the grittiness of the prints adding a sense of proximity to the aesthetic.
Sometimes those events are, well, actual events. Since 2013, The Deuce has been a monthly celebration of both a lost art form and a lost New York City, so named for the seedy strip of movie theaters on 42nd St. in and around the 1970s. The block-long stretch between 7th and 8th Avenues was a hotbed of pulp filmmaking, showing "everything from Bond to porn," including some marvelously sleazy exploitation films like Caged Heat (famed pulp producer Corman was known to have a formula that included "action, nudity, sex, humor, and a little bit of social commentary if you could work that in.") Only 35mm films that were shown on that strip are featured at Nitehawk's tribute, and its niche appeal has attracted a rabid following. (And let's be honest, Williamsburg is probably the best place in the world to make this kind of thing work.)
Cavanaugh produces and programs The Deuce along with producer Joseph Berger, programmer Jeff Cashvan, and tour guide Andy McCarthy. Berger, who interviewed Demme before the screening, seemed thrilled when Demme recalled racing from work to catch films on the Deuce on his lunch breaks in 1968. "Dreeeam Street, we called it," said Demme, doing an excited verbal italicization that became one of his tics. Grant's in Times Square had "greeeeeeat" hot dogs. There's "noooooo" music documentary that can compete with the feeling of being live at a "greeeeeeat" concert (despite the fact that his Talking Heads concert film Stop Making Sense is widely regarded as one of the finest of the genre).
Emotionally, though, Demme has of late been feeling "horeeeeendous." "I'm from the Black Power, civil rights, Black is Beautiful, hippie generation. I am it," he said, before describing the pain he felt at seeing the injustices that have plagued the country in recent weeks. He took the stage wearing a homemade white T-shirt with names like Trayvon, Alton, and Freddie written on it in red marker, and took a moment to display it to the audience. "This is such a gigantic thing in our lives, as Americans, as humans on the planet now," Demme continued. "Here's hoping that we don't get used to it again."
It was tough to keep the irrepressible director down for long, however. Demme gave a number of anecdotes in his animated style, doing imitations of his collaborators and detailing how his producer Julie Corman, wife of Roger, once went into labor on a film set (and called the crew from the hospital to make sure everything was running smoothly on their end too).
It's that kind of off-kilter film-related absurdity that draws people to The Deuce. The crowd has many regulars, who stay after the final credits for the memorabilia raffle and then even longer for the drinks and discussion down at Nitehawk's first-floor bar, Lo-Res. Though Nitehawk is notable for its mid-movie food and drink service, the hospitality extends beyond the duration of the film.
Down in Lo-Res after Caged Heat, I told Cavanaugh that this had been my first time seeing a movie on 35mm. His eyes lit up. "That's why we do this!" he exclaimed. It's all about spreading the love of this increasingly obscure art form, showing people the beauty in something that has become obsolete and reminding them not to forget.