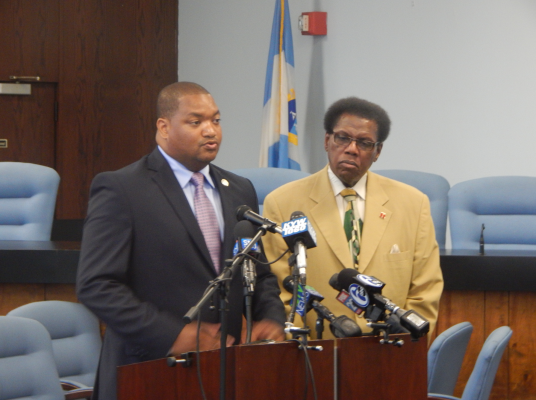 Following comments from Donald Trump laying the blame for Atlantic City's decline on its Democratic city council, council president and likely mayoral hopeful Marty Small is swatting at the real estate magnate for his business record in the shore town. Small also took a shot at Governor Chris Christie for his administration's inability to improve the gaming capital's economic outlook.
In advance of Hillary Clinton's appearance on the boardwalk Wednesday Trump took to Twitter and said Democratic lawmakers had done more to harm Atlantic City. Christie is currently being vetted as a potential running mate for the former reality TV star.
"I find it ironic that Donald takes a shot at the Democratic City Council as the downfall of Atlantic City, when his Republican BFF and Vice Presidential Candidate Governor Christie's staff has been in Atlantic City since 2010 and has failed Atlantic City Big Time," Small wrote in a statement.
"Donald's BFF Governor Christie had 4 casinos close under his watch, 3 summits, 2 emergency manager reports and a failed Revel Casino to be named later." Small continued; "Donald has made a mockery of our bankruptcy laws, leaving small business and the hard working workers of Atlantic City to Suffer, as a matter a fact, the only casino in town on strike still bears his name".
Small's remarks echoed Clinton's condemnation of Trump for stiffing contractors and profiting from casino bankruptcies in the city.
The Revel, which cost over $2 billion to build with $261 million in tax incentives from the state, closed in 2014 after just two years. Though Trump was not a stakeholder, Christie was a strong proponent for building the casino. Small and mayor Don Guardian were Christie's fiercest opponents when conflict over a potential state takeover of the city's finances came to a head earlier this year.
Small and Guardian argued that the state had already failed to reverse the city's economic fortunes since appointing an emergency manager in 2010. Atlantic City saw its property tax base cut in half as competition from out-of-state casinos and costly casino property tax appeals cut into revenue from its one-time monopoly.
City officials have until October to balance their budget to avoid the takeover.
"It's important for Democrats in New Jersey and throughout the country to send a clear message to Donald Trump and remind him of his record in Atlantic City and make sure we don't go to sleep like we did in 2009 & 2013 Governors Race in New Jersey, only to wake up with a nightmare in Governor Christie," Small continued.
"The Common Denominators in Atlantic City's fiscal and business problems are Trump & Christie, Trump for his atrocious business record and Christie for his Atlantic City Political Record. There was once a slogan, New Jersey and You Perfect Together, However, when it comes to failure and broken promises in Atlantic City, it's Trump and Christie perfect together."
Small is expected to mount a challenge to Guardian in the 2017 mayoral race. Councilman Frank Gilliam also intends to run. The city council voted to eliminate the city's ward councilmen in June, a move that would eliminate Gilliam's seat if the legislature and the governor approve it. Small said before the council vote that the proposal was a cost-saving measure and not politically motivated.