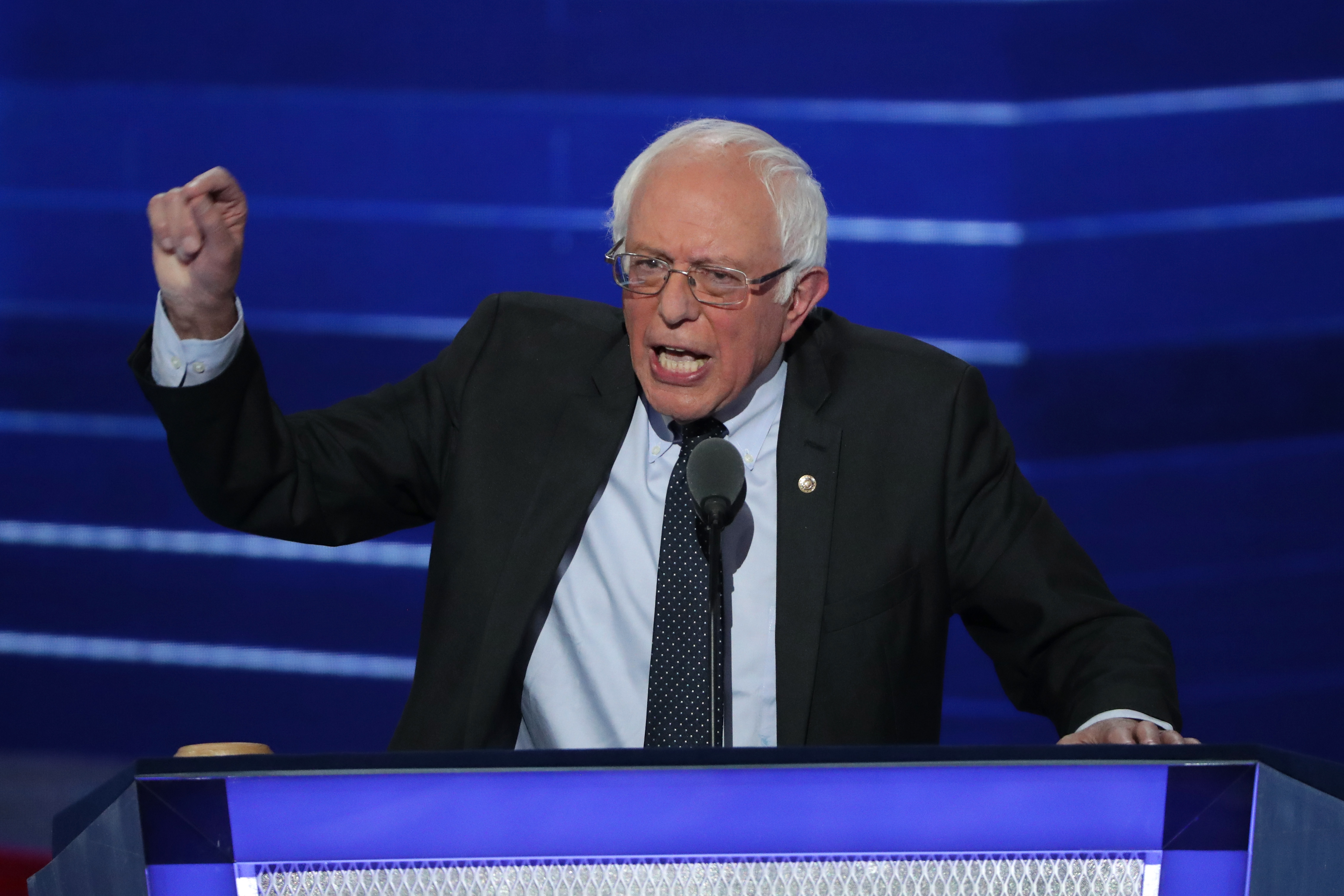 On a night when the narrative was all about the Bernie or Bust crowd, the Vermont senator's task—to unite his supporters behind presumptive nominee Hillary Clinton—was a tall order.
So Bernie Sanders took the stage at the Democratic National Convention tonight to deliver a passionate speech celebrating his own campaigning, validating the disappointment in its failure to win, and enthusiastically backing the last woman standing for president this November.
"Hillary Clinton will make an outstanding president and I am proud to stand with her here tonight," he closed tonight, to applause instead of the boos that met him earlier in the day and dogged speakers throughout the night, despite his own pleas to his supporters not to demonstrate against the nominee.
By the end of the night, with the help of a soaring speech by Michelle Obama, it seemed the convention that this just this afternoon and evening was wracked with division had come together, mostly. Whether that will hold for the rest of the week—and whether Clinton's name will stop being met with boos—remains to be seen.
But Sanders did his part, chastising those who have insisted they can never vote for Clinton, who will face Republican nominee Donald Trump in November. Ms. Clinton, he said, believes in climate change and will fight it; she will roll out a plan reached with Sanders to make public college tuition free for middle class families; she will continue his mission to remove money from politics by appointing justices that will overturn Citizens United—as well as protecting immigrants and LGBT people and minorities.
"If you don't believe this election is important, if you think you can sit it out, take a moment to think about the Supreme Court justices that Donald Trump would nominate and what that would mean to civil liberties, equal rights and the future of our country," Sanders urged.
He praised Clinton on a litany of issues: healthcare, climate change, income inequality, while still noting they had their differences. The speech contained passages the faithful had heard from Sanders before, including at his endorsement of Clinton. In the crowd, some of his supporters wept as he spoke about the political revolution they had started and promised it would be bigger than any one election.
"Election days come and go. But the struggle of the people to create a government which represents all of us and not just the 1 percent—a government based on the principles of economic, social, racial and environmental justice—that struggle continues," he promised. "And I look forward to being part of that struggle with you."
But for this election, he argued, there was simply one choice. And when he delivered it, the cheers overwhelmed the boos—even if they were still there, smattered across the arena.
"This election is about which candidate understands the real problems facing this country and has offered real solutions—not just bombast, not just fear-mongering, not just name-calling and divisiveness," he said, as the crowd began to chant his name.
The country needs leaders who will work for poor and working families, he argued, for children and the sick and people of all backgrounds.
"By these measures, any objective observer will conclude that—based on her ideas and her leadership—Hillary Clinton must become the next president of the United States," he said.
Disclosure: Donald Trump is the father-in-law of Jared Kushner, publisher of Observer Media.