Inside the downtown Brooklyn offices of the Big Apple Circus, there's a whole room, right by the entrance, of empty cubicles. Down the hallway, in a window office adorned with promotional posters from some of the circus' 38 past seasons, CEO Will Maitland Weiss explains why: he just furloughed 20 of the office's 32 staff.
"I did this on Monday because I didn't have enough cash to promise them a paycheck in two weeks," Weiss explained. "We are struggling."
His circus, a non-profit, is trying to pull off its most challenging high-wire act yet, and the chances of success are looking increasingly unlikely. Big Apple needs $1,114,000 to prevent a permanent closure, and it needs it now.
The circus kicked off a fundraising campaign at the beginning of June with the goal of raising $2 million by the end of July, when its staff needs to begin designing and marketing this year's show, currently scheduled to open in October at Lincoln Center's Damrosch Park. As of today, it has raised $120,000 through an online campaign and another $740,000 in pledged donations from donors. On July 8, Weiss will meet with the circus' board, which will make decisions about the future of the furloughed staff and the future of the circus itself. Without more cash in hand by then, closing down the circus, which played nearly 300 shows last year and employs 110 humans, eight (rescued) dogs and six horses, is a very real possibility.
Paul Binder and Michael Christensen started the Big Apple Circus in 1977 as a tribute to the intimate, one-ring European circuses the two young Americans participated in while juggling around the continent. Binder turned the Big Apple Circus into a cultural institution by the time he retired from his dual roles as ringmaster and artistic director in the fall of 2008 (he still serves as an advisor and fundraiser). He's led the circus through ups and downs, but he admits he's never seen "anything quite like this."
"From the beginning, the Big Apple Circus and it's community programs have never been a simple proposition," Binder said. "It's a not for profit, and the public has to be reminded of that."
Big Apple's current financial struggles have been building since the 2008 financial crisis. Before the crisis, the circus generated $2 million per year putting on private events for companies and organizations, most of which were financial services firms. Now revenue from private events is about half of that. The circus put one 24 private shows per year before the crash, but that number fell to 14 in 2009, Binder said. Last year, the circus did about 10 of those performances.
"We reacted too slowly," Binder admits. "We had no idea how drastic that situation was to become."
That million dollars a year, plus another million in debt built up over time since 2008, is what the circus needs now to continue operating. The organization as a whole needs $17 million to operate, Weiss said, down from a budget of $20 million in 2009. In the eight years since the financial math started working against Big Apple, the circus has been lucky enough to have been saved more than once.
"Several times a white knight has come along and made a $1 million gift," Weiss said. "But that's not sustainable."
If the circus survives into the fall, it will change how it operates in an attempt to eliminate the perpetual $1 million shortfall, Weiss said. That will involve playing arena shows when the circus goes on the road instead of bringing and setting up their own big tent. Currently, 70 tractor-trailer trucks move the circus; setup takes two weeks. By moving the show inside, the circus can cut back on transportation costs, play more shows (setup would only be two days), and play more cities, as well as smaller cities that the circus hasn't been played in the past. Weiss believes this could cut costs and improve ticket sales. In years prior, the circus traveled to as many as 12 cities up and down the East Coast. Last year, it only set up shop in New Jersey and Boston in addition to hometown shows at Lincoln Center and Cunningham Park in Queens.
Big Apple isn't the only circus struggling. David Lewis Hammarstrom, author of Fall of the Big Top: The Vanishing American Circus, estimated circus attendance is down 30 to 50 percent over the last twenty years.
"There's a declining appetite for the circus on the part of the American people," Hammarstrom said.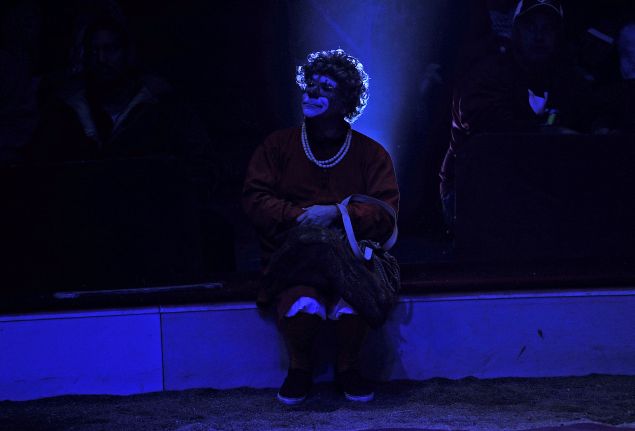 It's not hard to see why such an old-fashioned form of entertainment is struggling in the era of Netflix and iPhones. But Weiss insists that Big Apple attendance has stayed steady at about 1,000 guests a show and revenue box office revenue has not declined in recent years.
Big Apple has managed to stay immune from industry trends because it is a different kind of circus. While other circuses have shrunk from three rings to one over the last few decades, Big Apple has stayed the same: one ring, intimate, with a direct connection to the crowd.
Clown Joel Jeske was the writer and creator of last year's show. He has been with Big Apple in various capacities since 2001 and has also worked with Ringling Bros. and Cirque du Soleil, the two biggest players in the field. Big Apple is different, he said.
"You don't necessarily go to Ringling Bros. to laugh. You don't go to Cirque du Soleil to laugh," said Jeske, who performs under the name Mr. Joel. "But when you go to Big Apple you expect to laugh and laugh hard."
Jeske also performs as part of the Clown Care program under the name Dr. Yadontsay. Clown Care, one of Big Apple's five community programs, sends 80 clowns to 16 regional pediatric hospitals to entertain sick children. The community programs are well-funded and will continue operating even if the circus closes, Weiss said.
In spite of the bleak situation, Binder is optimistic that the circus he built from scratch will survive. A thousand people have donated to the online campaign with an average donation of $100, he pointed out. "We are progressing," Binder said. "There is good news every day."
But time is not on Big Apple's side. And now, in what could be its final act, the circus is performing without a net.