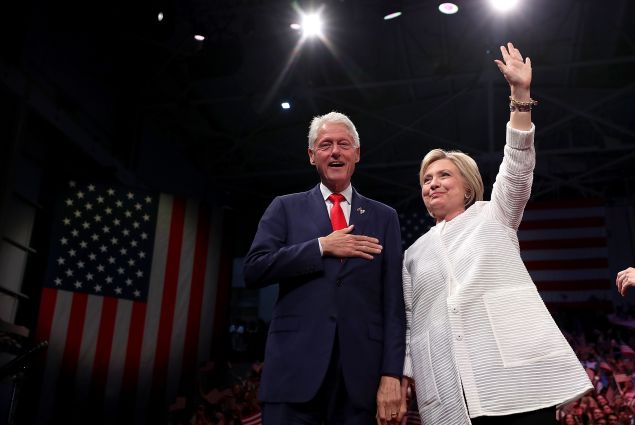 Bill Clinton has, once again, shamelessly demonstrated his sense of entitlement and lack of integrity. In an apparently unplanned meeting with Attorney General Loretta Lynch, the federal investigation into Hillary Clinton's unauthorized use of a private email server has been overtly compromised.
On June 27, Bill Clinton reportedly saw Lynch's plane on the tarmac and boarded it to say hello. The meeting lasted roughly 30 minutes and ended with both Clinton and Lynch denying anything was discussed regarding Benghazi or the FBI investigation into Emailgate.
Rather than expecting voters to take Lynch and Clinton's word, this situation requires a special prosecutor who can remain impartial. Lynch—who was nominated in 1999 by Bill to serve as U.S. attorney general for the Eastern District of New York—is not that person. The Clinton-Lynch relationship spans decades. As recently as April 2015, Hillary's campaign opened their offices in Brooklyn just under the office of Lynch, shortly after Lynch was nominated as attorney general by Barack Obama.
The Obama Administration has, of course, also taken steps to shield Hillary from indictment. Despite Obama ensuring Americans that politics wouldn't influence the investigation, he formally endorsed Clinton a few weeks ago while his administration further delayed fulfilling Freedom of Information Act Requests for the release her emails. Immediately after Obama endorsed Clinton—compromising the investigation by dismissing the severity and imposing his own judgment on whether or not an indictment is warranted—he met with Lynch behind closed doors.
In March 2016, Lynch criticized White House Press Secretary Josh Earnest for commenting on Clinton's FBI investigation.
"Certainly, it's my hope when it comes to ongoing investigations, that we would all stay silent," Lynch said, according to Politico. Yet, the recent meeting between Lynch and Bill Clinton is the latest egregious example that nobody in the Obama Administration can be trusted to remain impartial when it comes to Hillary Clinton.
In May 2016, a report from the State Department's Inspector General debunked the defense Hillary Clinton and the Democratic Establishment have reverberated for over a year. Despite their efforts to downplay the email scandal as nothing than a Republican smear campaign, the State Department confirmed Clinton's server was unauthorized and the former secretary of state did in fact break federal rules. Contrary to Clinton's excuses, she did not comply with State Department policies.
Clinton's private email server prevented her State Department correspondence from being archived and available for public record requests. While some of her emails have been released—only after nearly 30 lawsuits were filed—thousands of others were withheld by Clinton under claims they were personal. Additional emails are still being released from Clinton's private server—including nearly three dozen Clinton deleted. Federal Investigators are continuing to retrieve emails from the server, which was wiped clean when Clinton eventually handed it over to authorities.
Clinton's failures as secretary of state aren't limited to her use of a private email server. A recent review of Clinton's official State Department calendar, conducted by The Associated Press, found at least 75 meetings with political contributors, Clinton Foundation donors, or lobbyists that were omitted or not recorded.
"At a time when Clinton's private email system is under scrutiny by an FBI criminal investigation, the calendar omissions reinforce concerns that she sought to eliminate the 'risk of the personal being accessible'—as she wrote in an email exchange that she failed to turn over to the government but was subsequently uncovered in a top aide's inbox," reported The Associated Press.
Numerous donations to the Clinton Foundation from foreign governments have also been linked to weapons deals with Clinton's State Department. Wealthy Clinton Foundation donor Rajiv Fernando was appointed to a sensitive intelligence board by Clinton, despite having no qualifications or background to serve on the board.
Since Clinton announced her presidential campaign, Democrats have worked diligently to dismiss the litany of abuses by Hillary Clinton as secretary of state—but hard evidence demands action. Hillary Clinton must face the consequences for her corrupt service at the State Department, even though Obama and other Clinton allies within the Democratic Party remain intent on obstructing justice.