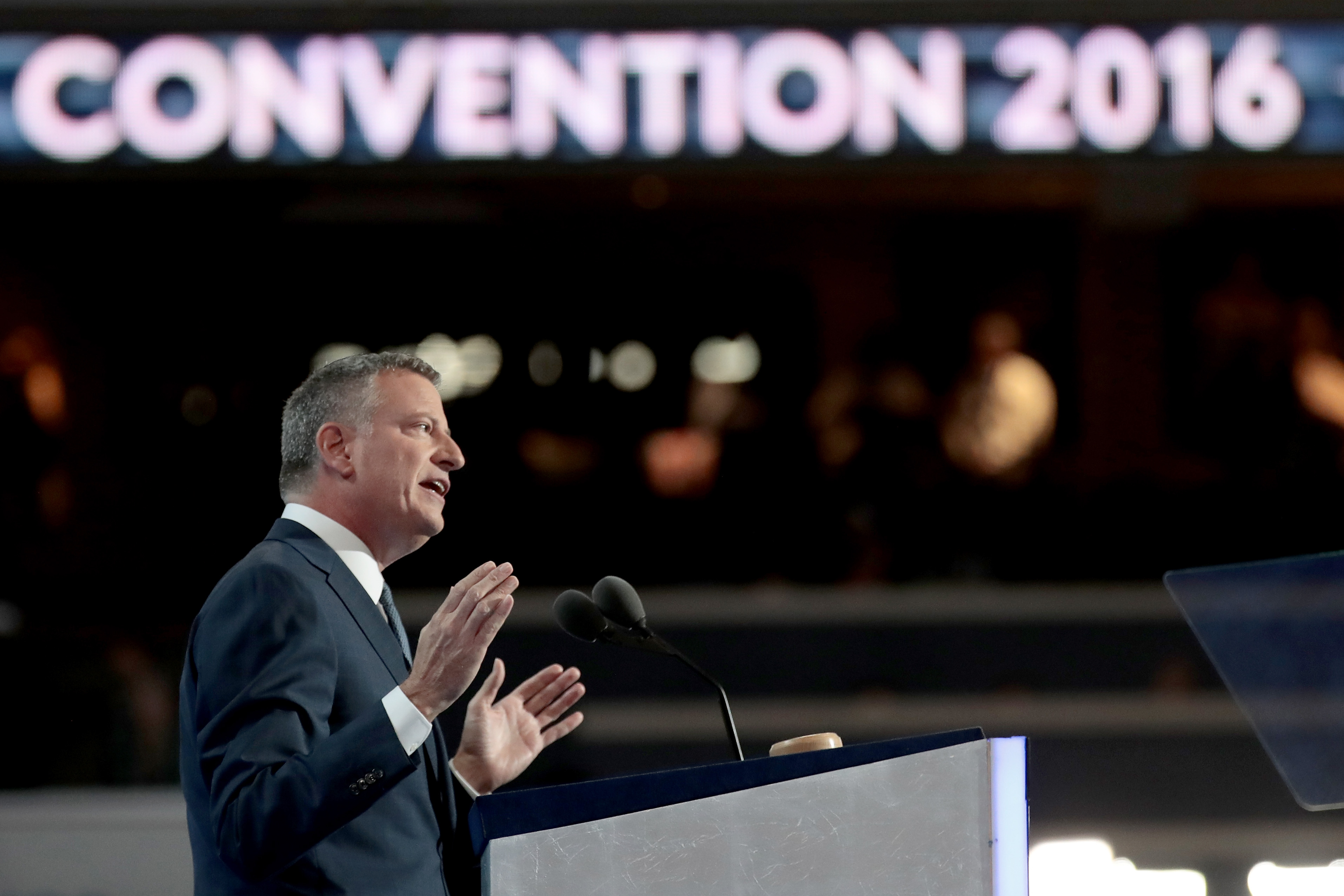 PHILADELPHIA—The arena wasn't quite full, and it was hours before that other New York City mayor was slated to speak, but Mayor Bill de Blasio made his seven-minute pitch for Hillary Clinton and against Donald Trump with gusto.
"Hillary Clinton. She's smart. She's steady. She's right.  And she's ready!" de Blasio offered. "Donald Trump. He's reckless.  He's risky.  He's wrong.  And he's scary!"
The front-and-center New York delegation gave their mayor a warm welcome, but much of the buzz around his speech had focused on the time it was being delivered: in the 5 p.m. hour, long before the coveted prime time slots, and long before Mayor Michael Bloomberg will kick off a prime-time line-up stacked with the current president and vice president and Clinton's veep contender, Virginia Sen. Tim Kaine.
The mayor, who introduced himself to those who might not know him by noting he ran Clinton's 2000 Senate campaign, noted both candidate's are New Yorkers but that they were "worlds apart"—contrasting them repeatedly. When Clinton was working for children, Trump was "racking up billions in debt" and becoming "one of the least charitable billionaires our country has ever seen." When she was fighting for children to have health insurance as first lady, de Blasio said, Trump was stiffing small business who worked on his real estate projects.
"When Hillary Clinton was in the Senate, she helped secure $20 billion dollars for our recovery after 9/11, protecting our hero first responders who sacrificed so much," de Blasio said. "Who did Donald protect? Certainly not the students at Trump University—a place his own employees called a scam—where vulnerable Americans were pushed to spend more and more money on worthless classes. The only person Donald took care of was himself."
He also touched on Trump's sexist comments about women—a prominent talking point at a convention nominating the first woman presidential candidate—noting Trump has called women "dogs and fat pigs."
"He's degraded women to make himself feel big—while showing us the truly little man that he is," de Blasio said.
Absent from de Blasio's speech was much talk about the national progressive agenda that he so frequently opines upon. He saved it for a quick moment at the end, and even then only in reference to Clinton's plans—rattling off things like paid sick leave to universal pre-K without mentioning his own victories on this issues.
De Blasio started out this presidential cycle with all intentions of being a progressive power broker—and it's impossible for the city's political class not to speculate that his strategy for doing so is part of what landed him on the stage while most people are still on the subway home, not in front of their television. The mayor, who ran Clinton's Senate campaign in 2000, declined to endorse her for months, dragging it out as he called for her to show her progressive agenda for battling income inequality. He rolled out a Progressive Agenda in Washington that fizzled out. He planned his own candidate forum in Iowa, but had to cancel it because nobody wanted to attend it.
Earlier today at a Politico breakfast, de Blasio said he "never got irritation" from Clinton over his endorsement, though he was "certain" her staff was annoyed. But he said they'd spoken about it in the months before she rolled out he campaign.
"I don't think she was surprised at all," he said.
If the time slot had disappointed the mayor, it's unlikely that what came next cheered him up. His speech a video highlighting prominent Democrats who had died.
Disclosure: Donald Trump is the father-in-law of Jared Kushner, publisher of Observer Media.