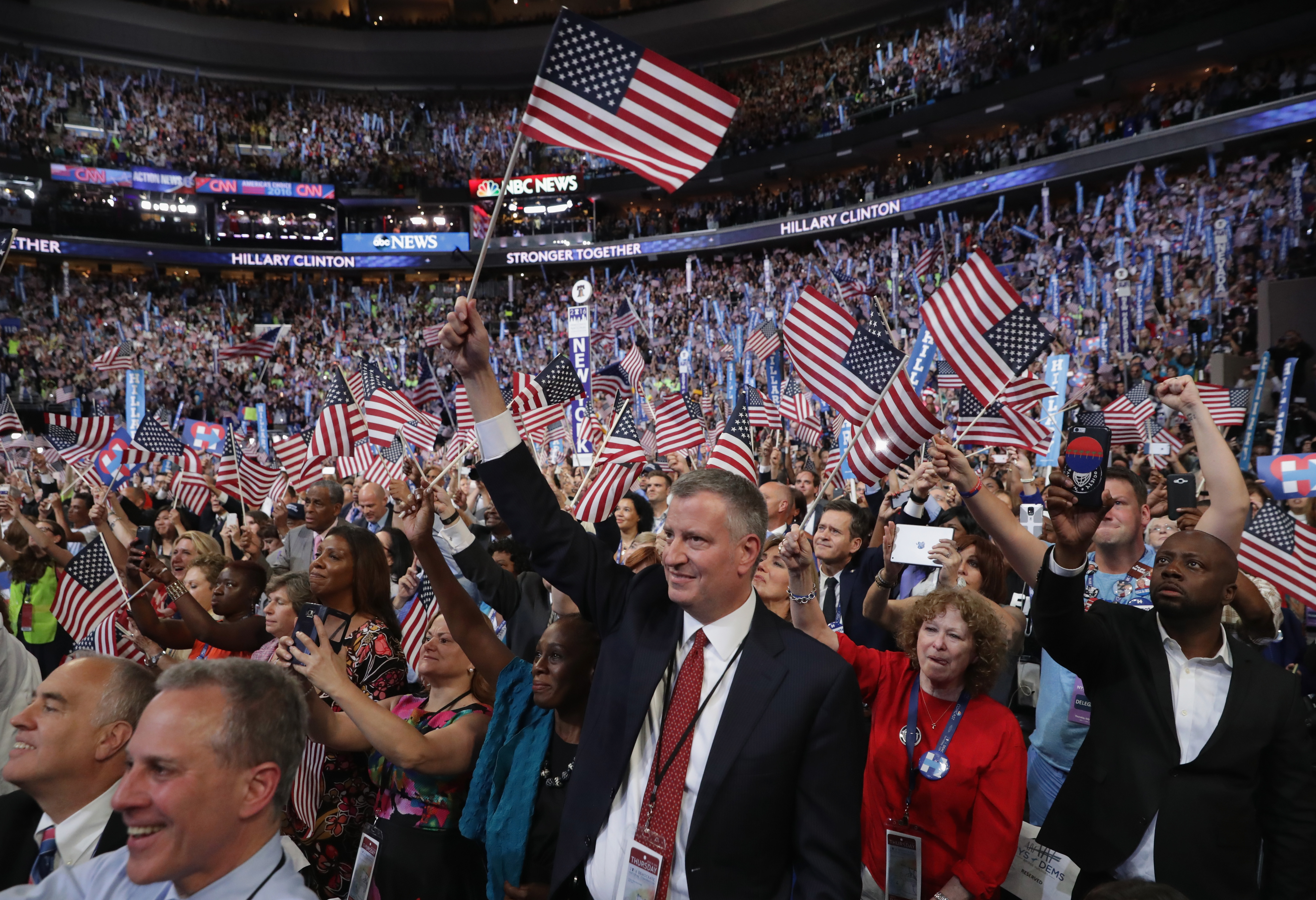 In the bustling lobby bar of the New York delegation's hotel and in the pages of the city's newspapers, it seemed that everybody agreed: Mayor Bill de Blasio was having a rough week.
Everybody except Bill de Blasio.
"I'll just roll my eyes for a few minutes here," de Blasio told the Observer during an interview at the Loews Philadelphia Hotel, where he and the delegation stayed last week. "I think it's an entire misunderstanding of how this work is done."
It was late Thursday afternoon, almost 24 hours after de Blasio, who managed Hillary Clinton's 2000 Senate campaign but waited months to endorse her, had given his Democratic National Convention speech to a half-empty arena at 5:30, a time when more New Yorkers are probably commuting home on the subway than watching their televisions. It was not the only problem he had encountered since his arrival in the City of Brotherly Love. Even as he tried to talk national politics, local trouble had followed him—with Politico editor Mike Allen asking him at a Wednesday breakfast event about a decision to lift a deed on an AIDS hospice, a story that knocked convention coverage off the woods of both the News and the Post back home.
Breakfast on Thursday didn't go much better. De Blasio, a Democrat and mayor of the state's largest and bluest city, was set to speak to the New York delegation in a ballroom at the Loews, but wound up leaving the event, which was emceed by Gov. Andrew Cuomo, without saying a word.
As he often does, de Blasio insisted the media was focusing on the wrong things.
"This is a long game, it's not about how things went on Wednesday, you know?" he said. "It's about how things are going to go over months and years. I feel great about this week."
He'd spent time with progressives from all over the state and the country, de Blasio said, including mayors from other cities. He was honored, he said, to sit down with Vermont Sen. Bernie Sanders (along with Sanders' wife Jane and de Blasio's wife Chirlane McCray) to talk about building on his movement and working to stop the Trans Pacific Partnership from going into effect.
"I don't know how many times I have to say it—because I've laid this out now for most of two years—but if folks want to do the high school cafeteria treatment and worry about who said what to who, and who smiled at someone and who frowned at someone, they can do that all day long," de Blasio said. "That's not what this is about. This is about bigger change."
But New Yorkers could be forgiven for comparing the seemingly endless feud between Cuomo and de Blasio, two grown men from the same party in powerful positions, as a high school cafeteria fight.
On Thursday Cuomo, who controls the state party, spoke for about 24 minutes, without acknowledging the mayor. Then other speakers took the stage. The clock ticked on. De Blasio had listed the breakfast on his public schedule at 8:30; he had another event advised for 9:45. He got up and left around 10 a.m.; it was widely reported as a snub, though state party aides insisted Cuomo had not purposefully filibustered the mayor.
"I was there when I was supposed to be there and obviously they were running late and they had a program and, literally it was 10 o'clock when I was supposed to be in another building entirely moderating a panel with a number of my fellow mayors and I had to do that," de Blasio said. "So we let them know well in advance that we were running out of time, they had a program, that's cool, and I went off and did what I had to do with my colleagues."
Unsurprisingly, that is not exactly how Cuomo's clique tells it.
"We were told at 9:41am that the mayor had another engagement and had to go by 9:50/955," Cuomo spokesman Rich Azzopardi said in an email.
De Blasio wouldn't venture to say whether the snub was intentional: "I don't get inside of people's minds." He was in Philadelphia to help elect Hillary Clinton, he said, and it should not be surprising that "different leaders within a party can have differences." Just look at Sanders and Clinton, he argued.
So are de Blasio and Cuomo heading for their own Sanders and Clinton moment?
"I keep saying it really comes down to how he treats New York City. And I call 'em like I see 'em—treat New York City fairly, treat New York City with respect, I'm more than happy and willing to work with him," de Blasio said. "But if he does things like proposing the Medicaid and CUNY cuts in the dead of night in the last budget, I'm gonna fight him."
(Cuomo's office has its own version of that line. "As we said previously: When the mayor is acting competently and non-politically, the Governor supports him," Azzopardi said. "When the mayor's administration is acting incompetently and politically, the governor has to step in to protect the residents of New York City.")
But the party in-fighting wasn't overshadowing a larger message of unity, de Blasio insisted, saying everyone involved wanted to elect Clinton.
"That's something we can all agree on, that's something we can all coordinate on, no contradiction whatsoever," he said. "And by the way, not only is it easy for me to work with the governor and his team to elect Hillary Clinton, it's easy for the vast majority of Bernie supporters I've talked to to work with all of us to elect Hillary Clinton."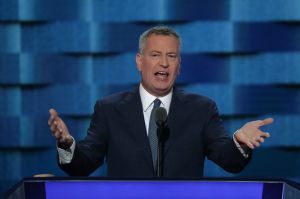 Both men touted Clinton to the DNC, but with different approaches.
While convention speeches are often used as an opportunity to boost a politician's national profile, de Blasio used his time to deliver a point-by-point comparison of Clinton and Republican nominee Donald Trump, without mentioning much of anything about himself. When he talked about her support of universal pre-kindergarten, he didn't even mention his own program, something he is usually able to work into just about any conversation.
"This is a point when people have to leave their egos and their own self-aggrandizement at the door and talk about the person at the you're going to elect," de Blasio said Thursday. "Every one of those moments where we can draw a contrast between Hillary and Trump are crucial. People need to hear it—they need to hear a lot more."
A few hours after the Observer spoke with de Blasio, Cuomo—who had touted his time slot at the delegation breakfast—rattled off progressive policies that had been passed in the New York in a 15-minute speech that didn't mention Clinton until minute 13. (Incidentally, the Clinton campaign was reportedly upset that Cuomo went well beyond his allowed time.)
Most of the chatter about de Blasio's remarks surrounded the timing, which would seem to be a blow for a mayor who has sought to put himself front-and-center nationally on issues of progressive politics. Last May, he launched The Progressive Agenda, which he explained as a left-wing answer to Newt Gingrich's Contract for America, and promised to hold a presidential forum on income inequality in Iowa. But the forum was scuttled because candidates didn't want to show up; the Progressive Agenda has since held no events and has no staff, but has raised money and spent it on political consultants. The decision to try to hold that forum and not to endorse his former boss right away loomed over the mayor's afternoon speech, but he framed that as more gossip about who gets to sit at lunch with which clique.
"I found it surprising that we're talking about the fate of the United States of America that folks wanted to put any column inches into who got what time slot," de Blasio said, delving into a not-unusual bit of media criticism. "Again, I think it's just not the point. I did see in some of the coverage people quotes some of my message. I think we should be talking about people's message and what it means and what's effective and what the people are hearing and not hearing and what they need to hear."
De Blasio's forays into national politics had earned him criticism, but he said Thursday they were necessary.
"You know, a lot of people ask me why I do the national work I do, and I keep coming back to something very simple—we can't do what we need to do in New York City unless we change the federal government," he said. "We can't change the federal government unless we change the national, political dynamic."
He recalled being asked, when launching his pre-K program, how a city alone could fight income inequality. He argued the city can take big steps—affordable housing, paid sick leave, pre-K for all—but also faces challenges it cannot take on alone or even with the state, like boosting mass transit or finding $18 billion to overhaul public housing. Simply electing the right president won't allow them to flip a switch and enact the next New Deal, he insisted—it requires changing "the political underpinnings." He said that change was underway—citing the Occupy Wall Street movement, his own election, the success of the Fight for 15 movement and Bernie Sanders' success.
"I get that it's sort of easy for people to just say any mayor should be narrowly focused on solving the next local issue, and I do a lot of that all day, but I think what's missing in a lot of the analysis is the thing I'm working on is worth literally tens of billions of dollars to New York City," he said. "If we get it right on the federal level, we're gonna open up access to the kind of resources that would actually allow us to defeat income inequality in many ways and to fix so much in our city that we couldn't reach on our own. And it's gonna be painstaking. It's not gonna happen overnight. It's gonna take years but no one—I don't know a single human being who predicted that Bernie's movement could go as far as it did."
Disclosure: Donald Trump is the father-in-law of Jared Kushner, publisher of Observer Media.