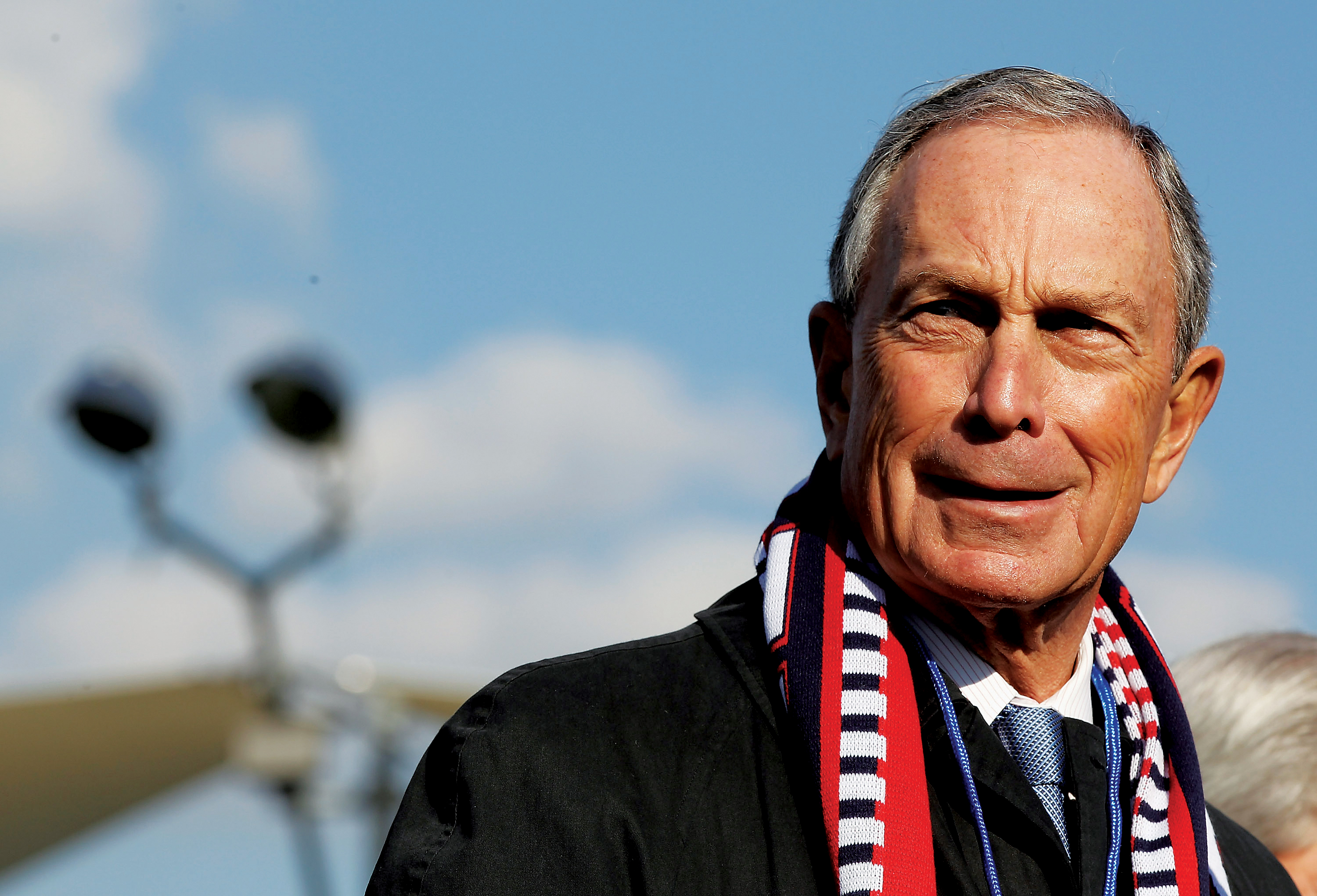 PHILADELPHIA—Former Mayor Michael Bloomberg would stick out in a crowd of New York's delegates to the Democratic National Convention. But tonight he'll stand in front of them to endorse their party's candidate, Hillary Clinton.
"I think we're at a time where Trump is just a magnificent unifier," New York City Councilman Jumaane Williams, a frequent Bloomberg critic, said. "It's not strange to find any manner of folks trying to come out against him."
The former mayor—who is a former Republican and current billionaire—will likely prove something of a divisive choice among the former Bernie Sanders supporters (Williams among them) that much of the convention so far has been focused on wooing. But his team, and the Clinton camp, are hoping that he can appeal to another group they'd like to lock up in November: independent voters and moderates who just can't quite get behind the Republican nominee, Donald Trump.
Bloomberg, who won his first term as a Republican before becoming an independent, briefly considered his own independent run for the White House before deciding against it due to concerns his candidacy could tip the scales toward Trump, whom he wrote in an op-ed "appeals to our worst impulses."
He'll speak in prime time to a crowd checkered with people who make a habit of repudiating some of Bloomberg's policies—including Mayor Bill de Blasio, who structured his campaign around doing so (and who, speaking at 5:30 pm today, was upstaged by Bloomberg tonight).
But de Blasio welcomed his predecessor's involvement today.
"He's going to speak to a lot of folks I think who don't think in terms of party, probably don't think so much in terms of ideology, but want sane reasonable leadership," de Blasio said. "I think he's going to speak to a lot of folks concerned about America."
And Councilman Jimmy Van Bramer, a Queens Democrat, said Bloomberg was the perfect messenger.
"Whether progressive Democrats in the delegation loved or didn't love the mayor is irrelevant—what is important is Mayor Bloomberg is throwing his full weight behind Hillary," Van Bramer said. "And he is the perfect person to destroy the myth of Donald Trump as the most successful businessman billionaire guy who's gonna make everything right again for people who are not employed or underemployed."
But not everybody in the delegation likes Bloomberg's message—particularly some of the Sanders delegates.
"I don't know what constituency he brings to the table," Linda Sarsour, a Palestinian-American activist and Sanders delegate, said. "He's not talking to black, people he's not talking to Latinos… Who is the group of people that he is supposed to be' I don't know who is his audience."
One sticking point for Sanders supporters is probably obvious: Bloomberg's status as a Wall Street billionaire, the very class that Sanders so frequently rails against for its influence over politics. But there other places where he diverges with the Democratic Party. (To be sure, Bloomberg also sees eye-to-eye with Democrats on many things, particularly gun control, which has made him a favored target of Republicans.)
For Sarsour, the biggest issue is Bloomberg's NYPD program that monitored Muslims in the city—a policy she noted outraged Democrats when proposed by Republican candidate Ted Cruz.
"You can't be outraged at the other party proposing, not doing but proposing, unwarranted surveillance and then put up a guy and give him a platform that actually did that," Sarsour said.
Williams said many, including himself, felt conflicted about Bloomberg. He spearheaded efforts for police reform and was an outspoken critic of Bloomberg's use of stop-and-frisk.
"It is complicated, even for me. I think I'm one of his biggest critics in certain ways, but I too know that he wasn't in totality a terrible mayor," Williams said. "There's some very good things he did. But he just locked onto some things that were very very bad."
In the afternoon, New York Sanders delegates discussed ways to show their displeasure with some of Bloomberg's policies, Williams said.
"Some people don't want to be booing," Williams said, but were trying "to figure out ways to make sure that their concerns about him are heard or seen or felt."
But others had open arms.
"This is an incredibly powerful message,"Attorney General Eric Schneiderman told reporters this morning. "This is the message that folks who even might be considered sort of business Republicans or people who care about government policies that don't overreach but are effective in solving problems."
Van Bramer said it helped that Bloomberg was always a "lighter, softer version" of national Republicans, even when he was one.
"I certainly understand the tension that exists between our message of income inequality and having a billionaire make the case," he said. But he believed that Bloomberg could sway people enamored with Trump's business successes.
"I think we can both have Mayor Bloomberg validate that part of our message and highlight and fight income inequality in the same convention," he said. "It's a big party. It's a big country. We can fit both of them into the tent. and if he's gonna endorse Hillary, we want him in the tent."
Disclosure: Donald Trump is the father-in-law of Jared Kushner, publisher of Observer Media.