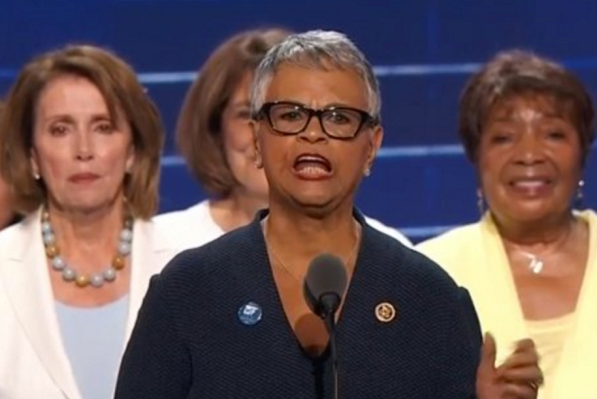 PHILADELPHIA — U.S. Representative Bonnie Watson Coleman of New Jersey's twelfth congressional district addressed the crowd at the DNC Tuesday night alongside House Minority Leader Nancy Pelosi and a slew of women memebrs of the House. Moments after Hillary Clinton officially clinched the Democratic nomination for president, Watson Coleman said that Clinton will be the strongest candidate to address wealth inequality and oversee comprehensive public infrastructure improvements across the country. 
Watson Coleman latched onto the populist economic rhetoric of Clinton's felled primary opponent Bernie Sanders in her remarks, calling for an end to tax loopholes for powerful businesses.
"If you are willing to work hard in our country, you deserve a secure financial future and a strong foothold on the American dream: buying a home, sending children to college, and real retirement security," she said. "We should be creating jobs by upgrading our roads, bridges, broadband, transit systems, energy grids and water infrastructures. And you can pay for this progress by closing loopholes and making big corporations pay their fair share.
"America is stronger when everyone has a chance to succeed."
Watson Coleman has been a fierce critic of Governor Chris Christie's executive order stopping all non-essential construction work while he and the legislature hash out a compromise on how to fund repairs with an increase to the state gas tax, telling PolitickerNJ last week that she opposes the decision and Christie's favored plan of cutting the sales tax by one percent to offset the increase.
"I think it's just a bully move, and I think just so out of touch," she said at the time. "But we obviously have to fix it. I mean, I would like to find a way to do that without dealing with the sales tax. And we need to find a way to do that that's sustainable, and that's fair."