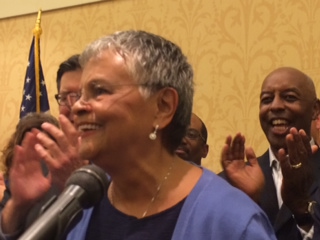 As the Republican convention winds down and the the Democrats come closer to firming up their presidential ticket, U.S. Representative Bonnie Watson Coleman (D-12) had some choice words for Trump's thin coalition of establishment Republicans. The congresswoman told PolitickerNJ that she expects any of Hillary Clinton's potential running mates would be stronger than the real estate mogul's choice of Indiana governor Mike Pence.
"I just know that given what I'm seeing this week, anyone she chooses is stronger, better and more qualified than what the RNC has put forth," Watson Coleman said.
The first-term Democrat said she expects Pence, a traditional social and fiscal conservative, will prove an awkward fit with Trump's more freewheeling political style. Watson Coleman said Pence's record on LGBT issues could be a problem.
"I think that he and Donald Trump will probably have some contradiction in what they believe, although I'm not quite sure what Donald believes in," she said. "But I don't think that he's a strong candidate. He certainly was on the wrong page with the LGBT community and what he was advancing."
Trump's success in the general election will hinge on his ability to secure blue-collar Democrats for himself, and Pence's hard line on social issues could hinder that effort. Pence's opposition to encouraging foreign governments to decriminalize homosexuality, his support for keeping the military's "don't ask, don't tell" policy on the books, and his proposal to divert funds from HIV/AIDS groups to discredited "conversion therapy" providers could all prove a liability.
Watson Coleman said she was not surprised by Trump's snub of Governor Chris Christie for VP, despite his early and enthusiastic endorsement this February.
"He's got more scandals floating around than they've got days in the week," she said of Christie, alluding to the pending trial of four Christie staffers who were indicted in the Bridgegate scandal. "And Newt Gingrich — no."
Asked about the stalled effort to fund the nearly bankrupt Transportation Trust Fund with a gas tax increase, Watson Coleman came down on the side of a state Senate bill to offset the hike with a phase-out of the estate tax. That bill faces competition from an Assembly plan to make cuts to the sales tax instead. Christie favors the latter.
"Well I don't think that the governor did the right thing when he just shut projects down like that," she said. "I think it's just a bully move, and I think just so out of touch. But we obviously have to fix it. I mean, I would like to find a way to do that without dealing with the sales tax. And we need to find a way to do that that's sustainable, and that's fair."