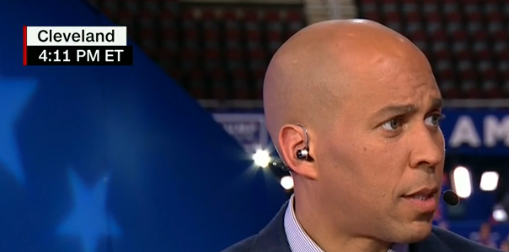 U.S. Senator Cory Booker (D-NJ) did one last political pommel horse exercise in Cleveland, this time with CNN's Jake Tapper, crunching out his points as time ticks down on Hillary Clinton's VP announcement hour glass.
New Jersey insiders simultaneously ho hummed Booker's last ditch audition, most of them convinced the junior senator won't get the job, in part because a senate seat vacancy would give Gov. Chris Christie a chance to appoint himself and, re-energized, prowl the halls of Congress.
"You heard the chants," Booker told Tapper, referring to the crowds response to Christie's Old West-style frontier justice speech at the Republican National Convention (RNC) on Tuesday night.
Booker carefully tailored his outrage around the mob reaction more than the deliverer, but did tread closer to the source than remarks he gingerly made earlier in the day.
"That is a call to a dark place in American politics we have not heard since the days of segregationists holding court within parties here," the senator said. "This is not the Republican Party, this is the party of Trump. This is someone, whether you have a disability… who has systematically insulted aspects of our culture, aspects of our country. Even Newt Gingrich, who spewed lies about her [presumptive Democratic nominee Hillary Clinton] last night, talked about how qualified she is."