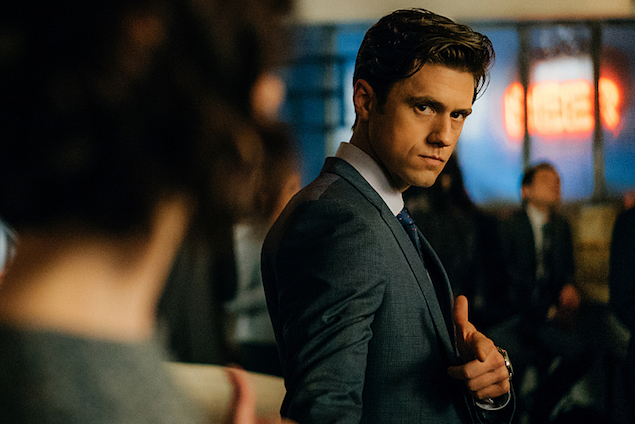 Even if you don't know that you know Aaron Tveit, you know Aaron Tveit. The 32-year-old singer and actor first became famous within the Broadway community after his performance as Gabe in Next to Normal, and since then his career has looked something like a theatre kid fantasy: RENT at the Hollywood Bowl, originating the role of Frank Abagnale, Jr. in the Catch Me If You Can musical, Grease Live!, the Les Miserables film, and endless, endless Tumblr gifsets.
Meeting him in person, I wasn't sure what to expect—given his exceptional career, his personality might have varied anywhere between pretentious L.A. vegan to pretentious New York City ac-tor who would spend the better part of an hour talking about his craft. Instead, he came in, shook my hand, and proceeded to respond to my questions with answers that felt so funny, so natural, so downright intelligent, that it felt more like a really great first date than something I would need to transcribe and type up for work.
After the cancellation of Graceland on USA, Tveit is back on TV with BrainDead on cbs, a comedy-horror-science-fiction-thriller series from The Good Wife creators Robert and Michelle King. "It's totally off-the-wall," Tveit laughed. "It's really hard to describe it. You give it the setup, and you say it's this political thing with bugs eating politician's brains, and people kind of go"—he imitates a sympathetic, confused face—"'Oh. O.K.'"
Did you catch that? The show is about parasitic alien bugs who are eating brains in Washington, D.C., and causing extremist behavior. Tveit (rhymes with "wait") plays Garreth Ritter, a Republican chief of staff for a Congressman played by Tony Shalhoub who gets eaten by the bugs early on.
OBSERVER: So parasitic alien bugs would sure explain what's going on with the Republicans.
AARON TVEIT: [Politely laughing as if he hasn't heard that joke before] Ha. Exactly that's the thing everyone's saying. We're in a completely batshit political climate, so if this can help people laugh, offer some levity, it's a good thing.
But it's a really interesting show from my side of things, too, because it's trying to do so many things. It's, at one point, a real West Wing-esque, D.C. drama, and then another point, it's totally this broad comedy told the way they tell a horror movie story. But it's been so fun. Working with Robert and Michelle King and the writers—they're the consummate professionals. We stepped into this right as they were finishing The Good Wife. This is a group of people that have all been working together for seven years. So it was almost like, for a new show usually you have to figure it out, but we were all stepping on this well-oiled machine. It's been great.
What did you like about Garreth?
Even though I tell people I'm kind of this asshole Republican chief of staff, he's kind of an old school Republican in a way? It's not like full Ayn Rand—his view of America is, if you work hard and keep your nose down this country should give you anything you ever want. It's a very old school Republican view that kind of doesn't exist anymore. As a person who's always had a sideline interest in politics, that was a very interesting thing for me. And we live in a world where the Republican side of things gets such a bad thing that I thought, this could be interesting. If I could get people to like this guy, it might be really nice.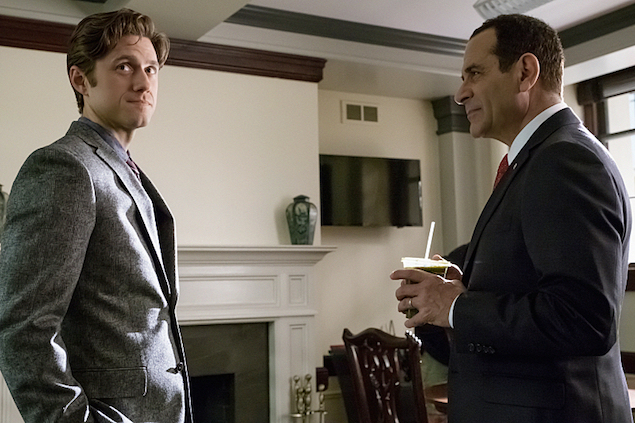 It would be nice to have Republicans like that nowadays. 
Exactly. Exactly. That's what's so interesting about the show. Of course, Tony [Shalhoub's character] gets infected and flipped, and now I'm dealing with all of these right-wing extremists. And also I was really drawn to the fact that he was a guy right at the top of his game. I've played parts before where it's the "new guy." I loved my part on Graceland and I thought it was really rich and really full, but he was this guy, right out of the FBI academy, wide-eyed, and a little bit of a new guy. I was excited that I didn't have to be the new guy anymore. I got to be a guy who was already kicking butt.
What's the difference between working on Broadway and working in television?
I've found that TV—even with film, too—TV is kind of the most normal schedule. It's kind of the most sense of normalcy you can find as an actor. Yes, you work long days, you work 12, 14 hour days, even longer sometimes, but it's Monday to Friday. You get two days off every week. You kind of can have a life, almost. And especially this show, shooting in New York. The last regular job I had in New York was when Catch Me If You Can closed in 2011. Listen, I'm in no way complaining, but it does get hard traveling a little bit, so the fact that this is here, I feel like a normal person in a way that I haven't in a long time.
Are you from New York?
I'm from New York, yeah. I grew up about an hour outside New York City and this is year ten for me in New York City, so all of my family and friends are here. The first few weeks, the first month, I was like, "I get to work, which I love to do, but be home and have everything else, too? It's just something that I know is not going to happen a lot in my career and so I'm just trying to enjoy every second of it, being here and working. But that's I think the biggest logistical difference. And then, of course, from an acting standpoint, it just comes down to having to play to the back of the house and when you have a camera right in your face.
What about something in the middle, like Grease Live?
That was a challenge. The only thing I had that was in any way similar was the Les Mis film. I tried to really go through the same process I went through for that, which was, you rehearse it like a play, you do everything like you need to do, and then at the end of the day you need to trust that. You just need to have thoughts and be spontaneous and it's all going to come through on camera. I've found that I can still do the same homework that I do for stage, and then you just kind of throw it away and you kind of trust that the camera really picks up thoughts, and it's all going to come out of your eyes. Just try to then take it all away, just try to be however you can. It's an interesting thing to jump back and forth all the time.
I've been very, very lucky to get to do many different things, which is such a thrill.
So BrainDead has a musical recap, and for some reason you're not singing it.
[youtube https://www.youtube.com/watch?v=NfLNwndVfKM]
You know, I said this to Mary Elizabeth—because Mary Elizabeth sings also, she was in a band, and has an amazing voice as well. And Tony Shalhoub has sang, AND Danny Pino sang too—he did musicals when he was younger. It's funny. They should've had us do it! They did fine though. I don't know the guy's name, but he is a really funny singer-songwriter, so they found a great guy who wrote it and sang it. But it would've been a great little tidbit or a little Easter egg if they had had us do it.
It could still happen. What about a musical episode?
[BrainDead], I think, could handle a musical episode. With Graceland people would ask that all the time and I would say, I just don't think it's plausible. But this is so off-the-wall, I think it totally could have a musical episode. We'll see. Hopefully it goes for a couple of years and we get one in there.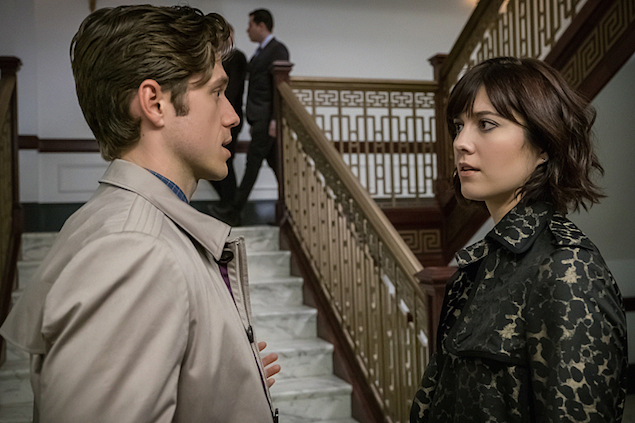 What's been your most challenging role?
I think probably, with just the physical toll, and what it took from me to be on stage every night and never miss a performance, Catch Me If You Can was just so hard.
You didn't miss a single performance?
I didn't miss a single performance. Much to the chagrin of my understudy—I'm really sorry, Jay.
That was just, again, it was the role of a lifetime at the time, and, you know, you have to live like a monk, and you have to make a lot of sacrifices. But I remember doing it so willingly. I remember I had worked on that show for so many years leading up to that point and we were finally on Broadway, and I had so much fun doing it every night. But I just thought it was everything I wanted to do, up until that point. So I was going to enjoy every single second of it.
How do you take care of yourself for a commitment like that?
Obviously you can't really drink, or whatever. But I could go home and have a glass of wine or a beer or whatever. But you can't go out after the show. Even if you're just going out to have dinner or socialize, you don't realize how loud you have to speak just to be heard over the murmur in a restaurant. After a show when you're not warm and you're tired, if you try to go out, speak over that, then you're wrecked. Really, you just need to go home every night. Luckily, I like to read and play video games. Obviously, you have to eat really well, get a lot of sleep, drink a lot of water. It's all very basic stuff, but you just have to do it. You finish a show at 11, you can't go to sleep until 3 because you're wired. So I would try to sleep in until ten or eleven, then get up and go to the gym, maybe take a nap in the afternoon or rest, and then go to the show and get ready. But again, it's great. It's wonderful. Even when you're doing eight shows a week, as hard as it is, it's 28 hours of work? So it's not really that long of a workweek when you think about it.
What do you like to read?
I'm actually reading four books right now which is difficult. I'm almost through The Goldfinch. It's interesting. I love Donna Tart, Secret History is one of my favorite books, but this one didn't…I mean, I know the event that happens at the beginning is amazing, but it didn't necessarily grab me right away, but I'm sticking with it, and I think I'm good. I'm reading that, I'm reading the My Struggle books, the Karl Ove Knausgaard books, which I love. I don't know if you've read them, but you kind of have to get over the pretentiousness of them at the beginning. Once you get past that, they're great. And I'm a big fantasy reader, so I just started The Gunslinger.
So you just did Ham4Ham, with Lin-Manuel Miranda!
[youtube https://www.youtube.com/watch?v=fWGXEDbtxyE]
I did! It was crazy.
Did he invite you? I mean, how do you get that gig?
I've known Lin for a long time. Actually he and I have been talking about this since I've been in LA doing Grease Live, it was something, because Tommy Kail [Hamilton's director] directed Grease Live, and so there's a lot of Hamilton connections, and I'd seen Hamilton twice before I went out there. When they first started doing it, Lin had asked me, just his schedule my schedule hasn't worked and so I'm so glad it worked yesterday, to get in there before he leaves. And then yesterday, we were going to do the thing with Roy and I the whole time, but he, because it had gone for so long and there was a bit of buildup online about it, he had the great idea to sneak me out and for it to be a surprise.
And I did—it was very fitting! The line, yesterday, was not just out front of the [Richard Rodgers Theater]: it went all the way down 8th avenue to 45th street, and was all the way to the marquee on 45th street. I met Lin in the lobby of the Imperial Theater, the Les Mis theater, and we went up on stage, downstairs, and there's a tunnel downstairs that connects the Imperial and the Rodgers, which I didn't know about! Because I couldn't walk through the stage door to give it away, because there's 1,000 people on the street. But I was walking down 45th street and I saw this line all the way down the marquee, and I said "This can't be the Hamilton line" and sure enough, it was.
It was so fun. I'm so grateful for the support of the Broadway community. I haven't been on Broadway since 2011, but I still feel, I've always felt like this is home for me. I want to be able to do TV and film and theatre for the rest of my life, but theatre is kind of where it all started. I live here, you know, it's just so much a part of my life. So I'm so grateful that things like that, and the concerts that I've done—I try to make a point to still stay in touch with the theatre community every way I can, because I get people ask me questions like was it always your plan to do stage and then jump into TV and film and it just wasn't. It just wasn't the plan.
So it's been really nice. And [presenting at] the Tony Awards were the same thought process as this, where I'm just so grateful that even though I haven't been on stage in New York in 5 years, that I still feel so close to the Broadway community.
I know you did RENT at the Hollywood Bowl…
That was 2010, yeah.
So even earlier. Oh, wow, wait. You've played every single Broadway role. Wicked?
I did Wicked.
Hairspray.
Hairspray.
Basically every "handsome guy" role.
Yeah. [Laughs] Yeah, yeah. And RENT was my first national tour; I got cast out of college. I was the cover for Rodger and Mark but I went on a lot over the course of that. So that's what was also nice about the Hollywood Bowl, about six years later, to come around full circle to get to play Rodger. It's kind of astounding to think about. Because when you're in it you don't really think about it that way.
You've been the Broadway Wonder Boy [Note: It took all of my self-control not to say "superboy"]. 
I've been really lucky. And thank you.
I remember hearing rumors that you were involved in an Anastasia musical.
Anastasia I did in very early readings and workshops of it, because Terrance McNally wrote the book of Catch Me If You Can. I did one of the very early readings of that, but nothing else. I won't be doing that anymore. But they're doing that at Hartford Stage right now and it's supposed to come in next year, to New York.
Are there roles you want to get to?
That's the thing, too, is they're all great roles but they're all young, really young. So I'm excited for, hopefully, the next age block. The time being away has been nice. I mean, I turn 33 this year. It's kind of nice that hopefully I'll step into this next group of things. I'm dying to play Bobby in Company, which I think is something in a couple years I could do. Carousel—some of my all-time favorites.
Assassins?
I did Assassins! In London, two years ago. Yeah! I got to go to the Menier Chocolate Factory, and Jamie Lloyd, who is this amazing young British director, he hasn't done really anything over here yet but he will, he's unbelievable. He directed it, and I got to play Booth, and I grew a huge handlebar mustache which I had no idea I could do, and it was amazing. I want to play Sweeney Todd when I'm older. I think with my history with Le Mis, I've never done the show, so I think I'd like to play Val Jean I think, maybe 20 years from now. It's exciting not to know what the roles that haven't been written yet are.
One that I'll say—I know they're very early in the process but if it ever comes to fruition, I will definitely try to throw my hat in the ring—I would definitely love to be Westley if they ever make the Princess Bride musical. That's one of my top five favorite movies; one of my top five favorite books.