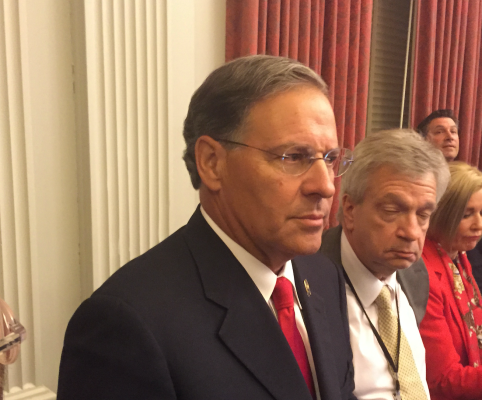 Assembly Minority Leader Jon Bramnick (R-21) and Assemblywoman BettyLou DeCroce (R-26) are calling for a special session to come up with a compromise on funding the Transportation Trust Fund with a gas tax. Negotiations between the state Assembly, Senate and the Governor Chris Christie came to a halt at the end of June.
"This is a serious issue and we need to begin discussions in the Legislature today," Bramnick wrote in a statement.
The Senate is not scheduled to have another session until August. The Trust Fund, which pays for maintenance and repair of the state's roads and bridges, is set to run out of money that same month.
Christie and Assembly Speaker Vince Prieto (D-32) cut a surprise deal on funding the flagging Trust Fund with a 23-cent per gallon gas tax increase, hammering out a deal that would offset the hike with cuts to the sales tax. Christie has said he supports that measure over a previous Senate bill that would phase out the estate tax instead.
"This cannot wait," DeCroce wrote. "We need to come together to fix our roads and bridges and provide relief to taxpayers."
Senate Democrats are still at an impasse with the governor. Despite rumors that Christie and Senate President Steve Sweeney (D-3) met Friday to try and reach a compromise, a member of Sweeney's staff told PolitickerNJ that no meeting took place.
Christie issued an executive order halting all work on transportation projects after the Senate declined to vote on the sales tax plan, which passed in the Assembly in a late-night vote.
Business groups and progressives alike have criticized the Assembly bill for costing the state nearly twice as much as the estate tax phase-out: up to $1.6 billion rather than $900 million. Prieto, for his part, said earlier this week that he made the deal with Christie to ensure that the gas tax increase would pass. Democrats were unlikely to have the votes to override in the lower house.
"The Assembly has acted to fund transportation, keep laborers on the job and boost our economy, and what I've made clear is we need a bill the governor will sign because I want this resolved," Prieto said.