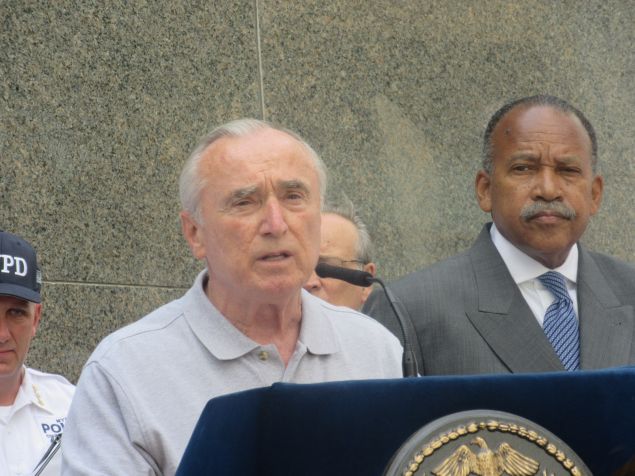 NYPD Commissioner Bill Bratton believes the end of next year will be the "right time" for him to move on—even though insists that his tenure as the city's top cop has been going well.
Speaking at an unrelated press conference in Brooklyn, a notably dressed-down Bratton confirmed he would not stay on as the city's top cop past the end of Mayor Bill de Blasio's first term. The New York Times reported his planned retirement earlier today. Bratton had told City & State last year that he would not remain through the mayor's second term if he is re-elected.
"If things are going well, there's never a good time to leave when things are going well but there's a right time and whether in your personal life, professional life, that's something in my life I've tried to always do…is find the right time and cause minimum restructuring if possible," Bratton said.
De Blasio, for his part, proclaimed himself a champion of the commissioner and his work—and said as long as he's mayor, he's fine with the commissioner sticking around.
"I think Bill Bratton is doing an extraordinary job as police commissioner and we are truly unified in our vision for safety in this city and as long as I'm mayor, I welcome him to continue being police commissioner," he said.
Bratton, who kicked off his second stint as commissioner in 2014, first served as the city's police commissioner from 1994 to 1996 under then Mayor Rudolph Giuliani. The city saw crime drop dramatically during his tenure, but he resigned amid a minor scandal over a book publishing deal—and amid personal conflicts with Giuliani.
Although the mayor and the commissioner have worked to present a unified front on crime and other issues, they often publicly disagree on numerous issues publicly.
Most recently, the mayor and the commissioner have both maintained that they sympathize with the concerns of communities of color but that police officers and their families must be supported in light of the recent deaths of African-American men at the hands of the police as well as police officers in Louisiana and Minnesota.
But Bratton has said that the Black Lives Matter movement has unfairly targeted police officers while the mayor took some flak from the police when he said he had to tell his son Dante how to act around police officers. And when the mayor described the shooter of police officers Rafael Ramos and Wenjian Liu as a troubled outsider but Bratton attributed the shooter's behavior to protests of police reform demonstrators in the city's streets.
After the commissioner rejected the City Council's proposal in 2014 to add 1,000 additional cops, he ended up asking for more and eventually getting nearly 1,300 new cops.
Last year, when the commissioner said homelessness "exploded" under the de Blasio administration and that the mayor made a "mistake" in not recognizing it sooner, de Blasio said he would have worded it differently but that the commissioner was "speaking from the heart."
The New York Times also reported that Chief James O'Neill was a possible successor to the commissioner. When asked if he and Bratton have had any conversations about it, he did not comment directly but said he enjoys his current job.
"The beauty of my job is it's apolitical," he said. "I love what I do."
The mayor also chimed in but did not address the question of who would succeed Bratton.
And when he was pressed about whether other high-level commissioners are expected to leave on the same timeline as Bratton as well as whether a search committee is in place, he stressed that the city is in a "very premature place" given that it is the 31st month of the administration.
The mayor said the city is focusing on the work that needs to be done for the city as well as the upcoming presidential and mayoral elections.
"We've said very, very clearly, my point of view is this commissioner is doing a great job," he said. "He's made clear that he's not going to stay into a second term. I absolutely respect that, especially after all he's doing for the city over the years and that's all there is to say at this point."
Bratton's exit decision comes as the NYPD faces its biggest scandal in decades. U.S. Attorney Preet Bharara charged two top-ranked cops and one of de Blasio's top political donors in an alleged gifts-for-favors scheme last month.