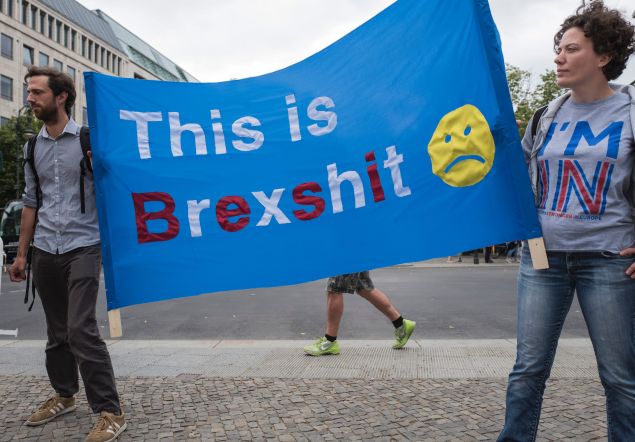 For a few hours at Trafalgar, it could have gone either way. But by the end of that day, October 21, 1805—the day Vice Admiral Horatio Lord Nelson breathed his last—Lord Nelson would have gained for England another hundred years of history.
The same might have been said about the Brexit vote: It could have gone either way.
While we slept, it was well expected the vote would fail—possibly even by its agent, Boris Johnson, the former London mayor who might have been hoping to hitch a ride to 10 Downing Street. But the vote did not fail, and the catastrophic farce that is Brexit may well be remembered now as Trafalgar is remembered. While Trafalgar is remembered as prelude to the rise of Victoria's story and to the climax of a sea-based empire more vast than Rome's, Brexit is to be remembered as its final footnote—the final death cough of the British Empire.
There might have been warnings of its inevitable coming, even going back several decades. Like, when did the England of Henry VIII and Anne Boleyn—born, nurtured, fought over and forged by Thomas More, Cardinal Wolsey and Thomas Cromwell—start taking advice from Bob Geldof?
It is all water under the bridge. The Brits had a choice between Queen Elizabeth II and the Commonwealth or the European Union (EU), America and President Hillary Clinton. Time will tell that they made the right choice—the organic choice. They voted for who they are and who they will be, but it will take some time as not only has Britain left Europe behind—and Britain was never Europe—but has also left America behind, at least for now.
Britain was our portal to Europe, the EU and that imaginary globalist friend we've called "the West" since our dramatic entry across the channel into Normandy on D Day. Now our door to Europe is closing. In time, it will show to have been the better choice for us as well. We, once we became Americans, were no longer Europeans anyway. But as Harry Potter, The Beatles, Chef Gordon Ramsay, Doctor Who, Adele, Downton Abbey, two world wars and then some have proved again and again, we were and are somehow still kind of British. Cultural cousins, perhaps.
It should never have come to this. The Prime Minister of Great Britain, Tony Blair, disgraced this week by a task force report seven years in the making on his decision to blindly follow America into Iraq, telling President George W. Bush: "I will be with you, whatever." This should never have been heard from a British Prime Minister.
Whatever.
It has all the appearances of the "end of history" or the "end of time" in a more sweeping mythic context. That which awakened with Queen Elizabeth I, ends forever with Queen Elizabeth II—as if they were only bookends for Victoria, Queen of the United Kingdom of Great Britain and Ireland and Empress of India, the book.
"You're now going to have Scotland leave the U.K., which is going to cause the U.K. to lose its oil income," says the legendary investor Jim Rogers of Brexit as interviewed by James West for the Financial Post. "You're going to have Europe doing everything it can to take business away from the City of London … The U.K. only has Scottish oil and the City of London. So when they lose both, you're going to have a small country … England and Wales perhaps."
Historian Arnold Toynbee has ventured a few thoughts on history, time and destiny. The long sweeps of great empires like Caesar's and Victoria's don't die necessarily, he writes. They change into something else. Yang will yield to Yin in a historic, transformational period of equilibrium—a turning in a time of defaulting power, devolving nation states and uncertainty; a time of "no country . . . no religion too."
And the Extravert, Caesar, will be seen to have spent a thousand years to the end of days only to have built a nest for the Introvert, the Christ, sure to follow in his passing. Together they will form particle and wave of their epoch. The disintegration of a civilization, "discharges itself in a full cycle of the alternating rhythm of Yin-and-Yang" writes Toynbee in his classic text, A Study of History.
We have now come full cycle: a turning, with Britain getting there first. A time of dread interspersed with moments of euphoric anticipation. The feeling of imminent collapse in a world without walls, suddenly revealing the vulnerabilities behind its joys, riches and pleasures; a chilling sense that something is coming. It is just ahead. Something unknown to us before. And it's coming here, too.