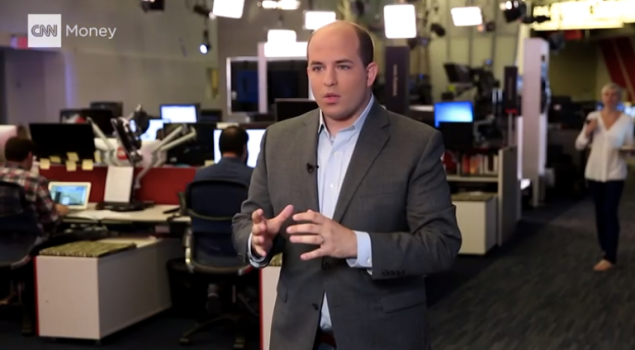 After the forced resignation of Fox News emperor Roger Ailes Thursday, MSNBC covered it first and longest but CNN covered it best and with the most insight. And Fox? They barely mentioned it.
Late in the 4 p.m. hour, CNN's Brian Stelter offered intriguing speculation about possible new employment for Alies, accused of serial sexual harassment by female employees like Megyn Kelly and sued for it by Gretchen Carlson.
"He is a political mastermind as well as a television mastermind," Stelter said of Ailes. "Some have openly wondered if he would actually join the (Donald) Trump campaign."
Stelter said the idea amused him but made some logical sense in this unorthodox presidential campaign. It is often said that the Republican candidate Trump listens primarily to family members. But the calculating part of his mind might tell him that Ailes is the right man at the right time in the short term.
"Roger Ailes could conceivably help Trump in a more open way than he has so far," Stelter said. "We know they talk on the phone. But could he actually join the Trump campaign?"
Speculation like this filled the electric air as the four-day fiasco of the Republican convention thundered to a close in Cleveland, its last performance a long, angry speech by Citizen Trump that didn't even once mention Ronald Reagan but said scary things about illegal immigrants and so on and so forth.
Compared to previous days, it went smoothly: No plagiarism by the candidate's wife; no kangaroo courts with lynch-mob chanting like the one led by New Jersey governor and Trump bodyguard Chris Christie. ("Lock her up!" they chanted again Thursday, regarding Hillary Clinton. "Lock her up!).
The amateur quality of this four-day freak show cried out for someone who knows how television production can take a creepy candidate and sell him to the American public. As a young man, Ailes did just this to help Richard Nixon's political resurrection as President in 1968.
Ailes had a genius for hiring bellicose right-wing men and sharp-tongued right-wing blond women.
Like Nixon then, Trump is bellowing "law and order" this year and Ailes knows how well fear sells. In 1988, he worked on the "revolving prison door" ad that helped Republican George H.W. Bush defeat Michael Dukakis.
In that this year's campaign mood is often compared to that of 1968, wouldn't it be perfect for Ailes to spend the next 100 days putting another accomplished but deeply flawed man in the White House?
Certainly the sleazy accusations against Ailes would not deter Trump. As a bona fide New York sharpie, The Donald gets it about guys and dolls, OK? As Trump often says, he isn't politically correct.
Also on CNN, Jake Tapper called Ailes' dismissal the biggest media story since Brian Williams got suspended by NBC in 2015 for stretching war stories.
On MSNBC—where Williams now works—the story broke at 4:15 p.m. with Cynthia McFadden telling anchor Steve Kornacki "Several people said the ascent of Trump and the descent of Ailes . . . was probably as important—if not more important—to the overall structure of the Republican party than the rise of Donald Trump."
On Fox, media critic Howard Kurtz gave a bare-bones account of the Ailes story at the top of the 6 p.m. Special Report. His story lasted just under 90 seconds. All night, on the Fox set in the basketball arena in Cleveland, the Ailes tale remained the elephant in the GOP room.
As Chuck Todd, Joe Scarborough and Mika Brzezinski picked up the story on MSNBC, Todd said "Roger Ailes has been basically at the core of the media strategy for the conservative movement for arguably 50 years."
When Scarborough wondered aloud "Does Roger have a next move?" Todd replied: "You don't come back from these allegations." But Brzezinski added: "I would never underestimate him. Ever."
One of the many ironies of Thursday's drama was the element of illicit sex. When Ailes started Fox for Rupert Murdoch in 1996, he relentlessly covered the story of President Clinton's affair with intern Monica Lewinsky. Fox drove the coverage that led to Clinton's unsuccessful impeachment.
After tipping the coverage of election night in Florida to George W. Bush over Al Gore in 2000, Ailes and Fox beat the war drums for Bush's 2003 invasion of Iraq, a catastrophe that continues to this day. In 2010, Fox became a de facto organizer of the Tea Party movement with relentless coverage.
Stelter said Ailes reshaped television news and Republican politics at the same time.
"Fox News is a virtual public square for conservatives," he said.
On MSNBC, Michael Steele said Ailes "sort of created this news space. A lot of conservatives found a home."
It had furniture, like a "curvy couch" for Fox and Friends, a show that shed Carlson a year ago. Kelly has a glass table that allows high-angle views of her legs.
Ailes had a genius for hiring bellicose right-wing men and sharp-tongued right-wing blond women partial to wearing short, sleeveless, red dresses, their legs often in the camera frame.
Various commentators Thursday said Trump would not have won the Republican nomination without the resentful, right-wing worldview of angry white men as presented by Fox.
"In many ways, (Fox) sort of drove the agenda for what conservatives were talking about," Dylan Byers added on CNN. "Talking about the sort of culture wars, the racial divisiveness . . . so much of that came from the environment that Roger Ailes created at Fox."
Disclosure: Donald Trump is the father-in-law of Jared Kushner, the publisher of Observer Media.