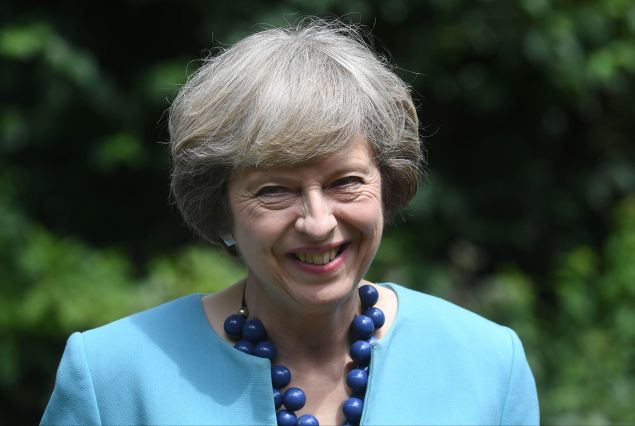 The 80s are back: Britain has a female PM, we're about to embark on a massive bout of deregulation and the left are in disarray.
Theresa May began her first full week in office by humiliating the opposition with a debate on renewing Britain's Trident Nuclear Weapons system.
May knows Labour are horribly split on the subject—just having the debate would worsen the crisis of leader Jeremy Corbyn. He is already subject to a challenge that looks likely to see his entire party membership balloted on whether he should be allowed to continue. An almost unprecedented humiliation.
Corbyn has been a long-standing supporter of the Campaign for Nuclear Disarmament (CND). The group dutifully protested outside Parliament to back their man, but it was clear from the outset he couldn't carry his own MPs.
In a Thatcherite show of strength, the Prime Minister shocked the house by confirming she would be willing to use nuclear weapons. When asked by Scottish Nationalist George Kerevan MP whether she was personally willing to kill 100,000 "innocent men, women and children" by ordering a nuclear strike, she replied, simply: "yes."
May went on to say there was no point in a nuclear deterrent unless Britain's enemies knew she'd be willing to use it.
But the debate was about so much more than the theoretical chance of nuking anyone. Britain began its nuclear weapons program because of a desire to maintain its place as a global power. The Prime Minister knows the same working-class traditionalists who just took Britain out of the European Union are sick of the country's leaders managing decline.
They do not want to be a region of Europe, or for Britain to cease being a nuclear power. They look to the relationship with America not in the Obama doctrine of the UK being the English speaking part of a federal Europe, but rather as a serious partner in a dangerous world—as it was under Reagan.
In 1982, after the Falklands were invaded by Argentina, the then Prime Minister Margaret Thatcher was faced with being heaved out of office for presiding over a disastrous humiliation. Her commanders said the Falklands were gone forever, and the Foreign Office wanted a negotiated settlement.
It was Thatcher's 'knight in shining gold braid' the Admiral of the Fleet, Sir Henry Leach, who told her that not only could the Falklands be recaptured but they must be. He explained: "Because if we do not, or if we pussyfoot in our actions and do not achieve complete success, in another few months we shall be living in a different country whose word counts for little."
The truth is no one knew where the Falkland were, but losing the territory by military means meant losing prestige. So Britain needed them retaken, and today Falkland Islanders are the best-defended people on earth with around $350k spent for every man, woman and child.
People who debate whether Britain needs to spend $50b to ensure it has two nuclear submarines at sea at any one time to nuke back if the country is destroyed really miss the point. In the world, today nuclear powers are few in number and they are the most powerful countries on earth.
Last night's vote to decide on the future of Trident was really a vote on where Britain sees itself in the world. Arrogantly, perhaps, the House of Commons asserted by 472 votes to 117 that Britain will remain a nuclear power.
The UK will build a total of four new nuclear submarines, this will enable the two at sea to be rotated. Trident is nuclear missile system, supplied by the Americans.
As predicted, Labour's 230 MPs split on the issue: 140 voted to renew Trident, 46 backed their leader by voting against and the rest abstained. The Scottish National Party also voted against, they are trying to move the base from Glasgow, but seem unlikely to succeed.
I think it's fair to say Theresa May just nuked Labour, ouch!
Andre Walker is a Lobby Correspondent covering the work of the British Parliament and Prime Minister. Before studying journalism at the University of London he worked as a political staffer for 15 years. You can follow him on Twitter @andrejpwalker