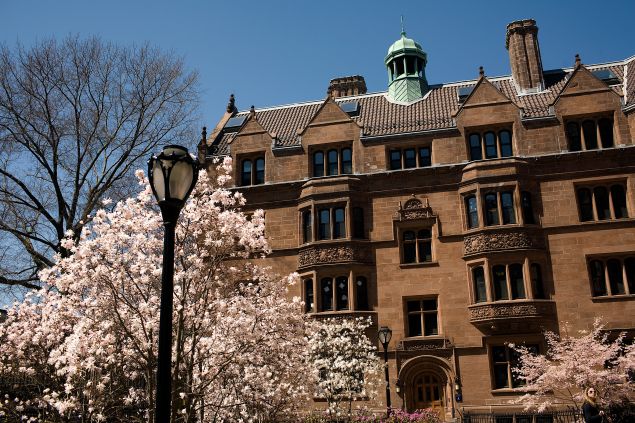 Corey Menafee had worked for Yale for about eight years, most recently as a dishwasher. In June, as he was cleaning a dining room in Yale's residential dorm Calhoun College, Menafee stood on top of a table and used a broomstick to break a stained-glass window. The windows, installed in 1933, depicted enslaved Africans carrying bales of cotton. Menafee said the image was racist and degrading and that he had become sick of seeing it every day.
Calhoun College is named after John C. Calhoun, one of the most prominent pro-slavery figures in history. A debate has been roiling the Yale campus for years about whether the residential college should be named for the former South Carolina congressman, senator, secretary of state (under Presidents Tyler and Polk), secretary of war (under President James Monroe), and two-term vice president under Presidents John Quincy Adams and Andrew Jackson. Some Yale students complained that the college's name celebrates a slave owner and makes minority students feel unwelcome. Last April, Yale's president, Peter Salovey, announced that the university would keep the college's name to "confront [history] teach it and learn from it."
Yale chose not to press charges nor seek restitution for the destruction.
Menafee said he had been aware of the controversy surrounding Calhoun College, and the unsuccessful campaign to rename it. "I was aware of it," Menafee said. "That's not why I did that. I was just tired of looking at that image."
Menafee resigned from the university (as part of what he claimed was an agreement with Yale to not press charges) and apologized for almost injuring a student walking nearby when the glass came crashing down. While Yale has denied Menafee's claim, it chose not to press charges nor seek restitution for the destruction.
It is precisely the wrong message that Yale should be sending to its students.
Are they saying, by their tolerance of criminal behavior, that the next time a Yale student is offended by, say a painting at the Met, it is O.K. to slash it? Or perhaps that Monticello, Thomas Jefferson's home and masterpiece, is a legitimate target of vandalism because Jefferson's history as a slave owner makes them feel unsafe. Or that the giant carvings of working men that adorn Rockefeller Center are insufficiently diverse, and deserve to be covered up.
In elementary school, students often receive report cards not with grades but with assessments such as "plays nicely with others," or "respects the property of others." If Yale is going to tolerate infantile—indeed criminal—behavior, perhaps it should abandon its grading system and pretext to welcoming diverse thought and debate, and adopt the kindergarten model.