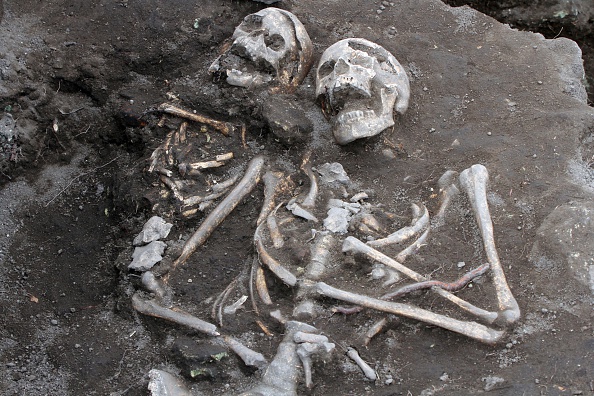 Thanks to rich deposits of spooky archaeological sites, Bulgaria may very well be Europe's next vacation hotspot—at least for Twilight fans. The country's Ministry of Culture is pushing forward with plans to promote its many "Vampire Funeral" sites—graves containing staked skeletons—in an effort to lure tourists, reports Balkan Insight. So forget Transylvania (there's little compelling evidence that Dracula ever lived there, anyway), if you want to see real vampires, head to Bulgaria.
To date, nearly 100 skeletons have been found nailed to their coffins with iron stakes or with heavy bricks placed in their open mouths across the country, according to CityLab. Scientists suspect the centuries-old pagan practice, which dates to the 4th century, was meant to keep the body's soul from escaping after death, and prevent the deceased from rising and going on a Walking Dead-style rampage.
"We all know about the international interest in such findings. With joint efforts, we can popularize what we have here," Bulgarian minister of tourism Nikolina Angelkova told Balkan Insight.
Bran Castle in Romania receives upward of 500,000 visitors a year, according to its website, because of its loose ties to Bram Stoker's Dracula story. And while the "real" Dracula, the mythic Romanian Prince Vlad the Impaler, wasn't actually a vampire (I mean, as far as we know), he did earn his nickname for impaling his enemies on spikes, which is gnarly in its own right.
Angelkova has proposed building a giant glass coffin over "the world's largest vampire funeral"—a mass grave discovered during excavation in the ancient Roman town Deultum, near modern day Sredets. If his vision for a $1.5 million reconstruction of the town is accepted, the staked skeletons would be exposed under a "glass sarcophagus" and he estimates the attraction would draw 10,000 new tourists per year. Meanwhile, the mayor of the seaside city of Sozopol, where archaeologists uncovered staked human remains in 2012, plans to set up a "vampire trail" partnership with Vlad's Romanian hometown of Sigishoara.
However, not everyone in Bulgaria is on board with becoming a pilgrimage site for Twihards. "I have always said I have certain reservations against such vampire topics," the director of Sredets' history museum, Krasimira Kostova, said in an interview with Bulgarian National Radio. "The main accent in Bulgaria should be on its immense cultural heritage as meeting point of different cultures—Thracians, Ancient Greeks, Romans."