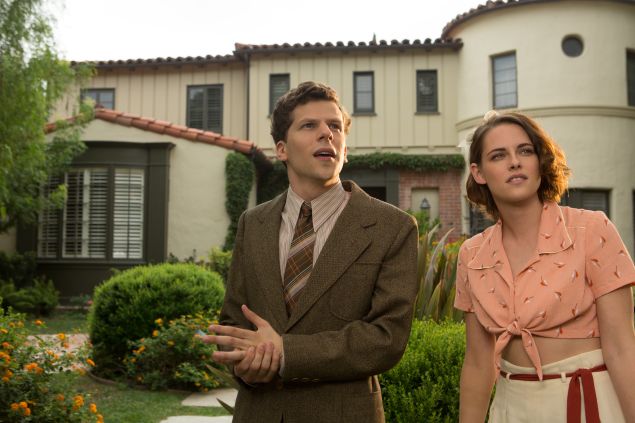 Excelsior! In Café Society, Woody Allen returns to his favorite setting—the past—and emerges triumphant. He does that a lot, squeezing fabulous music, breathtaking scenery and nostalgic charm out of Paris, Rome, London, Barcelona and even Queens. But Hollywood is uncharted territory—a place that has always eluded, disoriented, challenged and intimidated him. Until now. Romantic, bittersweet and funny as hell, Café Society turns Hollywood inside out, rooting through the superficial tinsel to find the real tinsel. You go away gobsmacked, beaming and happy to be both.
---

CAFE SOCIETY
(4/4 stars)

Written by: Woody Allen
Directed by: Woody Allen
Starring: Jesse Eisenberg, Kristen Stewart and Steve Carell
Running time: 96 min.

---
The setting is the not-so-great Depression which, through Woody's eyes, never seemed less depressed. When it begins with "I Didn't Know What Time it Was" by Benny Goodman & His Orchestra, you know you're in for some welcome class, and Woody delivers it in spades with the arrival in the Land of La of Bobby Dorfman (Jesse Eisenberg), a Jewish dork from the Bronx who has come to seek fame and fortune, rub elbows with some movie stars and get laid. His only contact is his unctuous Uncle Phil (Steve Carell), a pretentious, cigar-smoking agent who lives it up thriving on rumors, gossip, deals and martinis, entertaining the B-list around his swimming pool at sundown. Uncle Phil drops names with every breath he takes ("Adolphe Menjou is threatening to walk off the picture," "Ginger Rogers has been trying to reach me!"), but he finally invents a menial job for Bobby out of guilt for the family back in the Bronx.
His sister Rose is Bobby's mother (Jeannie Berlin, who sounds exactly like her own mother, Elaine May). Phil assigns his pretty assistant Vonnie (Kristen Stewart) to show his nephew around on a tour of movie star homes, and although he never comes any closer to a real star than the ones on the screen at Grauman's Chinese Theatre on Hollywood Boulevard, Bobby falls for Vonnie. This is a bad idea since Vonnie is sleeping with a lover of her own who must remain a secret because he's a married man. (He also turns out to be Uncle Phil.) Brokenhearted and devastated, Bobby returns to New York, marries another girl named Vonnie (short for "Veronica"), played by Blake Lively, and joins up at the top of the Manhattan social register running a nightclub owned by his brother Benny (Corey Stoll), aptly called Café Society.
Here the movie switches gears, and the people Bobby met in Hollywood waft in and out of his new life as a Manhattan celebrity, all of them connected by an association with Benny, who without the family's knowledge, is a gangster with a talent for burying his enemies in cement shoes. The good-for-nothing Benny, played with smarmy but appealing gusto by Stoll, is probably the only man who could tell you the whereabouts of Jimmy Hoffa. In one of the loopier of the film's many subplots, Benny converts to Christianity in the hope of an afterlife. The film is chock full of anti-Semitic references, including Lively's observation as the bodies of Benny's adversaries pile up in empty parking lots: "It's true what they say—you people are pushy."
It might occur to you about now that there is nothing remotely plausible about Café Society, and you're right. It couldn't matter less because like Radio Days, Blue Jasmine, Manhattan Murder Mystery and all of Woody's great movies, this is a tall tale from the unique vision of a man with his own memory of how things were, are and should be. The twisted events that play out like a jazz riff are figments of Woody's exuberant imagination. The past comes alive like a movie he runs in his mind, in fragments. Instead of a lot of depth, the movie has a linear simplicity that, in light of all the pretentious, convoluted junk we're getting these days, is wonderfully refreshing. It's crisp and dripping with style. The music, played incessantly by Vince Giordano and the Nighthawks, as well as some of New York's other top jazz musicians, is marvelous. Santo Loquasto's sets dazzle with the sophisticated enchantment of New York in its salad days, whether such a place existed or not. The gorgeous period feel by the great cinematographer Vittorio Storaro (Last Tango in Paris, Apocalypse Now) brings out the hues and color schemes of Woody's different moods as the film shifts from capricious to solemn, always within the context of the director's trademark whimsy.
Let us be perfectly clear, as the candidates are so fond of saying in this election year, Café Society is a cause for rejoicing.