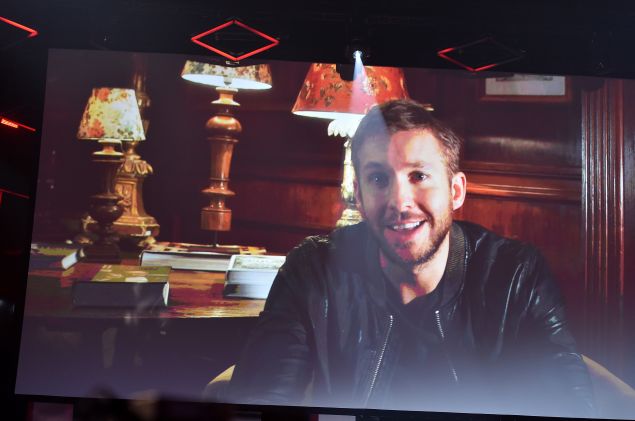 In the ongoing saga of "Calvin Harris v. Taylor Swift," it was revealed this week that Swift wrote parts of early contender for Song of the Summer, "This is What You Came For," under a pseudonym. It's unclear why this was news, or who asked in the first place, but whatever. The natural progression of this public uncoupling continued yesterday when Harris fired out a series of tweets that simultaneously complimented Swift as a lyricist and musician, and chided her for litigating private feuds in the public eye:
In response, Cosmopolitan published what would charitably be described as a scathing polemic about how Harris is a "fuckboy" unworthy of anybody's "hero-worship." Predictably, Harris did not take kindly to this, and issued a since-deleted tweet:
Nah whoever wrote this please be embarrassed as hell; bullying clickbait article – fucking shameful https://t.co/IhCGaIl8z8
— Calvin Harris (@CalvinHarris) July 14, 2016
It's unclear to me why Harris would have deleted this, except maybe to avoid directing traffic and dollars to the article, but he's right: it is bullying, it is clickbait, and it is fucking shameful.
Sorry Cosmo, girl power doesn't come from systematically deconstructing men.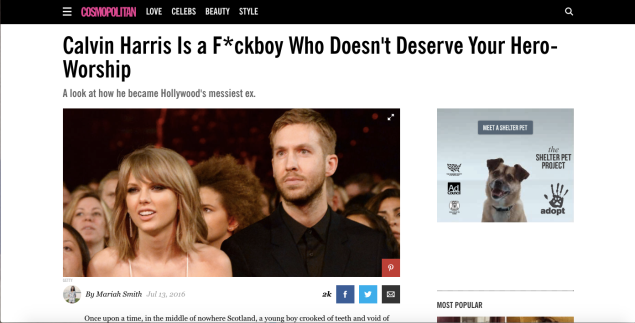 The writer gets down to business quickly, poking fun at Harris's teeth and implying he's ugly in the first sentence. Congratulations, Britt McHenry, making fun of people's teeth is really original. It's also worth noting that Cosmo routinely publishes pieces calling people out for "body-shaming" others, and discouraging the practice—rightly so. In fact, Cosmo just posted a column about Playboy Playmate Dani Mathers snapchatting somebody changing at the gym with a mean comment. But, it's totally okay to make fun of somebody's looks if they're a guy, or a "fuckboy?" Got it. Score one for moral relativism.
The piece continues by discussing Harris's investment in changing his looks and image, calling it the "origin story of Hollywood's greatest fuckboy." Not sure how investing in changing one's looks and image makes them a "fuckboy"—I mean, haven't 90 percent of celebrities done basically the same thing?
Having sufficiently covered the several ways in which this column falls under the purview of "bullying," let's move on to the allegations of fishing for "clickbait."
The headline of the column tells us that Harris is undeserving of our "hero-worship" without doing a single thing to demonstrate anybody has given him that. The writer seems to make a half-hearted attempt to back this claim, citing that the hashtag #TaylorSwiftIsOverParty began trending on Twitter following Calvin's posts—though it doesn't appear that he used that hashtag in any of them himself. I reckon the author is implying that Twitter came to his support? In the absence of any other substantiation that Harris was somehow on the receiving end of "hero-worship," that's the conclusion I'm going to go with—and it's specious at best.
The rest of the piece isn't really worth breaking down into its constituent parts, save to say it's utterly ridiculous. The only back-up the writer provides as to Harris's so-called "fuckboy" history is a reference to Rita Ora, claiming he dumped her on Twitter—sourced from the ever-unimpeachable Daily Mail. However, an interview Ora gave and Cosmo reposted, claims "[she] split up with him"—certainly implying that Ora left Harris. But, honestly, who wants to sacrifice clicks for the sake of being circumspect in one's opinions!
Finally, and this might be the most egregious "click-baiting" of the article: Harris is repeatedly referred to in sweeping generalizations as "Hollywood's" this or that. The best is the reference to Harris as "Hollywood's messiest ex." Yeah—he dated two famous girls and they broke up. Totally puts him on the same playing field as the Charlie Sheens of the world.
Super-trendy buzzwords in the hede? Check.
Completely unsubstantiated claims about a celebrity's character? Check.
Selectively sourcing history to fit a narrative? Check.
Dramatic verdicts on character? Check.
Smells like clickbait to me.
To be clear, I have absolutely no opinion, whatsoever, on "Harris v. Swift 2016"—both Harris and Swift are tremendously talented, and they both make fun music. But it's obnoxious to see a popular media outlet like Cosmo apply selective ethics, telling readers it's only bad to tear people down if they are women, but tearing down "fuckboys" who seem to have done very little wrong is not only okay, it's fun and fierce—yay, girl power!
Sorry Cosmo, girl power doesn't come from systematically deconstructing men and referring to them using the same pronoun structures that I use to refer to the Pokemon in my Pokedex. And it's even worse to see that done in the nakedly clickbait fashion that this piece was constructed in. Yes, they are rich, famous celebrities, and I'm sure Calvin Harris isn't weeping into his piles of money over being called a "fuckboy" in Cosmo, but you can't credibly call out "body-shaming" and "bullying" while publishing columns that are clearly mean-spirited in the same breath.
Cosmopolitan has removed the article from its website.