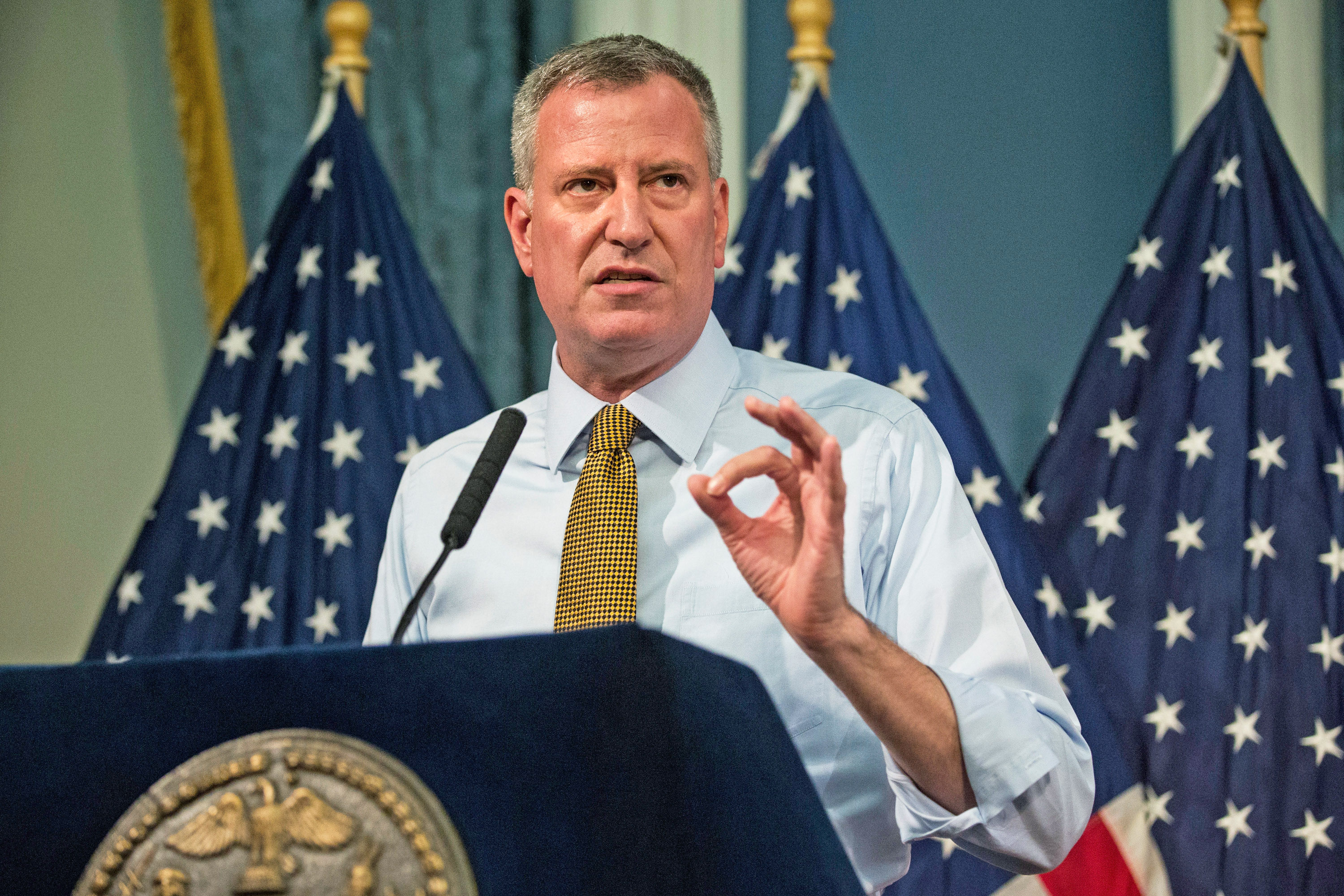 Mayor Bill de Blasio didn't violate the city's campaign finance laws by soliciting unlimited donations through a nonprofit organization—but the Campaign Finance Board today offered a stinging rebuke of the practice and called for the City Council to close a "loophole" that allows it.
"The fundraising by the Campaign for One New York plainly raises serious policy and perception issues an illuminates the ways in which the jurisdiction of the Campaign Finance Act is limited," Rose Gill Hearn, chair of the CFB, said today at a meeting.  "New York City's campaign finance law allows candidates to run for office without relying on big contributions from special interests. The system depends on reasonable contribution limits that reduce the appearance that influence can be bought or sold through campaign contributions."
The board found today that the fundraising and spending by the mayor's Campaign for One New York, which began as effort to support universal pre-kindergarten in Albany dubbed UPKNYC, was not related to his 2017 re-election campaign, in part because the spending happened more than three years ahead of the re-election bid.
"The Campaign for One New York was formed to advocate for New York City's progressive policy agenda," said Dan Levitan, a spokesman for the group. "It never engaged in any election campaign activity for any candidate and shut down more than a year and a half before next year's election. We are pleased with today's CFB decision."
But the CFB wasn't exactly pleased with the Campaign for One New York—which it noted had directed spending to vendors involved in the 2013 campaign and to some who have already also been paid by the 2017 re-election bid.
Campaign finance laws allow for a candidate to use these non-profit groups to advocate for issues—but not for themselves or their re-election. That's because campaign spending in New York is closely regulated by strict and comparably low contribution limits—even lower for anyone with business before the city—and with a public financing system that offers matching funds from taxpayers to candidates who opt in and follow further fundraising rules. Those rules don't apply to the Campaign for One New York, which Gill Hearn noted has accepted donations as large as $350,000, can take cash from corporations and LLCs, and is not required to disclose its donors.
"It defies common sense that limits that work so well during the campaign should be set aside once the candidate has assumed elected office," she said. "The board calls upon the Council to pass legislation to close this loophole and amend the law to more closely regulate fundraising by elected officials and their agents for nonprofit organizations, especially 501(c)4 entities."
Today's finding that the group's spending was not in connection with the mayor's 2017 re-election bid comes after a complaint was filed by the good government group Common Cause New York, and in response to a CFB investigation. The determination was largely based on the timing of the fundraising and spending, and the CFB issued guidance that any spending from a similar group that happens on January 1 or later in an election year would be assumed by the board to be related to the campaign—and not allowed.
"I'm not surprised, although I am somewhat disappointed. I think he board was right that the situation points to a real gap in our campaign finance law," Susan Lerner, executive director of Common Cause New York, told reporters after the meeting. "The onus is now on the City Council to close the gap—and on the mayor to sign a bill if it's passed."
De Blasio's office didn't immediately respond to a question about whether the mayor would support such a law. But in the past he has argued that as long as other people—including his political enemies—are allowed to raise unlimited funds through these means, he needs to do the same in order to fight back on behalf of the people of New York.
Lerner wasn't buying the argument that the mayor was at some sort of disadvantage.
"Has he looked around to realize that the is now the mayor of the largest city in our country? That he has an extraordinary bully pulpit and an extraordinary communications system? And advisers that we all have paid for—and I hope they are worth our tax dollars, and he should be relying on them," Lerner said. "And secondly, we have a public policy here in our city about large campaign contributions: we don't allow them. We don't allow a pay-to-play atmosphere. And the mayor has gone around it."