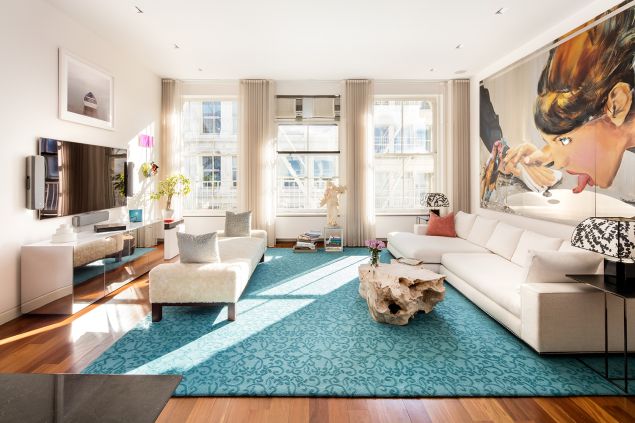 "I moved from Rome in 2003," Sara Tecchia told the Observer from the fourth floor of 125 Greene Street. "I saw Soho, and it was the closest thing!"
"This is a unique, authentic Soho loft," Tecchia said, noting that the five-story building was a cardboard factory before turning co-op. "We're just four units."
Alas, Tecchia is planning to head uptown, and has listed the 2,200-square-foot abode with Douglas Elliman brokers Raphael De Niro, Maggie Leigh Marshall and James Flowers for $5.5 million.
Feline-loving buyers might feel a pull to the apartment. "I have cats," Tecchia explained, opening one of the lower cabinets in the open kitchen, "and you don't want to see a litter box, so it's hidden in here—they go through this little tunnel," she added, motioning under the Italian marble breakfast bar.
Tecchia gutted the entire space after purchasing it, putting in teak floors and adding a Nulux lighting space to help display the oversized artwork in the living room.
She recently renovated the full guest bath, removing the previous red-and-black marble color scheme and adding sparkling gray granite in the tile of the rainfall shower. "I took inspiration from Montauk Lake—I'm there a lot," she said.
We encountered one of the aforementioned felines perched on the windowsill of the north-facing guest bedroom, where Tecchia converted an office into an en-suite walk-in closet.
An original Holly Hunt mirrored armoire sits in the adjacent master suite, and the en-suite Italian marble master bath is complete with a soaking tub, separate steam shower, a heat lamp and heated floors.
Tecchia's hoping potential buyers will opt to keep much of the custom décor, including the Belgium granite table, white Minotti couch and even some of the larger pieces of art. "It's just made for this apartment," she sighed.
"It's all very serene and tranquil," Tecchia opined, walking us to the private elevator landing. "I convinced the co-op board to allow me to renovate and design the elevator," she added, gesturing toward the quite lovely, light gray gradient interior. "You should have seen it before—it was straight out of The Shining!"