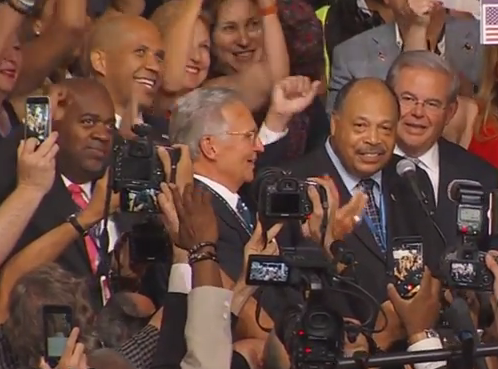 PHILADELPHIA – When Jack Kennedy got shot in 1963, John Currie was on his way home from football practice, walking across the bridge over the Great Falls in his home town of Paterson. That intersection of sports and politics in the most diverse city in New Jersey at that moment proved meaningful in the life of the young man, who would go on to be a respected Paterson football coach, and the long-serving Passaic County Democratic Chairman; who would ascend to the state chairmanship, and who last week personally delivered the lion's share of New Jersey's delegate votes to the winner of the Democratic Primary for President of the United States.
"He is the consummate political coach in Passaic County," said Assemblyman Benjie Wimberly (D-35), himself a legendary local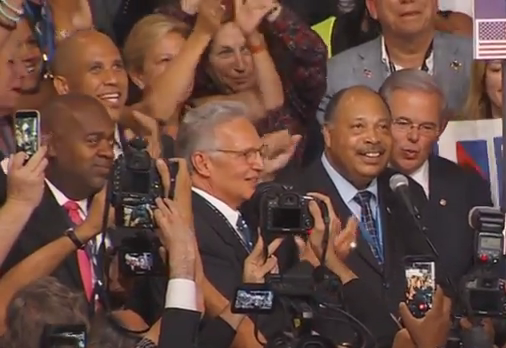 coach who taught Superbowl-winning NFL star Victor Cruz how to play wide receiver. As a child in Paterson, Wimberly saw the Currie-coached Inca Suns as the epitome of structure, discipline and a winning attitude. They stood out as the local version of some of the best professional sports teams, and the image of their coach – whose face looked over the city on billboards for Hawthorne Chevrolet – only reinforced the narrative of excellence.
At one point, Wimberly wanted to play for the Inca Suns, the way some kids dream about playing for the New York Yankees.
Last Tuesday, Currie the team leader and coach stood on the floor of the Wells Fargo Center under the banner of New Jersey.
"I stand before you with our congressional delegation and others – a state as diverse as they come in America," the chairman and old running back said. "…For the next president of the United States of America, the first female, and history will be made, 90 votes for Hillary Rodham Clinton."
It was a big, historic moment for the man who rose to statewide prominence as the beneficiary of a 2013 deal that made him chairman after an intra-party fight, but Currie is used to history. The chairman's formation in politics went back to even before Kennedy, actually, and long before Clinton, to August of that same year Kennedy was killed, when at 18 years old he drove a black Oldsmobile down to march on Washington and hear Martin Luther King, Jr.'s "I Have a Dream" Speech.
The history went back before that for Currie, to his first 11 years, growing up in segregated North Carolina in the Southern Pines.
Whenever his grandmother took him into a general store he would routinely ask her if she would buy him a cream soda. She never would. "She would make every excuse in the world for why I couldn't have that soda," the chairman recalled. "She would get me candy, or something else. But never a cream soda, and it didn't occur to me until years later that the reason she did that was because I could not go and sit at the whites-only counter to have that soda."
It was that long-reaching arc in American politics for the Democratic chair made him a particularly relevant New Jersey leader in the face of a nativist Republican onslaught. In the Republican Primary, GOP presidential candidate Donald Trump called for a ban on Muslims entering the Untied States, refused to repudiate a white supremacist, and denounced undocumented workers as rapists and murderers. All three positions target three key communities in Paterson, the place where Currie has now instructed two generations of Democratic Party leaders, including Wimberly.
"In my view there's no other choice," Currie told PolitickerNJ at the Renaissance Hotel, when asked about his support for Clinton over her Republican opponent. "This man [Trump] is not qualified at all and does not have the temperament to be president of the United States."
At a party in his honor at the hotel on the night Clinton accepted the nomination downtown, delegates and operatives from all over the State of New Jersey paid tribute to the state party chairman, among them Bergen County Democratic Party Chairman Lou Stellato, Hudson County Democratic Chairman (and Assembly Speaker) Vincent Prieto, Middlesex County Democratic Chairman Kevin McCabe, Monmouth County Democratic Chairman Vin Gopal, Somerset County Democratic Chairwoman Peg Schaffer, Burlington County Democratic Chairman Joe Andl, and Mercer County Democratic Chairwoman (and Assemblywoman) Liz Muoio. The brace of party leaders at the front of the room underscored the importance of Currie's role in the upcoming 2017 Democratic Party Primary for Governor.
Former Cumberland County Democratic Chairman Louis Maggazzu was in the room, and so was former Speaker Sheila Oliver (D-34).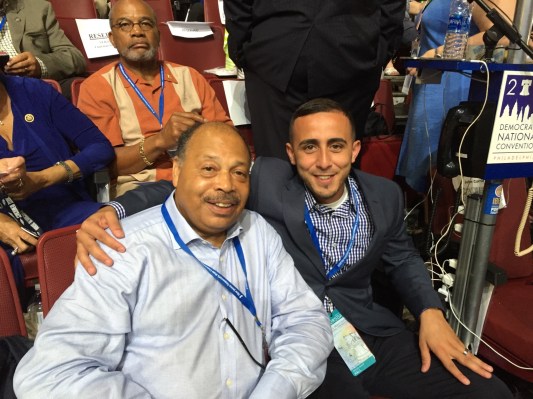 But the core of Passaic County support for the chair consisted of his loyal Paterson base: including Bill Pascrell III, Passaic County Freeholder T.J. Best, and South Ward Democratic Party Leader Al Abdelaziz. His goddaughter, Assemblywoman Shavonda Sumter (D-35) was an avid presence at the convention, and so was state Senator Nellie Pou (D-35), both longstanding features in the Currie political firmament.
"I don't know if you see that in any other county," Wimberly said. "We have every type of person in the rainbow on our team. That's a concerted effort by thee chairman. You hear about player's coaches. John Currie is a politician's chairman."
PolitickerNJ asked members of the delegation from Paterson – molded as they are in part by Currie's example – about their particular motivation for this year's election.
"I believe the anti-immigrant, anti-Muslim, anti-Hispanic, anti-woman rhetoric demonstrates that this is someone we don't want to come anywhere close to the presidency." said Pou, who described Paterson as one of the most diverse cities in the country.
"The Donald Trump rhetoric has really energized the base in South Paterson, especially now," said Abdelaziz, a Currie protege. "Elections have consequences and we'll be out there knocking on doors making sure we get out the vote, but his rhetoric isn't only the Muslims. It's the Hispanic community, it's the minority community."
A teacher and track coach and devout Muslim who came up short in a Ward 6 council bid this year in one of the most-watched New Jersey contests of 2016, Abdelaziz credits Currie with bringing him into Democratic Party politics.
"John mentored me," said the Patersonian. "He took me under his wing in 2009 and made me co-chair of the party. He's the main reason I got involved. We were coming off a tough year [when Chris Christie coat-tailed freeholder victories for Republicans]. He taught me through the tough time and I saw him deliver with his back to the wall. Not only does he preach diversity but he has opened up opportunities to people of diverse backgrounds."
Abdelaziz credited the coaching charism as a connecting point for the two of them in politics.
"The first time I sat down with him, 80 percent of the conversation was about sports," he recalled. "I went in there talking politics and we ended up talking sports. That's why he's been so successful. He runs his organization as a coach. He brings people in, molds them, give them the opportunity to lead, and helps them succeed. Coach is a title I think he'd put before anything, and I think it's only fitting that this man, so committed to opportunity for all, would lead our delegation for this history-making opportunity. It is truly inspiring, because this is a person who at every turn has put the party before himself."
Convinced that his party presented a stunning alternative to what he saw as a hate-filled Republican National Convention in Cleveland a week earlier, Currie said he was proud of the final outcome in Philadelphia for his party.
"The highlight for me was Michelle Obama, who thoroughly impressed me," said the chairman. "I thought our Senator Cory Booker did a magnificent job, and I truly believe you're looking at a future president of the United States in Cory. It was moving – incredibly moving – to see our president, Barack Obama. As an African-American man, I never thought I would see an African-American man nominated for president, but to see him elected twice, has been extraordinary. As for the final night, I thought Hillary Clinton did great, and the Muslim father of a slain serviceman was just touching to me.
"I think he brought it home to what America is all about," Currie added.
For Currie it was seeing and experiencing discrimination first hand in the south, paying attention to the Christian lessons and example of his grandmother and then later learning the discipline of football, paying attention to coaches like the great Artie Lewis, and becoming a man who in his own world of sports could focus on and hit milestones, like training the first African-American quarterback in Passaic. "Sports for me was taking kids from the projects and helping to develop them into strong family men, and today some of those men still call me coach," Currie said. "I'm blessed to have spent 40 years in the family car business. I'm just a regular guy, but i think it's about helping people, and that's what gives me satisfaction. I'm a strong Democrat."
For his part, Wimberly the aspiring young athlete from Paterson never did get that chance to play for the Inca Suns. But when he made his way into politics with Currie's help, like so many others, including Abdelaziz and Sumter, he undertook a vital role in the Democratic Party.
"He's always been a larger than life figure for me," Wimberly said of Currie, "back to when I used to see those teams looking so organized and structured, looking good; and looking up at that Hawthorne Chevrolet billboard and seeing an African-American man."