A grocery store, an airport and a brasserie: All of these real life destinations have been Chanel-ified by Karl Lagerfeld and turned into a set for a fanciful runway show. But for the Fall/Winter 2016 couture collection, the tweed and pearl obsessed brand opted for a setting that was closer to home for the fashion set. In fact, Lagerfeld simply recreated the atelier where fine Chanel couture is carefully created.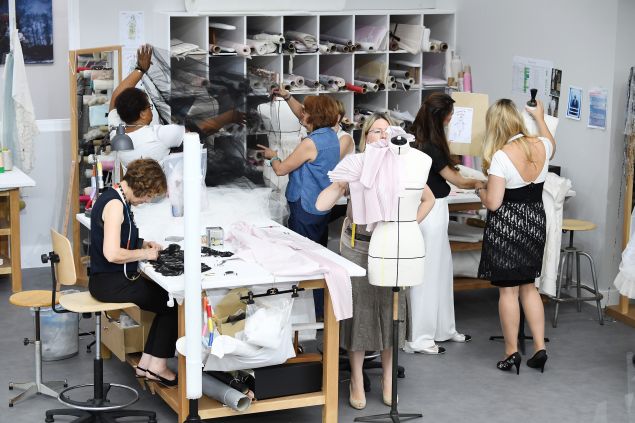 The faux ateliers were constructed inside of Paris' Grand Palais, with each work station authentically decorated with bolts of fabric, cutting tables and mannequin busts. Even the petite mains, the talented couturiers who create the clothing, were on hand to complete the realistic runway set.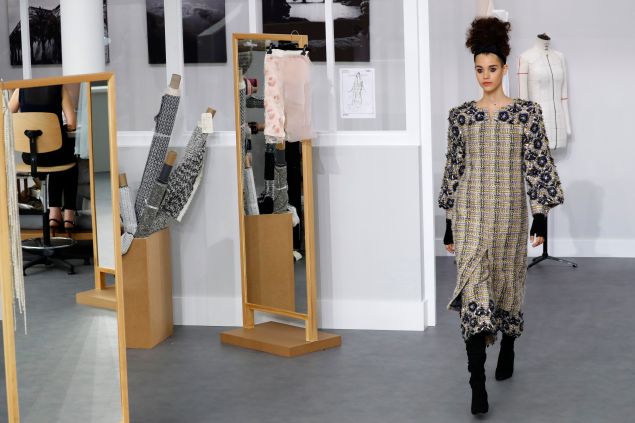 From the setting of the show, it was obvious that this collection was an homage to the skillful hands that whip up each and every Chanel couture collection. It was a thank you to those seamstresses and embroiderers that bring to life each of Lagerfeld's creations, spending countless hours constructing them by hand. As such, the range was a showcase of the best tweedy pieces, including jackets with cropped sleeves and stand up collars, embellished with the shine from a row of buttons. Often paired with grown up culottes, in diagonal stripes of black and white or sprinkled with embroidered flowers ending at an unfinished hem, the look was surprisingly loose and casual, at least for a couture collection. There was a slew of mesmerizing gowns too, with white flowing silk interrupted by sparkling seams and flouncing hems.
Playing off the structured feel of the collection were airy poufs of curls, scraped atop each model's heads. The Sam McKnight created hairdos were finished off with a grosgrain bow, as if being offered up as a gift to show goers.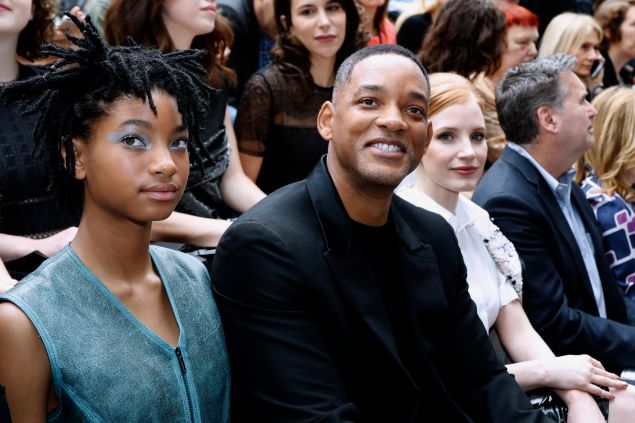 From the front row, Willow Smith (the newest face of Chanel eyewear) took in the show alongside her father, Will Smith. Also in attendance was Jessica Chastain, Ines de la Fressange, Lauren Santo Domingo and Grace Coddington. But it was clear that the real stars at this show were the ladies who usually work behind the scenes, the seamstresses who make Chanel spring to life through each collection. In fact, Lagerfeld even shared his final bow with a slew of his skilled team. Charming, indeed.