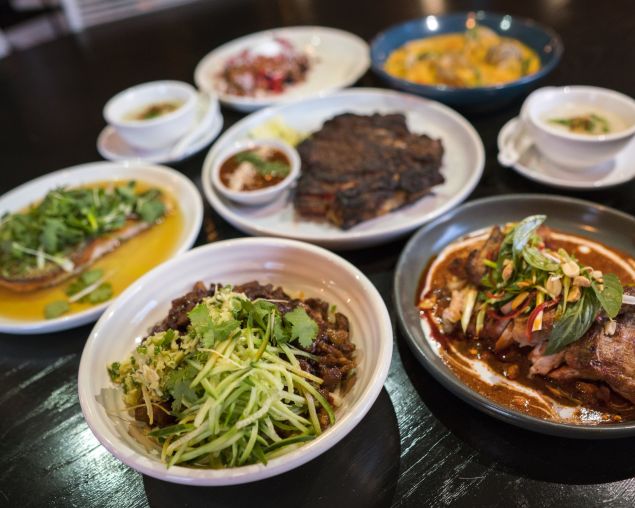 Serving bold, personality-driven food in a restaurant attached to a nightclub is tough, no matter how strong your knife skills or point of view. Just ask "Top Chef" winner Hung Huynh or "Taste" judge Ludovic Lefebvre.
You've probably been to a place like this: The patrons are more concerned with fucking models than consuming what's on their plate, the owners somehow seem to think adding sugar and avoiding garlic is what Snapchatting customers want, and you end up with "shareable" dishes that end up uneaten.
So, what chef Louis Tikaram is doing at E.P. & L.P. in West Hollywood should be applauded. This restaurant would probably really suck if it were in New York or Las Vegas. But, because this is L.A.—where even owners of exclusive lounges understand that guests want food popping with flavor and heat—the Aussie-born/Fijian Tikaram has created a hot spot that's about 768 times better than it needs to be. 
If you're an L.A. Yelp enthusiast (Yelp is much more useful in L.A. than New York, btw, but that's a story for another day), you might have noticed the lukewarm reviews of E.P. & L.P., with people complaining about the tough door staff that makes getting up to the L.P. rooftop lounge an ordeal. If you're a specific kind of L.A. scenester, you probably have at least one gorgeous friend who glides in with a wave to private parties on the Chateau Marmont patio and gets whisked to the front of the line at Bootsy Bellows—but who has told you the gatekeepers for L.P. can be assholes.
(This is by design, of course: How many New Yorkers over the years have been rejected by Disco or Wass or Aalex or Allison or Binn or Sherry or Damian only to try even harder to get into the same spot next time? Club bosses pay for AP Royal Oak watches and build vacation homes with money from people who were turned down before figuring out how to make it inside.)
You might have also heard that superstar DJ Axwell of the sort-of-broken-up Swedish House Mafia is a partner at E.P. & L.P.
But ignore all that buzz. Put on the noise-cancelling headphones, if you must, and go to the second floor for Tikaram's E.P. eating house. That's where Thai and Chinese and Indian flavors are merged with seafood from Down Under and deep cuts of meat. These are dishes made with nuance and grace by a chef who used to cook in Sydney and who has multi-culti influences flowing through his veins. E.P. evokes Singapore hawker stands and Cantonese seafood palaces and the whirlwind three-week trip Tikaram recently took to Fiji, where he reconnected with his Fijian/Indian/Chinese roots.
Restaurateurs David Combes and Grant Smillie (both also Australian and lovers of Southeast Asian food) deserve a lot of credit for letting Tikaram cook his way. If this food was at a cash-only, no-reservations gastropub with 12 seats in Atwater Village, the line around the block might never subside. But instead, Tikaram's in a big, loud dining room with a wraparound chef's counter facing the open kitchen. That counter is where you should try to sit and sip a mango-lassi-inspired 'Those Bollywood Nights in These Hollywood Hills' rum cocktail while you explore Tikaram's world.
The chef is a man who know where he comes from and where he wants to go, so he serves grilled Australian baby-lip abalone with curry paste and Thai basil. That and some oysters topped with white soy and ginger or with red chiles, lime and cilantro are a good way to start your feast.
Inspired by his recent travels, Tikaram has created a new spring menu with dishes like a soul-warming Fraser Island crab congee. There's pan-fried snapper, delicate flesh and perfectly crisped skin, topped with white soy, ginger, green onion and cilantro–a dish that's an elevated, dainty version of what you might find in a San Gabriel banquet hall but also a dish that reminds me of wonderful fish with ginger and scallions I ate at Keith McNally's Lucky Strike in Soho 15 years ago. (McNally, of course, is the king of bringing together A-listers, beautiful people, club kids and world-class food.)
There are dandan noodles made with pork neck and lots of chiles. The noodles are toothsome and excellent, and the sauce resembles a Hunan stir-fry as much as the classic mala Szechuan dish, but this isn't a complaint at all. E.P. is about riffing, putting a 2016 beat on street-cart food, and Tikaram's flow is solid. A side of mixed mustard greens, stone fruit and watermelon vinegar would be a hit in any of L.A.'s storied California-cuisine destinations.
The most groove-tastic dish we tried was the turmeric and coconut clams, made with Cloudy Bay Diamond clams from New Zealand. It's a dish that shares a worldview with Singapore laksa, bright and funky and creamy and briny, but there are no noodles, so get some rice on the side or just drink the orange-and-chile-laden-red broth after you eat all the clams. This is what you came for.
For dessert, there's sticky rice and airy apple fritteroles and an elaborate bed of crushed coconut s'mores that we saw a pastry chef carefully plating for several minutes. Extended play indeed.
E.P. & L.P. is the rarest of establishments, a place that unites those who go to West Hollywood seeking the uncompromising flavors of Night Market and those who go to West Hollywood to end up at 1OAK. So maybe there's a lesson here for Tao Group and EMM Group, the rival New York nightlife behemoths who are both getting ready to open their first Los Angeles restaurants (although we understand that these guys are probably too busy counting all their money to worry too much about tweaking their formula for L.A.).
It's close to 10 p.m. at E.P. on a Thursday night and there's a packed house excited for Tikaram's bold, personality-driven food to make them tingle and ready to mingle. We're sitting at the chef's counter so we can hear all the orders come through. Two dandan noodles, then two more dandan noodles, then one more dandan noodles. Sometimes it pays to let it burn, burn, burn, burn.