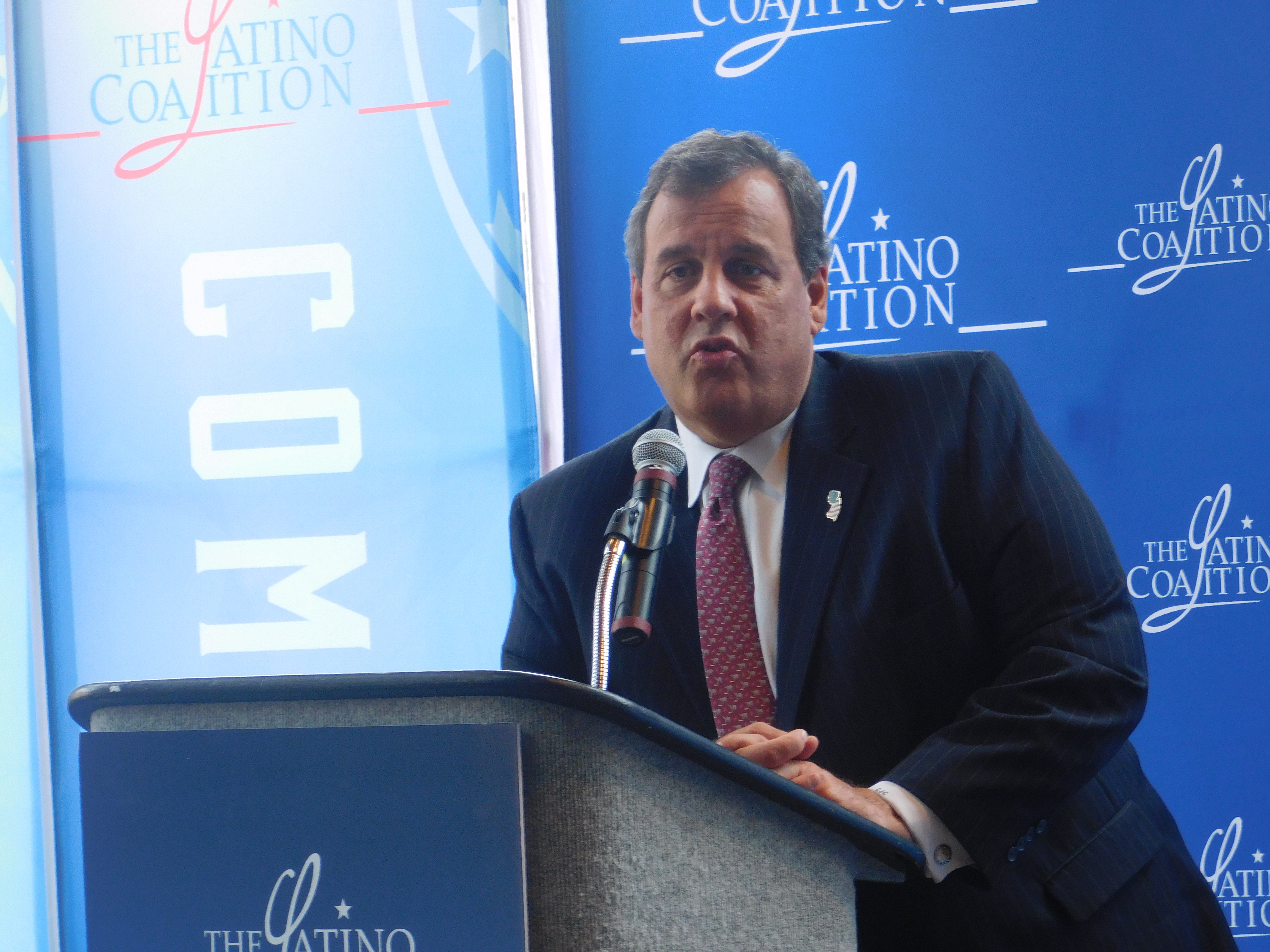 CLEVELAND – New Jersey Governor Chris Christie followed up his well-received Tuesday night Republican National Convention speech with a presentation to the Latino Coalition's Republican National Convention (RNC) luncheon on Wednesday afternoon.
While Christie's Tuesday night speech focused solely on presumptive Democratic nominee Hillary Clinton, his Wednesday morning address focused more broadly on the issues of national security and securing the future of Americans. Even so, when Christie took the stage on Wednesday, he was immediately greeted by an audience member chanting, "Lock her up," the call that punctuated his Tuesday night RNC speech.
"You know, I didn't start that part," Christie joked, referring to the crowd-led nature of the chant.
He then launched into how America needs a president who will stand up to terrorist groups like ISIS and other radical Islamic extremists. For Christie, a Donald Trump supporter since the end of his own presidential run, the choice is easily with the official GOP nominee instead of presumptive Democratic nominee Hillary Clinton.
"Operating out of fear is not the way the United States has ever operated," Christie said. "It is not the way that we should operate now."
Christie also described how the recent graduation of his son Andrew from Princeton has opened his eyes to the fact that young people today are concerned with their futures, a stagnating economy, lack of opportunity and if they will fail to do better than their parents. He said that, because of that, America needs a president who understands economic opportunity. He again skewered Clinton and current President Barack Obama for an alleged lack of understanding for the economic needs of Americans across all ages, ethnicities and socioeconomic backgrounds.
Christie called current President Barack Obama an "academic" for whom the economy is "theoretical."
Christie also mentioned Libertarian candidate Gary Johnson. Current polls show that both Trump and Clinton have recording-breaking unfavorability ratings for presidential candidates. Because of that, some polls have Johnson with up to ten percent support among likely November voters.
"Let's face it, Gary Johnson is not going to be president," Christie said. He said that, because of that and the high unfavorability ratings of both Clinton and Trump, voting for one of the major party candidates for president is critical. "Sitting on the sidelines brings unintended consequences. For Republicans sitting on the sidelines, that is a vote for Hillary Clinton. For Democrats sitting on the sidelines—and there are some of those too—that is a vote for Donald Trump."
While Christie's avoided talking about himself or New Jersey during his Tuesday night RNC speech, the NJ Governor did not shy away from mentioning his Garden State track record on Tuesday. Christie touted his bipartisan support in a blue state both when he defeated incumbent Governor Jon Corzine in 2008 and again in 2012 when he ran for reelection. He also boasted of his his 51 percent support among Latino voters during his reelection campaign in NJ.
Christie, a huge proponent of charter schools, said that Clinton's lack of support for school choice will hurt American families and force children to continue in failing schools. He said that prolonging "failure" will take away hope for the future and continue an ongoing cycle. According to Christie, Trump can break that cycle and reinvigorate America and the hope for the future among students in urban, suburban and rural areas.
"If we want to change what is happening in our cities, if we want to change to level of violence, violence diminishes as the rate of hope increases," Christie said. "I am not here today to make a hard political sell. I am here to try to tell you the truth as I see it. I have made my judgment and I shared it with you in that speech last night. Let us not vote based on anything other than what we believe to be in our broader national interest and what we hope to be in our family's personal interest."
Christie's speech, which was given to a packed house at the Powerhouse in Cleveland, received a standing ovation from many attendees. He was followed in the program by Wisconsin Congressman Sean Duffy and Pennsylvania Congressman Keith Rothfus, among others. Before his Latino Coalition presentation, Christie gave remarks to the APPS National Security Forum.
The Latino Coalition is a non-partisan group aimed at inspiring and motivating Latino voters.