The Breakfast Club is back. But this time it doesn't include a Molly Ringwald and John Hughes collaboration.
With a new upscale food bar located in the heart of Times Square, Kellogg's has made cereal trendy again with bowls of its sugary creations now available for the public. Debuting on July 4th, the cereal company launched its first ever brick and mortar store with handcrafted cereal creations from Momofuku Milk Bar genius Christina Tosi.
"For me it wasn't trying to make something old into something new," Tosi said. "It was more challenging myself and challenging the conversation of what a bowl of cereal can be."
Tosi, who is a self described "crazy obsessive," about cereal, curated the list of breakfast options incorporating a variety of out of the (cereal) box ingredients. Integrating lemon zest, green tea powder, banana chips and thyme into her collection with Kellogg's, Tosi has used the breakfast nosh as a focal point of her career. She founded Milk Bar, the dessert-focused compliment to David Chang's noodle bar Momofuku in 2008. Milk Bar quickly expanded to a slew of other locations across the U.S. Famous for its crack pies, truffle balls and a philanthropic collaboration with supermodel Karlie Kloss, Tosi's Milk Bar recently launched a healthier product: a line of fresh pressed juices.
At Milk Bar, "cereal is never the canvas. It's never the star of the show," but with her Kellogg's collaboration, the MasterChef judge has been able to highlight the grainy ingredient and take a trip down memory lane, adding an extra layer of sparkle to the often monotonous and banal morning grain.
Bursting with combined sweet meets savory layers and with a side of Five Acre Farms' whole milk, the offerings are perfectly pretty for a killer Instagram shot. Designed as a farm-chic tableau, the shop is adorned with a perfect fire truck red and white color scheme and light-up sign to match.
As if the throwback to childhood wasn't enough, with the comeback of the carb-loaded breakfast food, the specially poured bowls of cereal will pop out of a shiny red locker designed to mimic an old school kitchen cupboard.
Building off of an idea that it could withstand time, the shop offers a variety of milk types—for all the lactose specific individuals and features 14 cereal options and an array of exotic fruit and energy boosting toppings for a "create your own" option. With charming confections galore, Tosi also crafted a collection of Kellogg's inspired Blue Marble soft serve sundaes for the cool starting price of $8.50. Of the six cereal based creations, Tosi's favorites are a toss up between The Corny Blues, a corn pops based creation and Life in Color, a colored filled fruit loop bowl.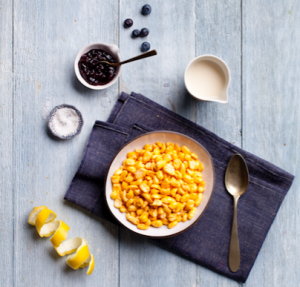 "Having a bite of [Life in Color] is like watching the Wizard of Oz," she said. "It's black and white and then all of a sudden it comes into color and your taste buds have woken up and feel like they've seen color for the first time."
This idea of integrating creativity and imagination into the small menu of breakfast food served as inspiration for Tosi while envisioning the New York City menu.
"I really believe that limitations breed the highest form of creativity. When you back your mind into a corner and you force it to be creative about getting out, that's at least for me when I get my best work out of my crazy little brain."
And that crazy little brain worked with her self-imposed restrictions of using only easily accessible ingredients most homes would have and vowing not to use a cereal more than once when crunching recipes for Kellogg's. The shop's menu, which will change seasonally, will attempt to keep up with New Yorkers' ever-changing cravings. Tosi, in fact, is already planning a holiday sampler, dreaming of gingerbread and Thanksgiving inspired cranberry combinations.
"I hope that my contributions are just additive to the dialogue and a sort of inspiration behind looking at something that's everyday and ordinary and easy and accessible and wondering what it can be."
It's been almost two years since the world saw the emergence of London's controversial and ever-popular Cereal Killer Café in 2014. And now, with the success of Chobani's Soho yogurt shop and M&M's Time Square mainstay, it seems as if Kellogg's is just the latest in the club that is food company turned brick and mortar enterprise. Birthed from a successful DNA, the idea for the shop came from a collaboration between Per Se general manager Anthony Rudolf and Eleven Madison Park, project manager, Sandra Di Capua.
Tosi first joined the Kellogg brand last year for a limited edition shop in Times Square, though she has been using Kellogg's Cornflakes in her Milk Bar creations since 2008. The limited edition project, known as the Recharge Bar, commissioned Tosi to reimagine their collection of cereals for the one week pop-up and left Tosi craving more.
"I hope that my contributions are just additive to the dialogue and a sort of inspiration behind looking at something that's everyday and ordinary and easy and accessible and wondering what it can be."
Kellogg's NYC is located at 1600 Broadway.