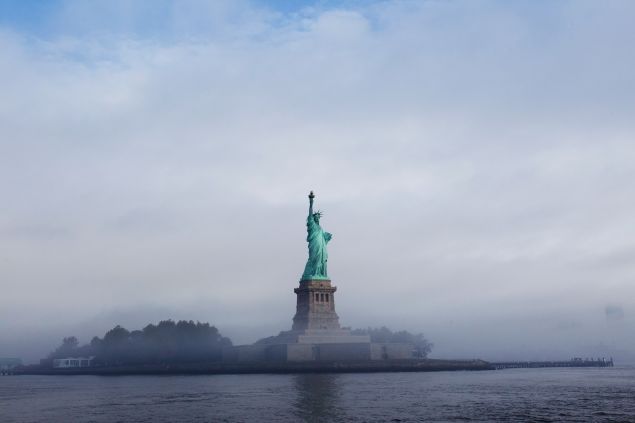 These six World Heritage sites are at risk of disappearing because of climate change. A recent report by the United Nations Environment Program and the Union of Concerned Scientists examined 31 locations across 29 countries most vulnerable to damage from climate change. On the list is Venice's lagoon, New York's Statue of Liberty and Easter Island.
MoMA staffers to perform dances for museumgoers. Choreographer Jérôme Bel is working with 25 museum employees who he has dubbed the MoMA dance company to create solo dances that will be performed in the atrium from October 27-31.
Renovation begins on Glasgow's fire-damaged Mackintosh library. In 2014, a fire destroyed much of the city's world famous architectural gem: the Glasgow School of Art's art nouveau library designed by Charles Rennie Mackintosh. Now, with debris cleared and a plan set to restore the library to its original state—with some modern updates like underfloor heating and a misting fire safety system—the much anticipated renovations have begun.
Don't miss Mackintosh's other classic designs while you wait for the GSA's library to be rebuilt. The Glaswegian architect left his mark all over the Scottish city, and not-to-miss sites include the Lighthouse (formerly occupied by the Glasgow Herald newspaper), the Mackintosh House (a recreation of the designer's home) and the Willow Tea Rooms.
World Monuments Fund to lay off 11 staffers. The Manhattan-based cultural organization, which has helped restore endangered historic sites across the world, is short on operational funds. A 10-year donation by retired hedge fund founder Robert W. Wilson was keeping the group going, but with the source set to expire the organization is being forced to restructure to keep afloat.
Winston Churchill paintings head to auction. Churchill's depictions of Miami Beach's Venetian Causeway and Cairo's Giza pyramids will be offered for sale at Bonington's Fine Art Auctioneers on July 27. The larger painting, of the pyramids, is estimated between $520,000-$780,000.