Welcome to our TV Fashion column, where TV Ate My Wardrobe's Emma Fraser discusses the trends in television apparel. This week: Growing up and coming of age in Netflix (NFLX)'s 80's lover letter Stranger Things.
(Spoiler warning – this article discusses all eight episodes of Stranger Things)
Freaks and geeks, cool kids and bullies; Stranger Things has them all and the eight-part Netflix series is dripping with nods to coming of age movies from the 1980s. Spielberg is an obvious starting point but Steven King and John Carpenter also share in the influence spoils. Teen archetypes come straight from the John Hughes playbook and everything will seem rather familiar.
This isn't meant as a slight against Stranger Things as the Duffer brothers manage to tap into these elements and deliver a very fun show that doesn't feel like a straight up rehash of the era of movies they are celebrating. Despite being many years beyond adolescence the teen/coming of age genre is one I find myself returning to time and time again particularly when it comes to television; recently it has been watching Gilmore Girls and Felicity for the first time, but here we're more in the shadowy government and monster department.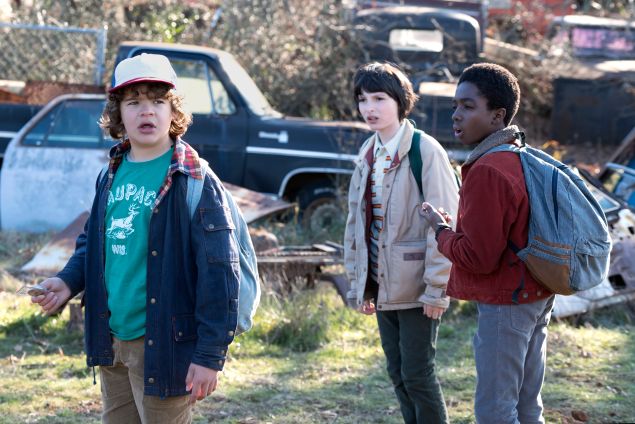 Nothing is more real than when Dustin (Gaten Matarazzo) talks to Mike (Finn Wolfhard) about the hierarchy of friendships and how you can really only have one best friend. The whole notion of 'best' friend caused me so much anxiety way back when and this was further compounded by there being three of us. Three is an awkward number for so-called BFFs; they don't make necklaces to be split into three.
The four boys are accustomed to their routines; 10 hour games of Dungeons & Dragons, walkie talkie chats – Lucas and Mike live next door to each other which in part explains their 'best' status – and even the bullying is something they are unfazed by as it happens with such regularity.
Troy and Tommy (such great 80s middle school bully names) are pretty cartoony in their villainy and the Duffer brothers subvert the bullying archetype with the teens instead. Steve is the classic cool kid; he drinks, his parents go away on a Tuesday leaving the house free for parties – not sure you can call 5 people a party, but whatever – and hook-ups. His hair is also at a height Jean-Ralphio Saperstein would be envious of and he has a whole load of smooth lines at his disposal. He is also a jerk and his regular cohorts are the kind of cackling and sneering give no shits cool kids you would expect from this genre. They are a more awful version of Kim and Daniel from Freaks and Geeks with zero redeeming qualities.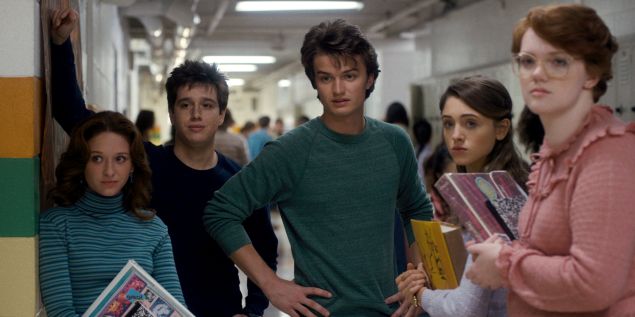 Enter Nancy and older sister Mike providing one of the familial links between the different age groups; this is her first foray into cool kid territory and she initially brushes off Steve's advances with studying excuses. Nancy later muses how she spent all weekend looking for a top to wear to impress Steve and now she is hunting a monster; priorities change. Nancy pulls the getting changed into something more provocative move in the car before turning up at Steve's house and while it is certainly tighter and a lower cut than her other clothes it isn't particularly risqué. Barb does note that Nancy is wearing a new bra, something her best friend denies even though it clearly is.
Nancy's attire throughout matches her bookish personality and at times she is one pointy bra away from Pleasantville. As with The Americans this is a period that is still influenced by fashion from the previous decade and isn't quite the 80s of Madonna music videos yet. Nancy's shooting practice getup pivots a little and is practical in terms of the colder time of year – plaid shirt, sweater and sheep skin collar coat I am coveting – and with what they are about to undertake. Not that anything prepares Nancy for her brief and terrifying trip through a tree into the Upside Down world.
This scary wasteland isn't the only uncharted territory these characters wade through; matters of the heart play a big role with the older kids. Nancy really likes Steve and as with any reciprocated crush some caution is thrown to the wind when hormones kick in. Sex leading to bad things is another well worn trope and Barbs' disappearance and subsequent death is unfortunately linked to Nancy telling her bestie to go home without her. Nancy losing her virginity then dealing with this burden is not given the time it deserves; only her tearful confession to her mother really addresses it as she points out that it doesn't matter whether she was talking to Steve or sleeping with Steven because Barb is missing.
Part of the "one month later" closing sequence shows Steve snuggled with Nancy in a rather fetching reindeer sweater (it is December after all) and this reconciliation is part of the Steve character one-eighty switching from bully mode to hero in a short time frame. Prior to this we see Nancy with her potential other suitor, Will's brother Jonathan. Jonathan is the resident school loner and this makes him an easy target to bullying. As with Mike, Lucas and Dustin the "weirdo" comments don't cease when his brother has vanished.
There are a lot of outsiders in Stranger Things and the connections they make could just save their life. Steve goes from breaking Jonathan's camera and having his face broken by Jonathan to ditching his terrible friends for a spot of monster fighting all because he has feelings for Nancy. It is rare for the cool teen jerk to get less jerky after sex and Steve doesn't get an instant free pass because he was involved in the Nancy slut shaming graffiti, but he also sees the error of his ways and volunteers to get rid of it. Not that I think he fully earns his hero moment in saving Nancy from the monster, but it certainly makes for an interesting and unexpected character development that subverts the expectations of this archetype.
Cher from Clueless is at her most relatable when we see how excited she is at the prospect of a makeover because whether it is Ty-Over week on America's Next Top Model or sprucing up an "ugly duckling" by removing her glasses and switched overalls for a dress; I am so here for this classic kind of montage. To get Eleven into their school's AV room without calling attention to themselves they realize they need to make her look more like the girls in their class. A shaved head and wearing Mike's sweats is not the way to go and this calls for a makeover montage. Dustin and Lucas are on clothes and hair duty raiding Nancy's old things and a dress up box where they find a blonde wig and a pink dress while Mike puts some makeup on her in a moment of closeness that neither of them is used to.
This results in Eleven looking like a version of the girl who cried at Will's funeral and Mike's burgeoning crush is becoming clear. He tells Eleven she looks "pretty" before following it up with "good" when he remembers he has an audience and they're still at that age where girls are kinda gross. Eleven repeats Mike's "Pretty… good" compliment in the mirror as she sees herself as more than just an experiment for the first time.
Later on after disagreements have been resolved through the power of an excellent group hug Eleven touches her wigless head while looking in the mirror and looks concerned. She asks "Still pretty?" and there is no need to add good this time and instead Mike replies with an affirmative "really pretty." All the kids are great in Stranger Things and Millie Bobbie Brown as Eleven is incredibly striking in a role which requires a lot with very little dialogue; her face is so expressive and she doesn't need long blonde hair to standout.
Speaking of long blonde hair, I couldn't help but see strong similarities between Brown and Larisa Oleynik both in appearance and because of all things The Secret World of Alex Mack. Their abilities and the tone of both shows are very different, but there are also enough similarities with both getting hunted by the people who caused their extraordinary abilities and this notion of young people outsmarting the shady source of their gifts. Once again what the Duffer brothers are doing isn't anything new, but they have produced an excellent addition to this genre that was crying out for something that isn't a reboot or remake.
Emma Fraser is the creator of TV Ate My Wardrobe and spends most of her time writing about TV, fashion and costuming; Abbi and Ilana's Broad City style, the wigs on The Americans and Mindy Lahiri's pajamas are just as vital as talking about '90s/'00s teen shows. Emma has a MA in Film and Television and she probably holds Angela Chase responsible for this path. You can find her on Twitter @frazbelina.