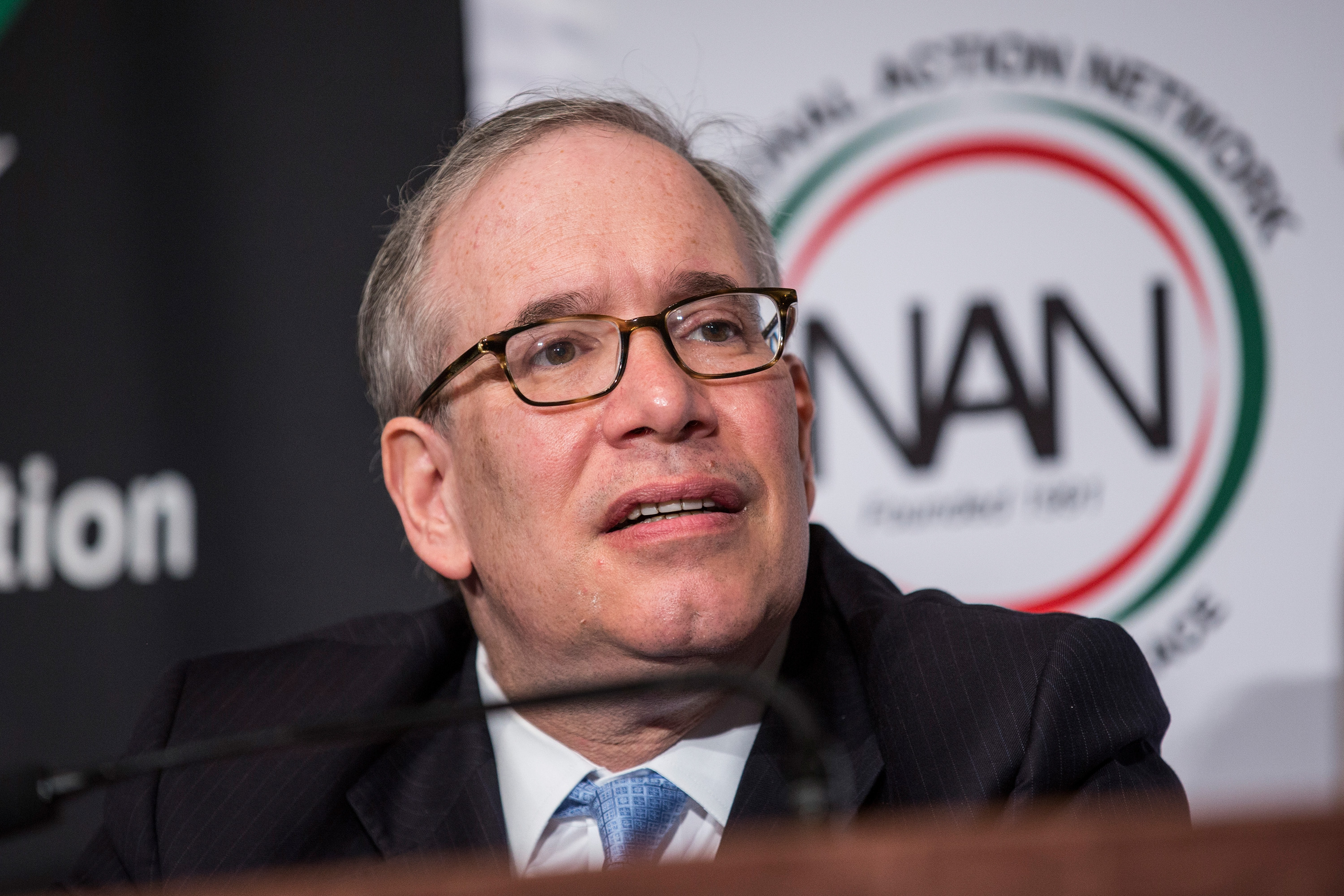 Comptroller Scott Stringer called Mayor Bill de Blasio's Campaign for One New York a "slush fund" today—a day after the Campaign Finance Board also criticized the nonprofit fundraising group.
"This slush fund should never have been constituted. It does not work for this city," Stringer said today during a press conference announcing an unrelated audit into the Department of Finance.
De Blasio's fundraising has received plenty of scrutiny in recent weeks—it was cleared by the Campaign Finance Board yesterday but remains the subject of several other investigations—but the criticism from Stringer is particularly noteworthy because he is regarded as a potential challenger to de Blasio in the 2017 Democratic primary. (Stringer held a 2017 fundraiser of his own just this week.)
"My reaction is he doesn't know what he's talking about," de Blasio retorted today at a press conference.
While the city has strict rules on how much candidates can raise when seeking an office like mayor, outside groups like the Campaign for One New York can accept unlimited donations—but can only use the money to advocate for issues, not a candidate. Yesterday, the city's Campaign Finance Board ruled that the mayor's group did not break any campaign finance laws, but went on to suggest the law should be changed to ban such groups, arguing it "defies common sense that limits that work so well during the campaign should be set aside once the candidate has assumed elected office."
Today, Stringer echoed those remarks.
"The standard should not be whether he broke the law," he said. "The standard should be what's the best practice for conducting a political campaign. That's really what this is about, and we need a strong campaign finance program that allows people to make small donations and get taxpayer-funded dollars for a campaign."
But even though he has decided to close the group, de Blasio continued to defend it, noting he'd voluntarily disclosed his donors (though only to the press and not to the general public, as the CFB pointed out yesterday) and arguing he's worked for worthy goals.
"This is where the line should be drawn: any political activity where the sources of the funds are not disclosed, watch out," de Blasio said. "But when it's fully disclosed and particularly if it's trying to achieve goals that are needed for the whole city, like pre-K and affordable housing, he's missing the point."
And while the sparring had plenty of people thinking ahead to 2017, de Blasio rebuffed questions about why the comptroller might be attacking him politically.
"As to the comptroller's personal or political motivations, I'm not going to conjecture. He just has his facts wrong," de Blasio said. "I don't spend time conjecturing about him."
The mayor has repeatedly said that he supports stricter campaign finance laws, including public financing of elections and the overturning of the Supreme Court's Citizens United decision. But until the laws change, de Blasio has said he'll continue to engage in the type of fundraising he thinks should be illegal—because not doing so would put him at a disadvantage.
"There's no rules for those guys. Theres no limits. There's no disclosure requirements," de Blasio said of his political enemies, pointing to what he said was $11 million spent against him by landlord groups, hedge fund managers and multinational corporations. "We have to work to achieve specific changes. And this still has to be seen in the context of unilateral disarmament."
Good government groups have argued the mayor has an advantage his enemies do not—he is the mayor of the biggest city in the country, and has the bully pulpit that comes with it.
"I'm rolling my eyes," de Blasio responded. "If anyone wants to analyze how information ravels in our society, paid media has a particular impact that no amount of coverage in the world can compensate for."
Madina Toure contributed to this report.