Working in the music/DVD room at my local Barnes & Noble indeed has its pros and cons. But perhaps the biggest struggle for us film geeks on the payroll is resisting the urge to blow through our wages the two times a year when the Criterion Collection goes on sale for 50 percent off.
For those of you who may or may not be hip to it, Criterion has been around since 1984, initially a home video distribution company which sprung from the rib of the venerated Janus Films. They help usher in the utilization of letterboxing in home video and the reason why your favorite movies come with so many awesome bonus supplements is because of them as well. In terms of the kinds of flicks they specialize in, it's safe to say that—at least since they moved from laserdiscs to DVDs in 1998—has served as a home schooling at a Master's level for people like me. In addition to releasing vaulted Janus classics from such world renowned filmmakers as Igmar Bergman, Frederico Fellini, Francois Truffaut, Jean-Luc Godard, Jean Cocteau, Akira Kurosawa and Yasujirō Ozu, Criterion has since expanded to include titles from such modern auteurs as Richard Linklater, Terry Gilliam, Peter Weir, Wes Anderson, Brian DePalma, Stanley Kubrick, David Cronenberg, the Maysles brothers and Joel and Ethan Cohen, not to mention some of the absolute finest films in American cinema, from old Charlie Chaplin classics like The Big City and The Gold Rush to indelible Westerns like Red River and the original 3:10 to Yuma to such American essentials as Terence Malick's Badlands, Robert Altman's Nashville and Bob Raeflson's Five Easy Pieces. One could only imagine the Criterion Collection to be a near-perfect replica of Quentin Tarantino's film library at home, or at least to a degree.
It has indeed been a most enlightening and educational experience selling the Criterion Collection to the public from behind the register at Barnes. It's great talking to the customers about their purchases, how they arrived at their decisions, inside dirt about the supplements and bonus material and what's ahead on their want lists. In fact, there have been a number of titles I've purchased myself solely based on the recommendations I've received from a couple of my regulars. This is my fourth sale since I began working at the B&N by me in North Jersey in the summer of 2014. And, much to the chagrin of my wife (in spite how much I try to rationalize that the sale falls both close to my birthday and Christmas), I went a little nuts during this current sale that runs through August 1st. Usually, I try to limit myself to three titles a sale: two I know I want and one wild card. This time around, I bought five. Here is what I scored.

Hidden Fortress (1958) Having spent the majority of my 43 years on earth a diehard Star Wars fan, nothing makes me happier than experiencing its continued influence on my life as I enter into the wealth of Samurai films available on Criterion. This tale about a general charged with protecting a princess across hostile territory was a direct influence on George Lucas for the context of A New Hope, right down to the pair of sidekicks that accompany them on the journey (albeit peasants in lieu of droids). In the interview that comes with the supplementary extras included in this 2014 edition of the film, Lucas cites Seven Samurai as his absolute favorite Kurosawa film, evidenced in the elaborate lightsaber battles that punctuate each Star Wars film in the franchise, while Hidden Fortress was last on his list. But as the parallels between not only the plot but the music and cinematography clearly signify, his space opera masterpiece would have been nothing without the genius premise of Kurosawa's 1958 adventure.
It's A Mad, Mad, Mad, Mad World (1963) For fans of both comedy and illustration, the world lost one of its finest architects of the bridge connecting the two arts, Jack Davis, died this week after suffering a stroke at the age of 91. And one of the crown jewels from the portfolio of this original member of MAD Magazine's "usual gang of idiots" was the poster art he created for Stanley Kramer's 1963 madcap masterpiece It's A Mad, Mad, Mad, Mad World. The entirety of Davis's illustrations for the film, which boasts one of the biggest ensemble casts of A-list stars in Hollywood history, is one of the key selling points of this dual-format edition featured in the Criterion Collection. But what makes this version of the epic account of a suburban treasure hunt even more appealing is the cornucopia of material featured on the supplementary disc, namely a wild 1974 talk show hosted by Kramer in conversation with the film's Three Musketeers of comedy Sid Caesar, Buddy Hackett and Jonathan Winters. Mad World was also a big favorite of my grandfather's, and re-watching this film brings me right back into my family living room laughing along with him and my grandma to the antics of Spencer Tracy, Mickey Rooney, Ethel Merman, Phil Silvers and the rest of the all-star cast when it would air on network television every New Year's Eve back in the 70s. Good times.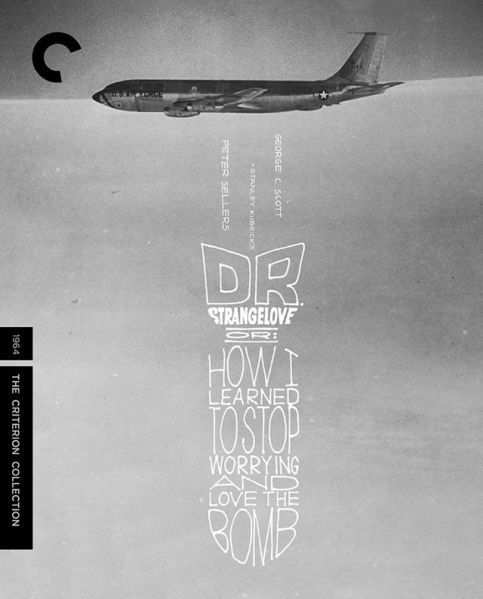 Dr. Strangelove Or: How I Learned To Stop Worrying and Love the Bomb (1964) When Stanley Kubrick made Dr. Strangelove at the height of the Cold War paranoia between the United States and the Soviet Union at the height of John F. Kennedy's all-too-short term in office, chances are the insane bluster of the film's main protagonist, Air Force Brigadier General Jack D. Ripper (brilliantly portrayed by the late Sterling Hayden, perhaps best known for his role as Captain McCluskey in The Godfather), was the most extreme case of political bloodlust he could think of at the time. But as the relationship between America and Mother Russia hits perhaps its rockiest terrain since the Atomic Age, the context of this race against a clock ticking down to nuclear proliferation amidst the snap judgment of a demagogical madman feels pretty close to a reality we could very well face depending on how this year's crucial presidential election goes. So what a better time to revisit Strangelove than now, especially given the incredible job Criterion has done with the packaging of this latest installment from the Kubrick library into its ranks. In the case of the good Dr., what makes this edition of the film (which was just released on June 28th) so special is not only the video supplements, which include a 1966 audio interview with Kurbick conducted by physicist Jeremy Bernstein, a brief documentary on the political climate of the era and a ton of footage of the late, great Peter Sellers, including a rare excerpt from an interview he conducted on NBC's Today shortly before his death in 1980. It's the care and detail by which this particular title was constructed, right down to the design of its liner notes, a "Top Secret" envelop that includes a replica of Playboy re-cast as Strangelove as well as the miniature Russian phrase book/Holy Bible combo included in Major T.J. "King" Kong's survival kit. It can only be hoped that the eventual Criterion editions of 2001: A Space Odyssey, A Clockwork Orange, Barry Lyndon and The Shining will be constructed with this similar kind of attention to detail. That is, of course, if Warner Bros. releases the rights to them. Stay tuned.
A Poem is a Naked Person (1974) At least for me, the candid 1967 mini-doc The Blues Accordin' to Lightnin' Hopkins is the highlight of Always For Pleasure, Criterion's box set honoring the life and career of American documentarian Les Blank. And it is indeed that up-close-and-personal half-hour with the Texas blues giant which surely serves as the spiritual basis for the late director's freeform glimpse into the world of American pop icon Leon Russell both in studio and on the road while promoting his third LP, 1972's Made available earlier this year by Criterion for the first time ever in a commercial market, this is a quintessential visual accompaniment to the kind of power and passion Leon brought to the stage in the early 70s, so perfectly captured on his 1973 triple-record set Leon Live. And the incorporation of such insightful extras as the newly produced documentary A Film's Forty-Year Journey: The Making of "A Poem Is a Naked Person" and portions of a Q&A session from 2013 with Mr. Blank only adds to the value of this long overdue liberation of one of the true lost treasures in rock 'n' roll cinema.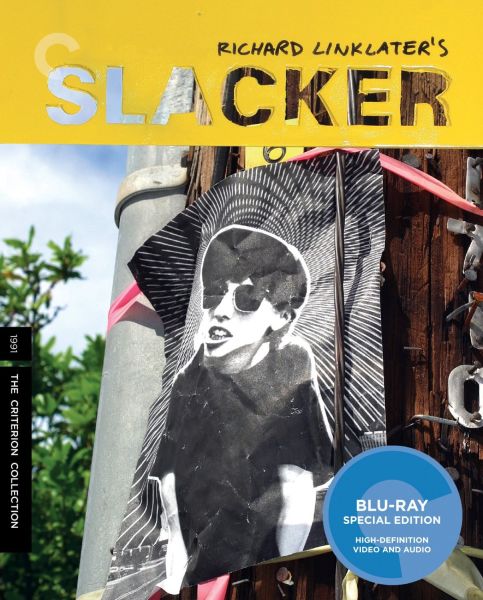 Slacker (1991) The very first time I watched Slacker was in the immediacy of having Richard Linklater's second film, Dazed & Confused, change my life in late 1993. And I will the first to admit I did not get it at all upon initial viewing. However, now that I've been watching Linklater pictures for the better part of 22 years, going back to the Austin auteur's 1991 theatrical debut after ingesting Waking Life, Boyhood and the Before trilogy through the years is an entirely different trip. Seamless threads of conversation are interwoven throughout all of Linklater's films. Even Bad News Bears. And in revisiting Slacker in 2016, the brilliance of its stream of nonlinear, improvised conversations that transpire between a wide swath of twentysomethings during a single day in Austin, Texas resonates far better with a quarter century's worth of hindsight behind it. The thing that makes this Criterion edition of Slacker a must-get, however, is the inclusion of Linklater's first full-length feature film from 1988 entitled It's Impossible to Learn to Plow By Reading Books, which plays out like a super low budget dry run through the skeletal plot of Dazed and the hang out aesthetic the director would perfect six years later.
 Last Call for the Bi-Annual Criterion Sale at Your Neighborhood Barnes & Noble is August 1st.