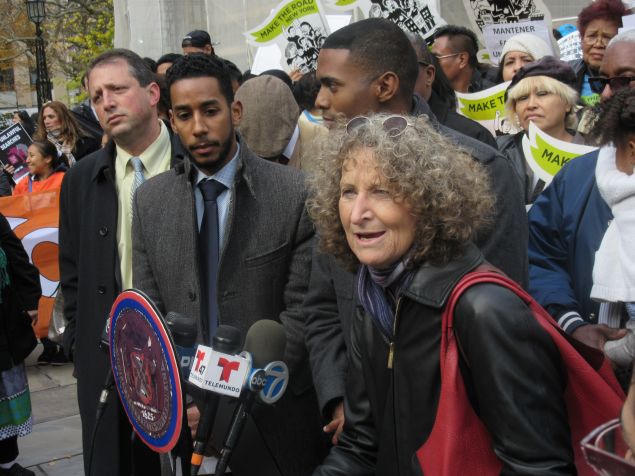 The two Council members behind a controversial package of proposed police reforms are looking to rally their colleagues into a revolt against Speaker Melissa Mark-Viverito, who has sought to stop the measures from becoming law.
The Observer obtained an email Brooklyn Councilman Antonio Reynoso sent to fellow members of the local legislature, signed by him and by Bronx Councilman Ritchie Torres. The message calls for the immediate passage of the two-part Right to Know Act, which would obligate cops to identify themselves and provide a business card in encounters that do not lead to an arrest or summons, and to notify civilians of their constitutional right to refuse a search.
The letter explicitly rejects a compromise deal that Mark-Viverito forged with NYPD Commissioner Bill Bratton, which would adopt some provisions of the act into the Patrol Guide rule book and require retraining of officers. In exchange, the speaker agreed to prevent either component of the Right to Know Act from coming up for a vote.
"This agreement does not make meaningful changes or address the core concerns that necessitate the Right to Know Act, and is devoid of sound accountability and oversight mechanisms. In several respects, it represents a step backward during a time the nation and New Yorkers are demanding transparency and accountability with regard to police interactions," the email reads. "The need to pass the Right to Know Act into law remains crucial, and allowing this deal to excuse or delay legislative passage would be dangerous in maintaining and prolonging abuses that laws would address."
Reynoso and Torres asserted in the email that the reforms Mark-Viverito negotiated would be virtually toothless, since they do not carry the force of law. Additionally, they alleged that the Patrol Guide rules are "regularly flouted."
"Administrative change lacks a credible enforcement mechanism by relying on the Patrol Guide rather than established law. A rule book that is routinely violated without significant consequence—as we have seen with the continued use of chokeholds, the fact that existing ID and consent search violations continue, and a range of other Patrol Guide rules not followed—is no substitute for law," the pair wrote. "Given that existing Patrol Guide rules related to these issues are in many cases not followed already, it is unrealistic to believe that simply altering language in the book and accompanying training will resolve the issues during policing encounters that the Right to Know Act would fix."
Also disturbing to the two was that the agreed-on policy changes would not force police to notify civilians of their right to refuse a search, but only require the officers to ask permission to perform the search. They also argued that, in many common situations, the Mark-Viverito-Bratton deal would not obligate officers to identify themselves.
Additionally, unlike the legislation, the agreement does not require the NYPD to collect data on where it conducts most warrantless searches
"This makes it impractical for us to support administrative change in good faith," the email reads. "We remain fully committed to advancing the Right to Know Act as legislation, with support from you and a growing coalition of over 200 community, labor, legal, and policy groups from across the city."
"We hope this letter can serve as a clarifying resource that reaffirms your commitment to passing the Right to Know Act into law, and welcome further discussion about the substantive policy and strategy toward that end," it concludes.
A majority of Council members signed onto the Right to Know Act, but it only received a single hearing—in which Bratton trashed its reforms as "unprecedented intrusions" into police work—and never got a vote in committee or on the Council floor. Sources told the Observer earlier this year that Mark-Viverito was preventing the Right to Know Act from advancing to spare Mayor Bill de Blasio, her close ally, the embarrassment of having to veto it.
There are other reform bills stuck in the pipe in the Council. Queens Councilman Rory Lancman's proposal to illegalize the use of police chokeholds—like the one that killed black Staten Islander Eric Garner in 2014—has also gotten stalled in committee, despite enjoying the support of a majority of the Council's members.
More recently, Brooklyn Councilman Jumaane Williams has proposed a "Right to Record" bill that would codify a civilian's freedom to videotape police activity with impunity.
Mark-Viverito's office did not immediately respond to requests for comment. To force a floor vote against the speaker's wishes, Reynoso and Torres would need a majority of their 51 colleagues to back them in a parliamentary maneuver called a "discharge of committee."
The bill requiring cops to identify themselves, which Torres put up, has 33 co-sponsors. Reynoso's half of the Act, the right-to-refuse proposal, has 28 co-sponsors. It is not clear, however, that all or even most of those co-sponsors would defy the powerful speaker, who effectively controls both what legislation receives a vote in the Council as well as the distribution of funds from the city budget.
Read the email in its entirety below:
From: Reynoso, Antonio
Sent: Thursday, July 28, 2016 8:10 AM
To: Council Members and Staff
Subject: Right to Know Act Update: Legislation vs. Administrative Change

Dear Colleague:

Since the New York Times reported that the Speaker agreed to a set of administrative changes with NYPD Commissioner Bratton as a proposed alternative to the Right to Know Act, there seems to be some confusion about the agreement and the legislation. As lead sponsors of the legislation, we want to provide you with the most accurate information about key distinctions between the two and clarify our position: These administrative changes are no substitute, and we must pass the Right to Know Act into law.

The agreement contains substantive differences from the legislation, removing key provisions that are at the heart of the legislation's intent, principles, and accountability, including specific reforms that the White House Task Force on 21st Century Policing recommended in its report to President Obama. This makes it impractical for us to support administrative change in good faith. We remain fully committed to advancing the Right to Know Act as legislation, with support from you and a growing coalition of over 200 community, labor, legal, and policy groups from across the city. This week, the Times editorial board published an editorial in support of our position, calling for passage of the Right to Know Act.

Please read further to understand, in detail, why we believe that legal concerns with the Right to Know Act are unfounded, and how administrative change fails to accomplish what we can achieve through legislation.

Legal Concerns with the bills are unfounded.

Some have suggested that, if passed, the Right to Know Act legislation would be delayed in court, and thus would be slower than administrative change. This argument is based entirely on speculation without a substantive rationale. In fact, The Times called[1] this argument "unpersuasive" because it is inconsistent with the facts and without actual basis. Passing the legislation into law would require that the NYPD implement changes at latest on the 3-month enactment date, while reports have described[2] the agreement (which does far less than the legislation) as requiring up to nine months to more than a year for implementation.

Additionally, the legal organizations of the coalition, which includes many of the premier non-profit legal organizations in New York City, are confident that the Right to Know Act would survive any court challenges. A stay or preliminary injunction – the only way the law would not be enacted – is highly unlikely because of the high standards for a stay. This is evidenced by recent court rulings on the Community Safety Act, which was challenged in court by the City as well as police unions, and every one of those challenges lost in court. Still, we have always been and remain open to dialogue about potential legal concerns, both internally and with the NYPD and administration. To date, such concerns have not been raised in any substantive legislative discussion regarding the bills.

It is also important to note that it is immensely counterproductive to the best interests of this legislative body for Council members to raise the potential for a legal challenge – it undermines the Council's legislative authority in public record. Even if there were reasonable legal doubts, which there are not, it strategically makes no sense for this body to voice those doubts publicly to allow their use in lawsuits against the Council (not just on the Right to Know Act but any legislation pertaining to the NYPD).

The agreement removes key provisions of the Right to Know Act legislation.

Following is a summary outline of the key legislative provisions that the agreement removes, which explains why the agreement represents a step backward instead of advancing police accountability.

The agreement removes the most important ID requirements included in Intro 182 of the Right to Know Act:

Removes legislation's requirements for officers to identify themselves in most instances, including:

o   when individuals are questioned without reasonable suspicion (e.g. instances where individuals are asked for their identification do not always rise to the level of a "reasonable suspicion level 3 stop")

o   frisks

o   most vehicle interactions (which have seen a spike and don't have reporting requirements like stop-and-frisk), and

o   when in contact with potential crime victims and witnesses.

Rolls back existing requirements in the Patrol Guide for officers to identify themselves – which are currently regularly flouted – to reduce the types of interactions mandating identification to only vehicle checkpoints, consent searches, and what officers deem to be a "level 3 reasonable suspicion stop" (which is already part of the Patrol Guide).

Removes legislation's requirement for officers to provide rationale for the encounter, a provision the President's Task Force on 21stCentury Policing prioritized.

Omits legislation's key provision that explicitly includes plainclothes officers not engaged in undercover operations, who are involved in many of the abusive incidents the Right to Know Act legislation would address (high-profile examples: Glenn Grays, James Blake, etc.)

Removes legislation's requirement for Civilian Complaint Review Board's phone number to be included on business cards – the President's Task Force recommendations include an action item for officer business cards to include a phone number for comments and complaints, which is what CCRB's number would provide in NYC.

The agreement removes most critical consent search requirements included in Intro 541 of Right to Know Act:

Merely proposes to alter some of the Patrol Guide and instruction to officers that are already violated, which is essentially just an altering of words in print and instruction.

Removes the legislation's most important provisions to require objective proof of consent and to be explicit about a person's right to refuse consent, provisions the White House/DOJ Task Force on policing prioritized.

Removes the legislation's required reporting on the frequency of consent searches and what communities are subjected to them (by race, ethnicity, gender, age, geography).

Removes any guarantee that individuals will be notified of their right to refuse a search when there is no legal basis. There is significant difference between being told by an officer that there's a right to refuse a search by law (Right to Know Act) and an officer saying "can I go in your bag" when they are an officer of the law with a gun and a clear power imbalance remains (announced agreement maintains that status quo).

In addition, administrative change lacks a credible enforcement mechanism by relying on the Patrol Guide rather than established law. A rule book that is routinely violated without significant consequence – as we have seen with the continued use of chokeholds, the fact that existing ID and consent search violations continue, and a range of other Patrol Guide rules not followed – is no substitute for law, which officers (like all people) will take more seriously than a 2,000+ page rule book. Given that existing Patrol Guide rules related to these issues are in many cases not followed already, it is unrealistic to believe that simply altering language in the book and accompanying training will resolve the issues during policing encounters that the Right to Know Act would fix.

The agreement also includes no reliable mechanism of accountability beyond simply trusting NYPD Commissioner Bratton. The fact that some of the same officers responsible for multiple incidents of brutality and misconduct are allowed to continue and advance in the department – to then engage in additional acts of misconduct – demonstrates the systemic problems with internal accountability at the NYPD.  Passing a law has its own oversight mechanisms even without a private right of action – for example, you can bring an Article 78 case against the police commissioner for refusing or failing to comply with the law. The law allows for injunctive relief to be sought in the courts for violations. The reporting requirements in the legislation would allow the Council and/or courts to truly hold the NYPD accountable for following the law.

Lastly, history shows that this approach to eliminating police abuses dangerously creates the likelihood that such abuses will continue. For example, the 2012 LGBT Patrol Guide changes negotiated by then-Speaker Quinn, then-Commissioner Kelly, and advocates were meant to change the interactions between officers and transgender and gender non-conforming New Yorkers. Yet LGBT advocates and transgender and gender non-conforming New Yorkers widely assert that they continue to face the abusive experiences that these changes were meant to address. In fact, searches to assess gender were prohibited in those Patrol Guide changes, yet continue to this day – and those abuses would be addressed by the Right to Know Act legislation. In spite of requests since 2012 to the NYPD, administration, NYPD Inspector General and others, there has been no substantive monitoring or independent auditing of whether the NYPD is in compliance with the 2012 agreement.

This agreement does not make meaningful changes or address the core concerns that necessitate the Right to Know Act, and is devoid of sound accountability and oversight mechanisms. In several respects, it represents a step backward during a time the nation and New Yorkers are demanding transparency and accountability with regard to police interactions. The need to pass the Right to Know Act into law remains crucial, and allowing this deal to excuse or delay legislative passage would be dangerous in maintaining and prolonging abuses that laws would address.

We hope this letter can serve as a clarifying resource that reaffirms your commitment to passing the Right to Know Act into law, and welcome further discussion about the substantive policy and strategy toward that end.

Sincerely,

Council Member Antonio Reynoso

34th District

Council Member Ritchie Torres

15th District