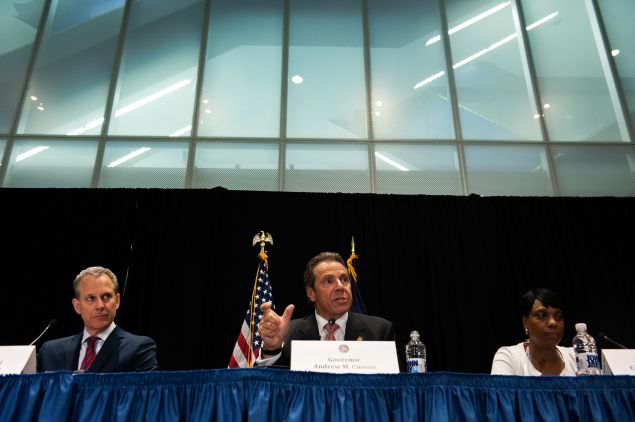 Gov. Andrew Cuomo today formally handed the investigation into an off-duty NYPD officer's killing of an unarmed African-American man in Brooklyn over to New York Attorney General Eric Schneiderman—days after video of the fatal encounter emerged.
In a statement to the press, Cuomo declared that Officer Wayne Isaac's deadly shooting of Delrawn Small on July 4 fell under the ambit of the executive order he signed last year making Schneiderman the special prosecutor where law enforcement kills a civilian under questionable circumstances. Video footage surfaced Friday that showed Isaacs firing his department-issued weapon into Small's chest seconds after the latter man approached his car window during an apparent road-rage incident in East New York—contradicting the three-year policeman's claim that Small assaulted him.
As a result, Cuomo also expanded the purview of the executive order today to grant Schneiderman prosecutorial power "any and all unlawful acts or omissions or alleged unlawful acts or omissions by any law enforcement officer relating to the death of Delrawn Small." The original draft only dealt in cases where an officer killed an unarmed individual, or where it was unclear whether the deceased had a weapon.
Schneiderman's office announced it would handle the investigation on July 5—the same day police in Baton Rouge, La. shot Alton Sterling, another black man, dead after having wrestled him to the ground.
Video footage of that incident, and of a Minnesota cop's killing of African-American Philando Castile a day later, provoked a new wave of Black Lives Matter protests across the country. Those two killings appear also to have inspired gunman Micah Johnson to open fire on 11 police officers in Dallas, five of whom died from their wounds.
Isaacs' killing of Small has not yet received the same level of attention as the Sterling and Castile shootings. NYPD Commissioner Bill Bratton told reporters today his department had stripped Isaacs of his badge and gun.