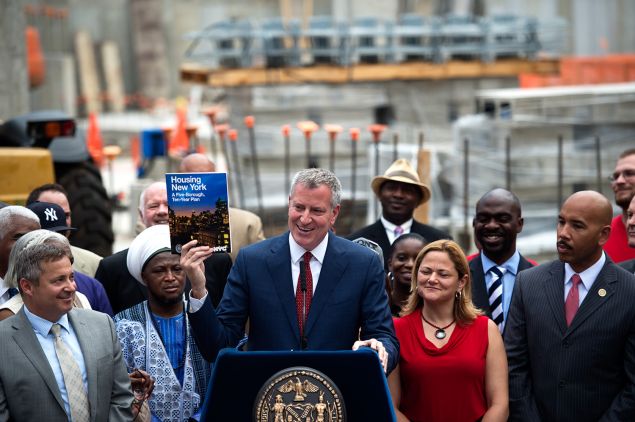 The team of technocrats handling Mayor Bill de Blasio's affordable housing plan now claim they hit their construction benchmarks even without the crucial 421a tax credit for developers—defying the wisdom both of organized labor and industry insiders.
In a meeting with reporters, Deputy Mayor for Housing Alicia Glen and Department of Housing Preservation and Development Commissioner insisted to the Observer that expiration of the exemption in no way imperils the 80,000 below-market units the mayor hopes to see built by 2024. The tax break, which gave new construction relief from increased assessments, lapsed in January after unions and the real estate industry failed to reach a deal on creating wage floors for workers on eligible developments.
"It's harder, but we can do it," said Been, answer to the question.
City Planning Commissioner Carl Weisbrod and Housing Development Corporation President Gary Rodney both argued the city has a flush "pipeline" of projects going up on city land. These developments, they claimed, make use of public land, city and state loans and subsidies and of tax credits offered to nonprofit developers.
"This isn't just kind of a one-trick pony for us. We have multiple tools, we have multiple resources that we tap when we need. Obviously, we would love to have 421a. But we've other resources here that we're going to use. And, god willing, when something comes back, it just makes our numbers even better," Rodney said.
An HPD spokesperson added that new construction was actually up in the months since 421a failed.
Nonetheless, numerous experts have told the Observer that the mayor's grand designs are largely dependent on getting the state to create a new 421a program. The centerpiece of his housing agenda is Mandatory Inclusionary Housing, which obligates market-rate developers to set aside a percentage of new rental apartments for middle and low-income tenants.
But without 421a, there is little incentive for developers to build rental units.
"When you look at a budget for a building, if all of a sudden your taxes are running at 30 percent of your operating expenses, there's not a lot of room for profit," real estate attorney Steve Hochberg explained to the Observer earlier this year. "The concept of what the mayor planned was meant to go hand in hand with a 421a."
A union head warned that the only profitable unsubsidized developments are now condominiums. And unless a new version of the exemption arrives, developers just won't build the low-income units de Blasio's plan requires.
"Without any resolution to the 421a issue, it seems impossible that the mayor will be able to achieve his goals," the labor leader, who requested anonymity, said.
Gov. Andrew Cuomo and the State Legislature, which control much of the city's tax structure, left 421a in the hands of the Real Estate Board of New York and the Building and Construction Trades Council of Greater New York when it came up for renewal last year. Albany failed to pass a new version of the credit in its legislative session this year, as REBNY has maintained that the Building Trades Council's demands are unreasonable, and Cuomo and Assembly Speaker Carl Heastie have sworn not to pass a new exemption without union approval.
Glen acknowledged today that the loss of 421a means fewer low-cost units going up in high-price neighborhoods, a fewer market-rate rental apartments getting built and more condominium developments—which she argued distort the market and the city's economic makeup.
"The loss of 421a has two really important impacts. One is the ability to deliver affordable housing in the highest cost neighborhoods, is impacted. And that's tragic, right, and that's something that Albany needs to be held accountable for," she said, noting that a city with few rentals and lots of condos will have a harder time sustaining a vibrant, striving populace. "The biggest issue with 421a being suspended is it has a tremendously negative impact on the production of rental housing in general. So you have a continued tilting toward condo production. And that has long-term, in our view, bad impacts on New York's economy in respect to our workforce and our ability to grow thoughtfully."
The mayor's office released numbers today showing new construction starts, defined as developments that have secured financing and poured a foundation, are down compared to last year: dropping from 8,485 projected apartments to 6,097. The fiscal year begins July 1 and ends June 30.
That figure is still relatively high—besides 2015, only 2004 and 2008 saw more fully-funded below-market rental projects begin work—but the administration will need to oversee the creation of 8,000 units a year to hit its 10-year goal.
But because the mayor's housing proposals also calls for protecting and preserving 120,000 low-cost apartments, and the city claims it saved 17,187, Glen and her cohort proclaimed the plan "ahead of schedule"—with nearly 53,000 total low-cost units either built or maintained since de Blasio entered office. But more 5,000 of the units rescued from the open market this fiscal year were at massive rent-regulated developments like Stuyvesant Town, Peter Cooper Village and the Riverton complex in Harlem, of which there are few in New York City—meaning it would appear unlikely that the administration could replicate those numbers next year.
Still, Glen and Been argued the city has many options and many developments currently under review, and predicted new construction would increase next year even if the rate of preservation fell.
"The pipeline is bursting right now," Glen said.