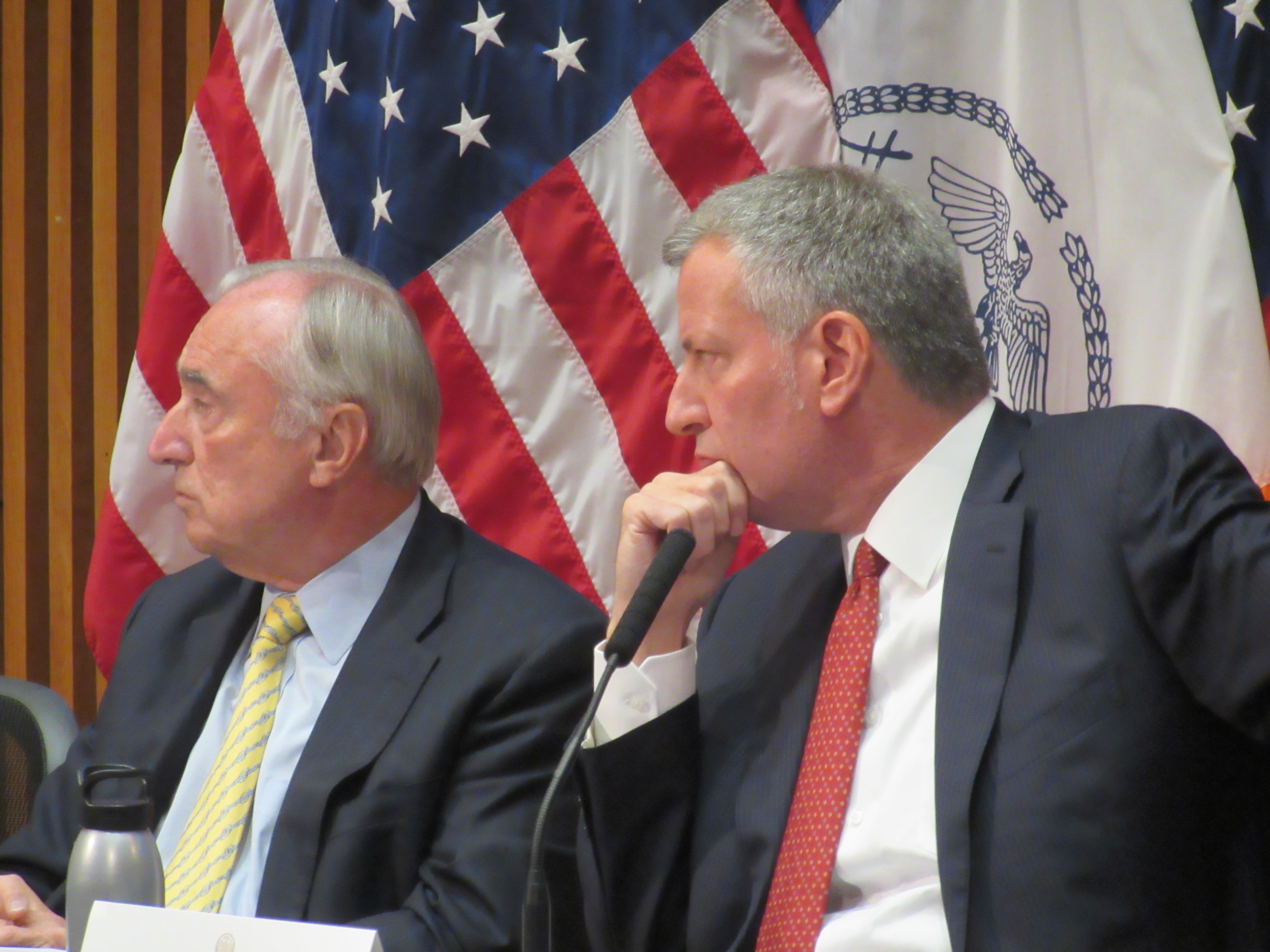 Mayor Bill de Blasio blasted Rudy Giuliani today after the former mayor spent the weekend criticizing the Black Lives Matter movement as "inherently racist"—saying that families of color and their children should not be put down.
"They should not be denigrated by Rudy Giuliani," de Blasio said during a news conference with Police Commissioner Bill Bratton this morning.
De Blasio noted that the former mayor—who has frequently criticized the current mayor—has a history of making controversial comments that pit people against one another.
"I don't know why he has chosen for decades to divide people but sadly, that's what his body of work seems to be," he said.
And the mayor did not stop there: he also said Giuliani did not appreciate Bratton's work during his administration. (Crime fell drastically when Bratton first presided over the department under Giuliani, but he was forced out of the position in part because of his success—and the credit and notoriety that was going to him, rather than Giuliani.)
"I think his good work was not understood by the person he worked for," de Blasio said.
Giuliani's remarks about the Black Lives Matter movement come after 11 police officers were shot, five of whom died, during a demonstration in Dallas against police shootings of black men, in particular Philandro Castile in St. Paul, Minn., and Alton Sterling in Baton Rouge, La., who died at the hands of the police last week.
Bratton, for his part, said both he and the mayor have spoken their minds on recent events and police-community relations and said that he is not in a position to speak on the former mayor's behalf.
"I'm not going to seek to try to do that for him," he said.
Appearing on CBS' Face The Nation, Giuliani said white Americans have to realize that African-American men have a fear of being confronted by the police but that the black community should recognize the prevalence of black-on-black crime.
"The second reality in the black community is there is too much violence in the black community so a black will die 1 percent or less at the hands of the police and 99 percent at the hands of a civilian, most often another black," he told CBS. "So if you want to protect black lives, you've got to protect black lives, then you've got to protect black lives not just against police which happens rarely although with tremendous attention."
Both the mayor and the commissioner have been calling for mutual respect between police officers and protesters. The mayor and First Lady Chirlane McCray appeared on CNN's New Day where the mayor credited the Black Lives Matter movement with starting an important conversation.