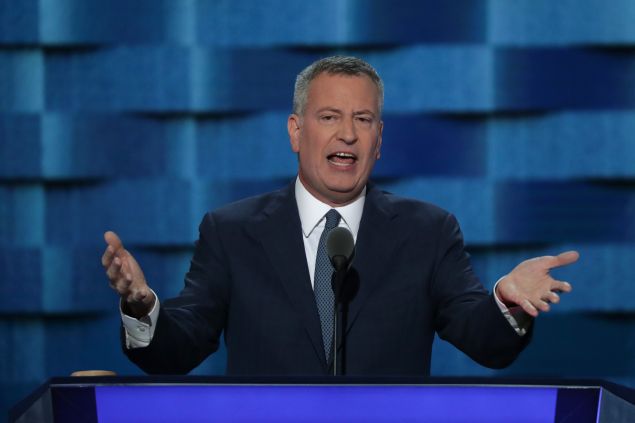 Mayor Bill de Blasio today defended the Democratic Party's decision to stick him with a little-watched late afternoon speaking slot at the Philadelphia convention—and to put his independent predecessor, ex-Mayor Michael Bloomberg, onstage during prime time.
Some of the more left-leaning delegates had expressed misgivings about granting a marquee speech on the third night of the convention to a politically unaffiliated billionaire who long championed Wall Street, stop-and-frisk policing and surveillance of the Muslim community. But not de Blasio, who has sought to drape himself in the mantle of "progressivism" at every imaginable opportunity.
Bloomberg was a lifelong Democrat who became a Republican in order to run for mayor in 2001, who hosted and spoke at the GOP convention in New York City in 2004. He dissociated himself from the Republican Party over its conservative stance on social issues and ran for a third term as an independent—and briefly considered seeking the White House himself this year.
"It made sense for Michael Bloomberg to have a featured speech," de Blasio told radio host Brian Lehrer during his weekly "Ask the Mayor" segment on WNYC. "You know, in effect, it is— if you'll forgive the phrase—it's man-bites-dog. It's the counter-intuitive of a guy who clearly was a Republican and a businessperson, and thought about running for president himself, to come out for Hillary Clinton. That's an important story to tell the people of the United States."
De Blasio argued that his own party was right to relegate him to the day's undercard, since he had a long history as a Democrat, including a short stint as campaign manager for Clinton's 2000 Senate bid in New York. In the 1990s, de Blasio served in President Bill Clinton's Department of Housing and Urban Development. The former first lady hosted a fundraiser for de Blasio, then a candidate for Gracie Mansion, in the fall of 2013 and both Clintons attended his inauguration the following January.
Some observers—including a caller into today's show—interpreted the low billing as a snub, perhaps in retaliation for mayor's reluctant endorsement of his former employer.
"You know on the time slot—I just don't worry about that partly because I used to be a campaign manager," he said. "Some who has known Hillary for, you know, 20 years or so, and someone who was her campaign manager once-upon-a-time supporting her, that's not exactly breaking news. So, I'm very comfortable with it."
Like many of the convention's speakers, both the current and former mayor used their time to assail GOP nominee Donald Trump. The consensus between the two seemed strange, as de Blasio was an outspoken critic of the mayor during his stint as Public Advocate, and ran as an opponent of many of his policies three years ago.
Disclosure: Donald Trump is the father-in-law of Jared Kushner, publisher of Observer Media.