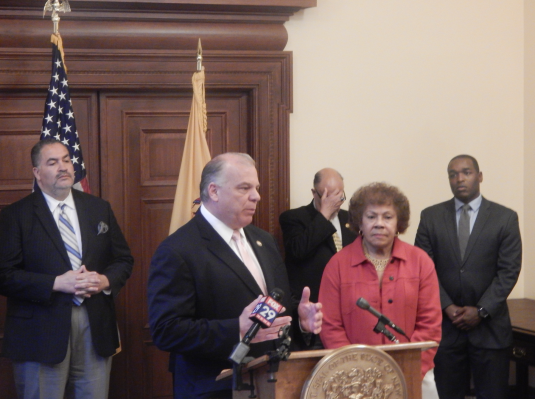 TRENTON — In response to two recent police shooting deaths and the deaths of five police officers at a resulting protest, three state Senate Democrats announced new legislation Friday to take investigations into such deaths out of the hands of county prosecutors. The bill, sponsors said, is meant to allay concerns over potential conflicts of interest between county prosecutors and police departments.
"By no means is this an indictment of police officers," said primary sponsor Steve Sweeney (D-3). "This is an effort to restore trust."
The bill, he said, would make the results of those investigations from a special prosecutor with the Attorney General's office public. It would also apply to any fatal shooting, whether the officer was in or out of uniform at the time. A similar measure from former Senator Peter Barnes (D-18), now a state Superior Court judge, stalled in committee last year.
A sniper killed five Dallas police officers at a Black Lives Matter protest in Texas last week just days after the shooting deaths of Alton Sterling in Louisiana and Philando Castile in Minnesota, both of whom were killed by police. Sterling had been suspected of selling CDs on the street, and Castile had been pulled over for matching the description of a suspect in a robbery. 
The FBI and DOJ have taken over the investigation into Sterling's death, and the DOJ will supervise the state-level investigation in Castile's. Sweeney said that the bill is intended to reestablish trust between police and the minority communities they serve.
"I never remember a time in my life when police officers were being shot and being ambushed. There are people that are angry, they are scared, and there are a lot of unanswered questions," he said. "Those five officers in Dallas that were murdered, what did they do wrong but try to protect people that were protesting?"
Senators Shirley Turner (D-15) and Sandra Cunningham (D-31), co-sponsors of the bill, said they hope it will be the first of many police reforms in New Jersey. Senators Ronald Rice (D-28) and Loretta Weinberg (D-37) are also sponsoring the bill.
"People in the community will know that they're going to be able to get a just as well as a fair hearing so that it will not be covered up," Turner said of the bill, which she called an important addition to recent proposals to require additional diversity training for police and mandate body and dashboard cameras for every officer.
"The vast majority of police men and women become police men and women because they care about the community." Cunningham said. "We now have a great misunderstanding, and a feeling that we cannot trust each other. We have to do whatever is necessary to bridge that gap.
"However, it is sad that this has happened and that when we do use a special prosecutor it's going to be after someone else has already died. But it is what we need to do now and it is a first step."
Richard Smith of the NAACP echoed that sentiment, criticizing Christie for vetoing the bill to require "implicit bias sensitivity training" because of its cost to the state budget. Christie recommended a standardized course to be made available online in his conditional veto.
"We not only need a special prosecutor and for this legislation to pass, but we need Republican leadership," Smith said. "Those who say they want to be our friends and stand with us, we need them to stand up and and to speak out.
Ari Rosmarin of the New Jersey ACLU agreed with Sweeney that the bill aims to improve public trust.
"This is not just about eliminating conflicts that a local prosecutor may have, it's also about eliminating the perception of conflict at a time when there really is a crisis in confidence in police departments," he said.