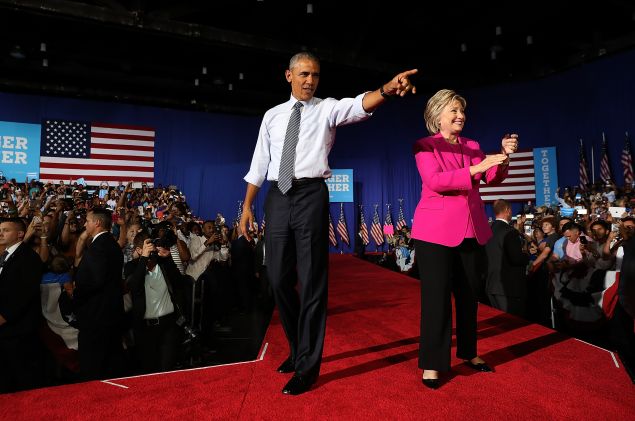 While serving as the ranking Republican on the Senate Committee to investigate Watergate during the Nixon Administration, Senator Howard Baker, with a single question, set into motion the developments leading to Richard Nixon's resignation from office in 1974.
"What did the president know and when did he know it?" Baker asked.
"The answers doomed the presidency of Richard M. Nixon and sealed Baker's reputation as that rare find: a thoughtful politician who, as one reporter suggested, 'had nothing at heart but the interests of our country,'" wrote Johanna Neuman in the Los Angeles Times after Baker passed away in 2014. Initially asserting Richard Nixon's innocence, Baker came around as evidence implicating Nixon emerged. Baker would later co-found the Bipartisan Policy Center, a think tank devoted to promoting bipartisanship in Washington.
As the Federal Investigation into Hillary Clinton's unauthorized private email server used during her service as Secretary of State has essentially ended with no indictment recommended by the FBI, Democrats need their own Howard Baker.
"Although we did not find clear evidence that Secretary Clinton or her colleagues intended to violate laws governing the handling of classified information, there is evidence that they were extremely careless in their handling of very sensitive, highly classified information," said FBI Director James Comey in a statement on the investigation. "To be clear, this is not to suggest that in similar circumstances, a person who engaged in this activity would face no consequences. To the contrary, those individuals are often subject to security or administrative sanctions. But that is not what we are deciding now."
Essentially, Comey is stating that Clinton's political privilege inoculates her from any sort of reprimand, where lower ranked individuals would face consequences. The carelessness exhibited by Clinton should not be condoned by any political party—nor should it be awarded with the opportunity to bring such carelessness into the presidency.
Democrats have diligently reverberated Clinton's defense of her email server for over a year—even after the State Department Inspector General's recent report debunked her excuses. The report, released several weeks ago, confirmed the FBI investigation into Clinton's unauthorized, unsecured private email server, is not the right-wing conspiracy many of her supporters have indicated.
President Obama, who guaranteed he would not let politics influence the investigation, told Fox News in April 2016 that Clinton did not "intentionally put America in any kind of jeopardy." The president also delayed fulfilling Freedom of Information Act (FOIA) requests to release batches of Clinton's emails until after the general election, and has been campaigning for Clinton—something that hasn't been done by a sitting president in at least 100 years.
Debbie Wasserman Schultz broke impartiality as DNC chair to defend Clinton, and seven Congressional Clinton supporters had the audacity to allege the State Department watchdogs appointed by Obama were not impartial. Instead of exercising blind loyalty to Clinton, Democrats should support a full investigation—and question her viability as a presidential candidate.
The controversy surrounding Clinton's email server shouldn't be about partisan politics, but rather an opportunity to discover what she used the server for and why.
Clinton's State Department was corrupt, and her use of a private server poses questions as to whether Clinton needed to hide shady dealings with wealthy donors. A 2015 IBTimes report linked significant donations to the Clinton Foundation from foreign governments and weapon manufacturers with weapons deals. The Associated Press also uncovered that at least 75 meeting with donors and lobbyists were either omitted from or not recorded on her official State Department calendar. A major Clinton donor, Rajiv Fernando, was appointed to an Intelligence Board despite having no qualifications for the role. Clinton also paid Sidney Blumenthal $200,000 a month through the Clinton Foundation to advise her on State Department issues.
At the helm of Clinton's courtship with wealthy and corporate donors as secretary of state was her private email server. While some of the released emails have illuminated the extent to which Clinton's staff scrambled to cover up her favors for donations, here are still many FOIA requests pending. Regardless of whether or not there is sufficient evidence to warrant an indictment, both Democrats and Republicans should work together to ensure a fair and transparent investigation.