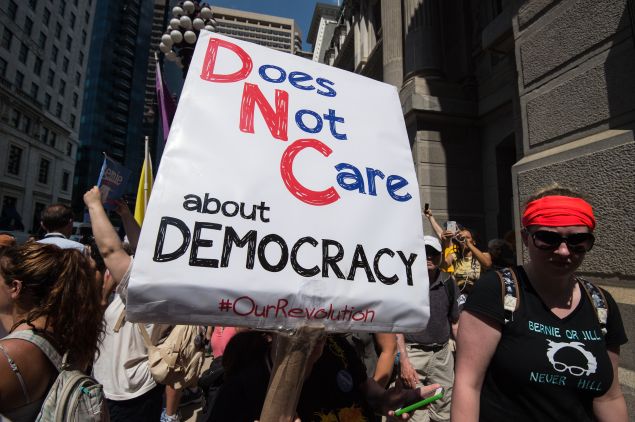 PHILADELPHIA—For as much as the media and political insiders thought the Republican National Convention would be a mess due to "Never Trump" force, the convention was largely uneventful. Protests were small and mostly nonviolent, despite fears that Bernie Sanders supporters or Black Lives Matters would show up to raise hell.
Despite an effort from Never Trump to change the voting rules to unbind delegates and allow them to vote with their conscience, even the rift in the Republican Party was pretty tame. This is not so for the Democratic National Convention, which has imploded following the revelations from Wikileaks that the Democratic primary was rigged in favor of Hillary Clinton from the start.
Bernie Sanders delegates from California, Florida and Pennsylvania have united in response to the lack of democracy in the Democratic primary.
When House Minority Leader Nancy Pelosi spoke, Sanders delegates from California chanted "Lock her up!"—drowning her out with calls for "Bernie!" California's Secretary of State Alex Padillo was nearly impossible to hear, as delegates demanded "Count the votes!" and "You got served!"
Ironically, "Lock her up!" was a popular chant at the RNC as well.
SEE ALSO: Bernie Sanders Gets Booed When He Asks Delegates to Elect Hillary Clinton
Sanders delegates from Florida booed and jeered as outgoing Democratic National Committee chair Debbie Wasserman Schultz took the podium. Chanting "Shame! Shame," they held signs supporting Sanders. Wasserman Schultz is resigning her position following the leaks.
At a Pennsylvania delegate breakfast, Sanders delegates were asked to get on board with Clinton—and they refused. Pennsylvania Democratic chairman Marcel Groen pleaded with them to support Clinton, even after the DNC rigging.
"We will hug you. We need your thoughts. We need your ideas," Groen begged. We need your passion and we need your ability to come together so we can speak with one voice." Some Sanders supporters were unswayed.
Of course, the convention hasn't even officially started—this was all just this morning.
Outside Philadelphia city hall, protesters are chanting: "Hell no, DNC, we won't vote for Hillary!" Other Sanders supporters spread out among the state delegation breakfasts in order to find signatures and force the Vermont senator's name in nomination at the convention.
There's been a massive police presence at the convention, with anywhere between 10,000 and 30,000 officers deployed (depending on which cop you ask) to help keep things under control. Black Lives Matter activists purposefully ignored the RNC because they didn't think their voices would be heard and didn't want to follow Cleveland's protest rules, so they're coming to Philadelphia. Whether their protests will become violent clashes with law enforcement remains to be seen.
Wasserman Schultz ended last week as the DNC chair. Now, according to the Sun Sentinel, she won't even be speaking at the convention—and certainly won't be gaveling in to kick off the event.
To try and blunt the chaos, Sanders gave a speech to unify the party, but even he was booed when he asked the audience to vote for Clinton.
The RNC was supposed to be a mess, given the Never Trump movement, but by the end of the convention, goers were largely supportive of New York businessman Donald Trump. With the ousting of their party chairwoman, it's going to take a lot for the Democratic Party to now unify behind Clinton. Every speaker from now until Clinton's acceptance speech will have to emphasize not only the differences between the two parties, but also the Party unity—to lure Sanders supporters into the Clinton camp.
If not, some Sanders supporters who have been looking for revolution may end up crossing over to vote for Trump, or sitting the election out altogether. The DNC is currently a mess, something the party definitely wasn't expecting as they tried to appear the more mature party amid the chaos of the GOP. Now that is gone, as the party has imploded and will need to desperately right the ship by the end of the week.
Disclosure: Donald Trump is the father-in-law of Jared Kushner, the publisher of Observer Media.