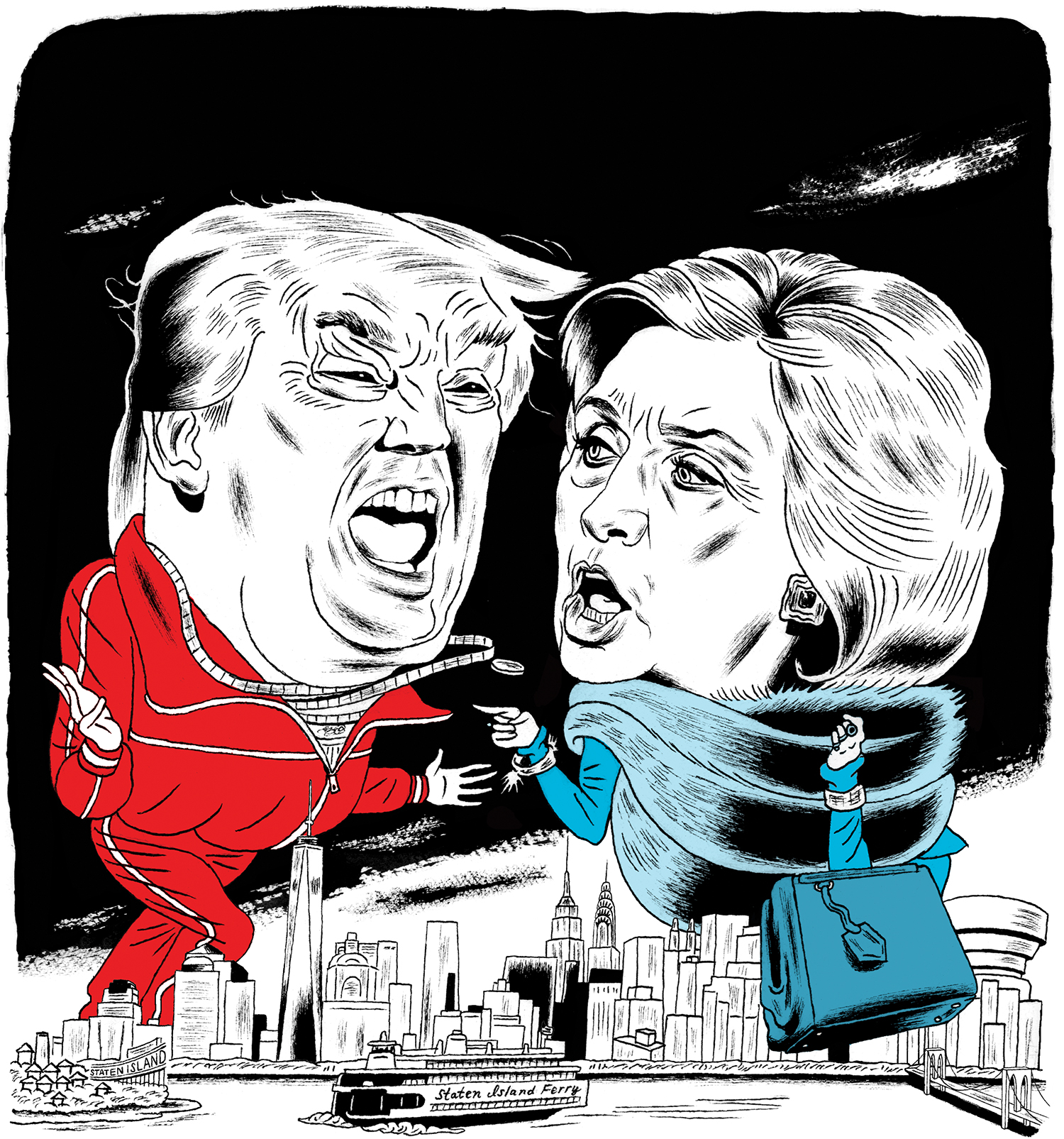 For two candidates who call the same place home, Hillary Clinton and Donald Trump could not be more different. But why shouldn't they be? Both New York City and its presidential candidates are canvas screens onto which we each project our hopes and desires, our fears and dreams. In New York City, some see crime and disorder; others see success and culture. We see in our political candidates the things we want or the things we fear, too.
"It's a unique situation, because New York and New York City politicians never really play a central role in national politics anymore—and that's because both parties sort of have a fraught relationship with New York City," said Lis Smith, a Democratic consultant who worked for Martin O'Malley this cycle and has also worked in city politics. "In both parties, New York City is used as a bogeyman and representative of elitism and big money."
Yet here we are, with two candidates hailing from New York, inexorably tied to elitism and big money. It's only fitting that we have this New York moment (the first in 72 years, since Franklin Roosevelt vs. Thomas Dewey) in the year America fell in love again with Alexander Hamilton and his eponymous musical, which promises us that in New York you can be a new man—or woman. You can shed your skin as a poor orphan and become a founding father. You can leave behind your tacky towers and direct-mail steaks—or your Midwestern accent and Arkansas affectation—and become an unprecedented presidential candidate.
Maybe the best way to break down the different New Yorks the candidates represent is to consider where in the city they had the most support. Unsurprisingly, Trump got his highest share of primary votes in a pair of neighborhoods on the South Shore of Staten Island, where he won an astounding 87 percent of the vote. For Clinton, it was the Upper East Side, where she took 80 percent of the vote against Bernie Sanders.
"Is it because of the spray tan?" joked Joe Borelli, a Republican city councilman from Staten Island and prominent Trump supporter in a city where they are outnumbered.
Before we continue, a disclaimer. As readers undoubtedly know by now, this newspaper and Observer Media is owned by Trump's son-in-law, Jared Kushner. On a less consequential note, this writer was born and raised on the South Shore of Staten Island, a place where I also spent several years covering local politics.
It is no wonder that Trump excelled on the South Shore, one of the strongest bastions of New York City's white ethnic middle class. Staten Island is a place where being brash—and where complaining that you are not receiving enough attention—is a badge of honor. Its people, especially its white men, have been devastated by the opioid epidemic. It is the kind of place where you won't find much diversity at the golf club (or anywhere), and you won't find people complaining about that. It tried to secede during the reign of the city's first black mayor, but gave up on it when Rudy Giuliani was elected. It is home to much of the cast of Jersey Shore and Mob Wives. Trump starred in The Apprentice,and sought to roll out his vice presidential pick with the fanfare of a rose ceremony on The Bachelor. He is the reality show candidate for the reality show borough.
"Staten Island is the most middle-class of the five boroughs, and his popularity, we know just demographically, is strongest amongst middle-class whites, you know, frankly, and that's primarily the demographic makeup of Staten Island," Borelli said. "He definitely has some blue-collar braggadocio that certainly resonates with a lot of New Yorkers."
As a past owner of The New York Post and a real estate developer, Peter Kalikow knows a bit about the New York (and Donald Trump) je ne sais quoi, and offered an explanation of why he appeals to some New Yorkers.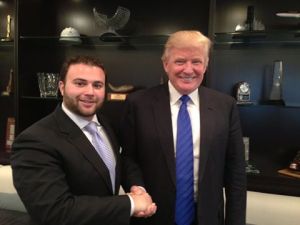 "The ones that I know like him because he's like us, you know," Kalikow, who originally supported John Kasich, said. "I like that the two most exciting guys in the presidential race were from Queens and Brooklyn," he continued, referring to Sanders. "I'm from Queens and I get exactly what he's doing—he's aggressive, he's hardworking and he's relentless. But remember: he'll be doing that for the people of the United States if he becomes president."
Like Trump, Kalikow grew up on Queens construction sites. It's no surprise to him that people describe Trump as a blue-collar billionaire—even though he came from money.
"I didn't really see that until I went to one of his first rallies," Kalikow said. "He gets it. He connects with them. They all think he's speaking to them."
Trump's rhetoric about immigration has been derided as racist; he has traded in imagery widely seen as anti-Semitic. But Kalikow and other supporters see a man who speaks his mind.
"It's what he is, you know, you can't change who you are. And he's honest. He's honest in his feelings, and look, you're not going to get 100 percent of the vote," Kalikow said. "But I think there's a lot of people out there that he resonates with."
Ted Cruz was right when he said Donald Trump was emblematic of New York values. He is inescapably a creature of New York, a person who could scarcely exist anywhere else.
"He has been plastering his name on the buildings in New York. He first learned to play the tabloid tango in New York," David Birdsell, dean of the Baruch College School of Public Affairs, said. "He is so quintessentially a creature of the city."
So how did he end up leading a party that seems to harbor such open disdain for his hometown?
"It's disdain mixed with envy," Birdsell posited. "And to a certain extent, Trump trots out as a badge of honor many of the things that some people disdain about some aspects of New York—the crassness, the materialism, the arriviste mentality that Trump trumpets more than anyone I can think of."
Trump himself is unabashed about his fondness for the city. When he spoke at the state Republican gala in April-, he surprised many in attendance by spending most of the time talking not about politics, but about the city—about real estate, rebuilding Wollman Rink in the 1980s, and the city's values.
"When we talk about values, what do we see in New York values?" Trump asked then. "Honesty and straight talk. It's a work ethic: hardworking people. New York—believe it—is about family. It's about the energy to get things done."
If that is Donald Trump's New York, then what is Hillary Clinton's?
She excelled most in New York City on the Upper East Side, a district more specifically called "Upper East Side-Carnegie Hall." How do you get there? Practice! And practice she has—she's tried this before, but must believe in her bones that this is her moment. The Upper East Side is full of old money, home of the entitled but egalitarian classes—people heading out to see a symphony, to staid cocktail parties and summers in the Hamptons. A place where maybe people have made a little too much money off of Wall Street. It's home to people who have access to all those things but somehow still feel like money is tight—even though they live just a couple subway stops from others who cannot dream of affording their lifestyle. But many of those people support her: blacks and Hispanics, immigrants and others who were born somewhere else, strivers who came here to get ahead. She's not a native New Yorker. She does not have Bernie Sanders' Brooklyn accent. But he left. She moved here, ran for office and won, and there was no looking back.
Hillary Clinton is the candidate of the climbers who moved to New York City to chase their dreams, minus the lousy studio apartment.
"I'm a transplant here, too. I'm not from New York City originally," said Clinton surrogate Melissa Mark-Viverito, the City Council speaker, a native of Puerto Rico. "But New York's ideals are ones of diversity: an immigrant city, welcome to everyone, where everyone gets a fair shot to do their best. She believes in diversity, the value of respecting diversity…Those are things that she wants to continue to promote, especially in this very divisive time, that's a message of unity."
Mark-Viverito has frequently compared that message with the one coming from Trump, calling it "embarrassing" and "divisive."
"She talks always about the potential we have, the aspirations we have, talking in a very positive light," she said. "His messages are very much catering to the lowest denominator."
Congresswoman Carolyn Maloney represents the Upper East Side neighborhood where Clinton was so popular—and she too is a transplant, from North Carolina, with just a hint of a Southern accent lurking in her voice. In Clinton, she sees yet another New York storyline.
"New York, in so many ways, is the birthplace of the women's rights movement," Maloney said. "So it's fitting that a New Yorker, even an adopted one, is going to be the first woman ever to be the nominee in the history of a major political party."
Clinton has worked to appeal to the city and state before, when she became a senator in 2000—and the fact she was new in town didn't seem to matter when she cruised to victory. Maloney pointed to her local legacy when asked why she thought Clinton had done so well on the Upper East Side—saying Clinton worked hard with her on the recovery efforts after September 11, 2001, including the Zadroga Act. (Maloney also gave herself some credit for campaigning so hard in the district: she held both the first Ready for Hillary event and the last one.)
"I think that the Upper East Side is very focused on substance and focused on results," Maloney said. "And she's a person who not only works hard, she gets results."
The candidate herself echoed those storylines—in her Brooklyn speech after clinching the nomination, she said the road to her victory had begun "right here in New York, a place called Seneca Falls." Earlier in the year, when she won the New York primary, she took it as a moment to highlight firemen from the South Bronx and single mothers from Staten Island.
"New Yorkers and Americans speak every language, follow every faith, hail from every continent. Our diversity is one of our greatest strengths in the 21st century. Not a weakness," she said, before name-checking another politician who moved here to run for office. "As Robert Kennedy, whose Senate seat I was honored to hold, once said, we are a great country, an unselfish country, and a compassionate country."
It's plenty of fun to engage in pop psychology analysis of the candidates as New Yorkers, but does it actually mean anything? Either way, a New Yorker will be in the White House—and that's something you'd think would be good for a city that's been treated shoddily by Washington for decades.
"You have two candidates who nominally claim New York as their home base—in Donald Trump's case still his actual residence—and the urban agenda is nowhere," Birdsell said, who later called that absence "an affront to common sense and to the agenda we need."
But those who support the two candidates are hopeful. Kalikow said he'd been frustrated by the way Democrats had claimed urban issues for themselves.
"It doesn't belong to the Democrats. They get it because we've never had a guy who has been on the subway," Kalikow said. "We've got a guy who has been on the subway."
Maloney argued New Yorkers would do well—and noted the city had also produced Sanders. (She was even pretty kind to fellow New Yorker Trump, saying he and his buildings exude "New York's can-do spirit.")
"Any way you look at it, whoever wins, they will have a deep understanding and a deep caring of the concerns of New York—they will, both of them, all three of them. They all come from the city and understand the city and have been part of the city," Maloney said.
There is another consideration for the city's political establishment, one most of them are probably more concerned about than actual matters of policy—whether they'll get any of the limelight at the respective conventions.
That conversation had been a bit quieter on the Republican side, with the dearth of elected officials who have committed to showing up to Trump's RNC a well-trod topic.
"That's not a New York problem," Fordham political science professor Christina Greer said. "He's having a real problem getting people to even want to be associated with him."
Evan Siegfried, a Republican consultant and author of GOP GPS, a book on how the party can attract millennial voters, said he wouldn't be going to the convention—and joked he'd vote "for the sweet meteor of death" that recently polled well in his age group. He argued New York politicians wouldn't show up big for Trump, who actually lost Manhattan to Kasich in the primary.
"New York personalities are people who are successful, and this is a man who is arguably not—he's just been able to outrun debt collectors and make other people pay for his mistakes," Siegfried said.
But Borelli, the Staten Island councilman, argued the no-shows had been over-hyped.
"I think that because of the divisions of the primary season this year, people who have elected not to go have seen a greater prominence than in past years," Borelli said. "There's still a great desire for young Republican House members to be chosen as speakers, young Republican governors, senators. You still are on the world stage at this point."
Many New Yorkers have come around to Trump, including most of the state's GOP congressional delegation. Ahead of the New York primary, Giuliani said he'd vote for Trump, but wouldn't endorse him. But on the first night of the convention, he delivered a fiery speech in support of Trump that whipped the crowd into a frenzy. The state GOP party, led by Ed Cox, declined to endorse Trump ahead of his hometown primary-—but now they enjoy front-row seats in Cleveland, and Cox notes he was the first party chair in the country to back Trump.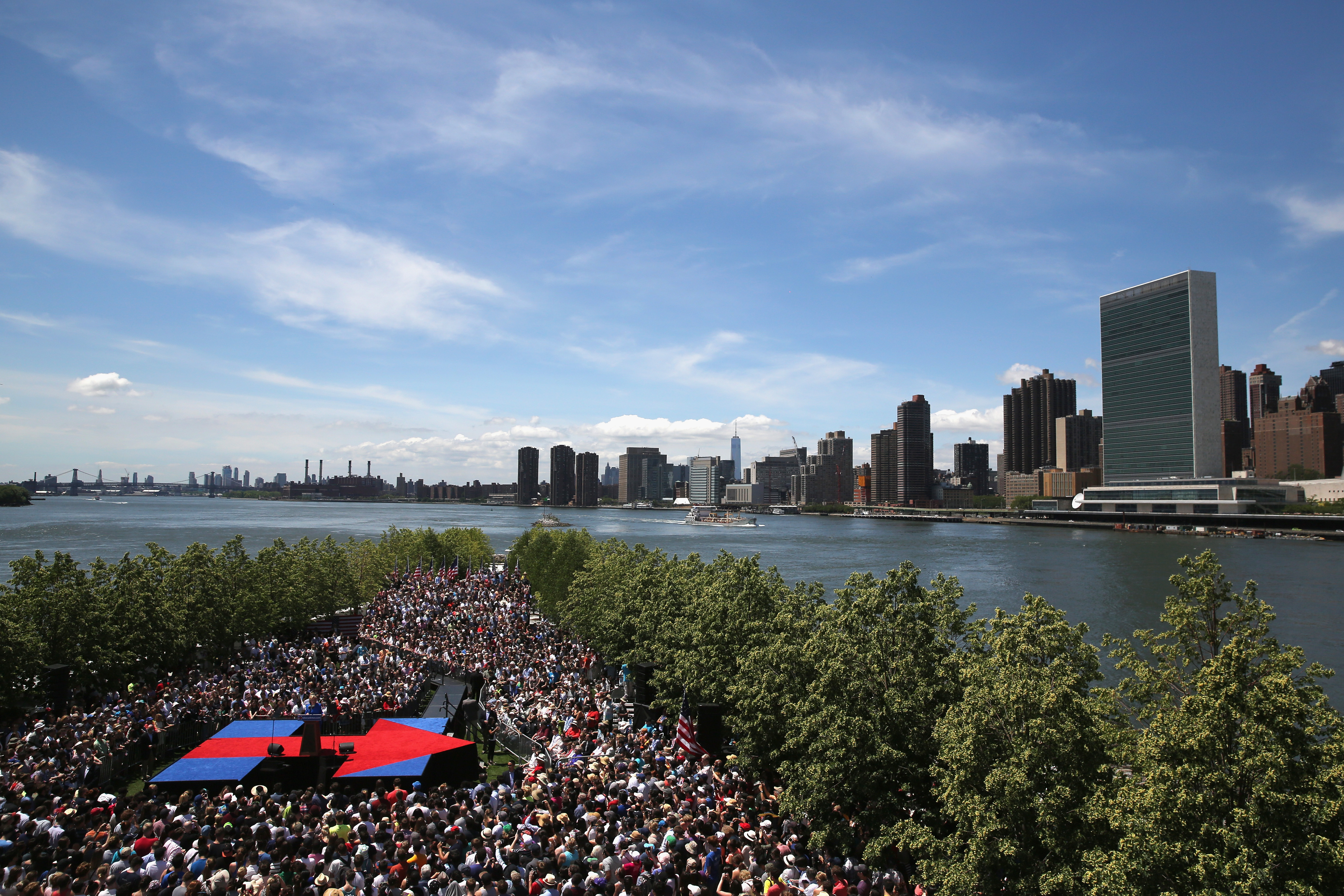 On the Democratic side there is sure to be plenty of elbowing to get a prime spot to speak. At the top of the local food chain is Sen. Charles Schumer, sure to garner plenty of attention—he's never seen a camera he didn't want to stand in front of, after all—and certain to wield plenty of power for the city no matter which New Yorker wins the White House. If, as expected, Democrats recoup the Senate in November, Schumer will be majority leader.
While Schumer's status is all but assured, scrappier pols are not throwing away their shot, either. After all, there are legacies to uphold: Gov. Andrew Cuomo's father, Mario Cuomo, made his national mark with a DNC speech, and he said this week he expects to speak. And there are feuds to maintain, too: Cuomo and Mayor Bill de Blasio, both Democrats supporting Clinton, seem hell-bent on outdoing each other.
But Smith—who worked for de Blasio's campaign before departing amid news of her then-relationship with Gov. Eliot Spitzer—said she didn't expect either Cuomo or de Blasio to get a prime spot at the convention. (This is particularly true for the latter, who infuriated Clinton World by dragging out his not-so-coveted endorsement for months.)
There were a handful of New Yorkers who Smith believed might get big roles in the campaign: among them, Harlem's next congressman and a prior client of Smith's, Adriano Espaillat, who came to the U.S. undocumented, could build inroads with Dominican voters, and would represent "the ultimate 'F you' to Donald Trump," as Smith put it.
But the best money, perhaps, is on Mark-Viverito, who is already planning to stump for Clinton in Florida this summer and spoke to the Observer last week from a car bringing her to—where else?—Philadelphia, to—what else?—appear at a Clinton event.
"Listen, I want to contribute in whatever way I can. I have made myself completely available," Mark-Viverito said coyly of the conventions. "If it happens to be a speaking role, that would be obviously pretty amazing. But it's whatever the candidate or the convention needs of me, and I'm there."
Let the speculation about what speaking slot she'll get—and whether the city's other pols will feel irredeemably snubbed—begin. Who among the city's press corps can resist local angles in a campaign season like this one?
"You can call this election many things," Maloney said, "but one thing you cannot call it is boring."
The same could be said of New York.