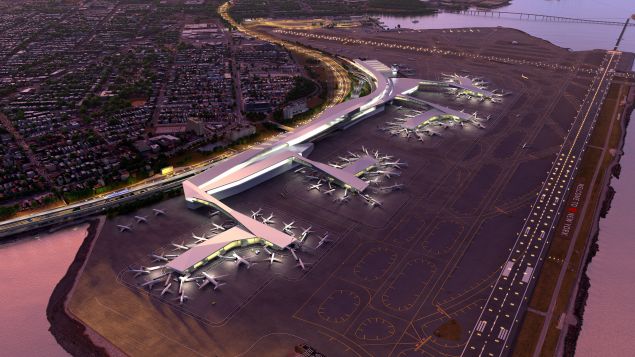 CLEVELAND—Donald Trump apparently plans to use Vice President Joe Biden's famous jab at the dilapidated state of LaGuardia Airport as part of a lengthy jeremiad against the current administration—even though the federal government has committed to help finance the $4.2 billion demolition and rebuilding of the Queens plane terminal.
Correct the Record, a pro-Hillary Clinton political action committee, did the media the favor of leaking the entirety of his speech before the evening convention ceremonies began. And lodged in the first half, amid all the allegations about ubiquitous American decline, was a seeming allusion to Biden's 2014 diss of the 70-plus-year-old facility.
"President Obama has doubled our national debt to more than $19 trillion, and growing. Yet, what do we have to show for it? Our roads and bridges are falling apart, our airports are in Third World condition, and forty-three million Americans are on food stamps," the script reads.
The comment closely echoes the Democratic vice president's 2014 assessment of LaGuardia.
"If I blindfolded someone and took him at 2 o'clock in the morning into the airport in Hong Kong and said, 'where do you think you are?' He'd say, 'this must be America. It's a modern airport,'" Biden said at an event in Philadelphia. "If I took you and blindfolded you and took you to LaGuardia Airport in New York, you'd think, 'I must be in some Third World country."
"I'm not joking," he added at the time.
Ironically, Biden was citing LaGuardia as a example of why America must invest more infrastructure—something Trump himself will call for tonight.
"We will build the roads, highways, bridges, tunnels, airports and the railways of tomorrow. This, in turn, will create millions more jobs," the Queens-born builder's released speech reads, claiming that decreased corporate tax rates and regulation will generate the growth and revenues necessary to underwrite the massive redevelopment program.
Even more ironically, the reconstruction of LaGuardia broke ground last month, and Biden was on site with Gov. Andrew Cuomo. The Federal Aviation Administration has approved a new surcharge on plane tickets that will kick in $1 billion to the rebuilding.
Disclosure: Donald Trump is the father-in-law of Jared Kushner, publisher of Observer Media.