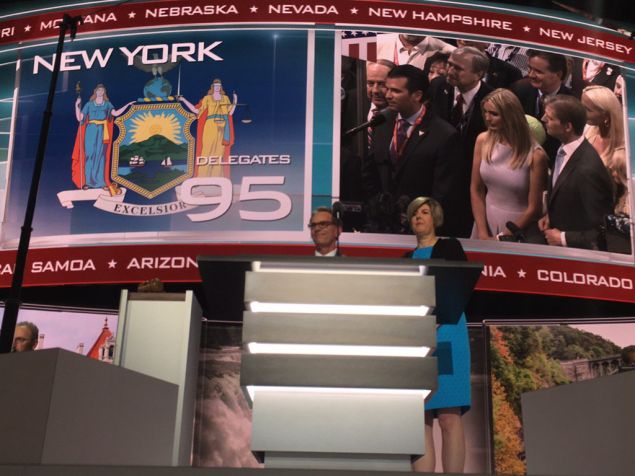 CLEVELAND—Donald Trump Jr. and his siblings got the honor of giving 89 of New York's 95 delegate votes to their father on the floor of the Republican convention in Cleveland—officially pushing him past the 1,237 mark and making him the GOP nominee.
State GOP Chairman Ed Cox passed initially when New York's time came up in the roll call vote for the nominee—waiting until the Trump children could gather around and the state's contribution would clinch the nomination for the Queens-born businessman. Several states later, Pennsylvania deferred to the Empire State, and Cox allowed the eldest Trump son to make a speech and read the roll.
"I've had the incredible honor of not only being part of the ride that's been this election process but to watch as a small fly on the wall what my father has done as part of the movement," he said, surrounded by his many siblings. "Congratulations, Dad! We love you!"
Trump's native state was the first in the country to give him the majority of its votes in April, and left his rivals scrambling on the brink of mathematical elimination.
The public address system began blasting Frank Sinatra's "New York, New York" as the screens flashed the words "over the top" and the crowd exploded in applause.
Ironically, Ivanka and Eric Trump—who stood beside their brother as he read the roll call—did not change their voter registration from "unaffiliated" to Republican in time to cast ballots for their dad in the closed April primary.
Trump Jr. vowed in his speech that "New York will be in play" in November despite its near-three decades as a Democratic stronghold. Hillary Clinton received close to double the number of votes in her primary victory than Trump did in his. Even Vermont Sen. Bernie Sanders, the Democratic loser, exceeded the Manhattan developer's performance by almost 240,000 ballots.
But Trump Jr. remained assured that his father's "movement" and the reputation of his glitzy real estate projects would overwhelm even those daunting historical and numerical odds.
"They know when he says he's going to do something he's going to do it. They know when he puts his mind to something, it gets done. Politicians don't do that. Government doesn't do it," he said, claiming people approach him in New York restaurants and tell him, "'We're voting for him because we're sick of the nonsense. We're sick of it.' And these are people who have never voted for a Republican before, but they're going to do it because they know he's going to bring in change."
Other than that, Trump Jr. described the entire experience as "totally surreal."
"I've never done anything bigger than this, that's for sure," he laughed.
Disclosure: Donald Trump is the father-in-law of Jared Kushner, publisher of Observer Media.