Viggo Mortensen is afraid of heights. Or falling. It's one of these, and perhaps both.
The issue came up recently while shooting a scene for his new movie, Captain Fantastic, and he had to play a father leading his brood of six children up a sheer rock face. "I didn't like it very much," he says stoically. But the fear has roots, dating back to more than a half century ago. He was 6, a year before the young Mortensen would be sent off to a remote boarding school in the mountains of Argentina, and he had gone on a camping trip with his father. When his dad took a nap, he took the opportunity to go exploring on his own.
"I climbed this sort of cliff—I am sure it wasn't really very high," recalls Mortensen, standing, the U.K.'s shocking Euro Cup loss to Iceland playing in real time on the muted television. "I was just clambering up. I thought it was really fun. Then I got to the top and I realized how high I was. I freaked out and I was, like, screaming and crying for my dad.  He woke up and had to come and get me down. It was probably not very high but it seemed very big to me then." The fear may even date back further than that. "My mother had had a fear of heights," he says. "It may be hereditary."
Mortensen, 57, is sharing this story—a quintessential moment of childhood vulnerability—in perhaps the least appropriate place to do so. We are in a suite on the 14th floor of the Four Seasons in Beverly Hills, ground zero for Hollywood press junkets. Publicists, journalists, and trays of grilled sandwiches circulate around us.
"This is the first time in a very long time that I've been sent to a fancy hotel to do a press junket," says Mortensen, trying in vain to keep his discomfort under wraps. "I've already done, like, I don't know how many hundred interviews in the last two days. But it's a nice, kind of unreal feeling to be here."
Out of place doesn't even begin to cover it. Meeting the Madrid-based poet, actor, photographer, editor and publisher in this place and under these circumstances feels something akin to encountering an albino bison in a veal pen. He seems to be a soul meant to wander the earth in search of universal truth, not discuss Hobbit movies over canapés with journalists. More than most any other actor of the last 30 years—his career kicked off in '85 with a small part in Peter Weir's Witness—Mortensen has avoided scenes like this one.
"Doesn't everyone?" he asks. Well, unfortunately, no.
***
After years of bringing an off-kilter intelligence and unclassifiable intensity to featured roles in such Hollywood product as Crimson Tide, G.I. Jane and A Perfect Murder, Mortensen stumbled upon superstardom when Stuart Townsend, the actor, Wally Pipp-ed him the role of the ranger Aragorn in the Lord of the Rings trilogy. He took the role in large part because Henry, his then 11-year-old son with ex-wife and X singer Exene Cervenka, loved the Tolkien books so much.
While the three films, especially the CGI-overstuffed second and third, have never been among Mortensen's personal favorites in his filmography, he has made inspired use of the lifestyle the worldwide mega-hits have afforded him. He started Perceval Press, the fine arts publishing company that he still oversees with exacting attention. (The only personal effects of Mortensen's on this side of the suite were the PowerBook on which he edits manuscripts; it was tucked under a copy of the latest Progressive.) He was able to move to Madrid to live with his girlfriend, the actress Ariadna Gil, five years ago. And he was able to say no to movies like Man of Steel—he would have played Zod—and Snow White and the Huntsman, among many, many others.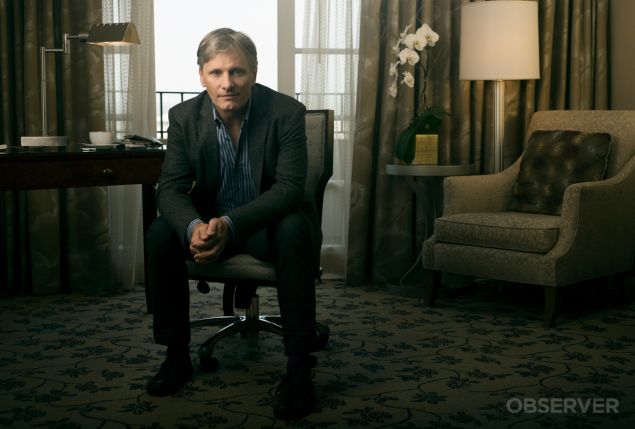 Instead, the baker's dozen films he has said yes to since exiting Middle Earth reflect his disposition and curiosities, perhaps just as much as the eclectic list of books—from poetry by the late L.A.-poetry-scene-stalwart Scott Wannberg to a photo book of Russian crime tattoos—that he has published with Perceval.
2004's Hidalgo showcased his kinship with horses. You can see his home base and international bent in 2006's Alatriste and 2014's Jauja, both Spanish language films—that being one of five languages he speaks. (He has said that learning Elvish was one of the highlights of his Lord of the Rings experience.) His love of collaboration can be seen in the three remarkable movies he made with David Cronenberg. Mortensen's pairing with the Canadian director resulted in perhaps the most artistically successful and underappreciated actor-director three-peat in recent memory: 2005's A History of Violence, 2007's Eastern Promises, for which he received an Academy Award nomination, and 2011's A Dangerous Method, in which he played Sigmund Freud.
"I don't really look at movies in terms of where they come from," says Mortensen. "Like, what is it? Is it a studio movie? Is it an American movie? What genre is it? Am I going to get paid or not? What language is it in? I just don't look at things that way. I'm trying to find stories that I think are original and compelling and personal to me. I mean, everybody's different; everybody has different tastes. But for me if it's a story that I think could be great, and if there's a chance for me to do well in it, I'll do it. That way, even if it doesn't turn out well, the concept was good and we tried. At least I know I could watch it 10, 15 years from now and not go, 'Obviously that was crap.'"
Adds Mortensen, who also walked away from the Wolverine role in the X-Men franchise, "You don't know where that kind of instinct is going to take you, but it's not that I am trying to avoid any kind of genre or any kind of budget."
***
"He looked perfectly natural and happy and fine up there," says Captain Fantastic writer-director Matt Ross when told of Mortensen's terror during the mountain climbing scene. "He kept it all to himself. I remember he didn't want to come down for lunch. He would say, 'I am fine. I'm fine,' I had no idea."
With Ross, a prolific actor who currently plays Hooli CEO Gavin Belson on Silicon Valley and was in the 1998 Whit Stillman movie The Last Days of Disco, Mortensen may just have found his next great collaborator after Cronenberg.
Captain Fantastic stars Mortensen as Ben Cash, the surviving half of a couple who has utterly rejected capitalist society, deciding to raise their children in the wilds of Washington State on the food they hunt and the classic literature they consume night and day. The brood's leftist, utopian ideal—not only do the kids speak multiple languages, including Esperanto, but they celebrate Noam Chomsky's birthday in lieu of Christmas—is threatened when they have return to proper society for the funeral of their matriarch.
With his Jeremiah Johnson mane and quiet yet ferocious intellect and moral integrity—not to mention his gentleness with the young cast—Cash seems on the surface to be the most Viggo Mortensen-ish of all Viggo Mortensen roles. In truth, Ross initially conceived of the role quite differently than Mortensen played it.
"As written, the role was maybe a little more kinetic," says Ross, whose film was one of the best reviewed to appear at this year's Sundance Film Festival. "It had more sparkle and an insouciant quality. Viggo brought his own quiet gravitas and integrity to it. They were qualities that were always in the role, I just hadn't envisioned it quite the way he interpreted it. But what was surprising to me about working with him is that I could never catch him acting. He doesn't have any false moments."
In keeping with the other projects he has embarked upon since his Lord of the Rings windfall, Captain Fantastic is personal to Mortensen, echoing his journey both as a child and as a father. Like the Cash children, Mortensen and his younger brothers Walter and Charles had singular childhoods. He was born in New York City and raised in Buenos Aires and rural Argentina, where his Danish father, Viggo Sr., was an agriculture manager. When he was 11, he and his brothers moved with their American mother to upstate New York after their parents divorced. At the time, the boys only spoke Spanish.
By playing the world's most bizarrely devoted dad, Mortensen is also revisiting his parenthood as well. After all, he did spend the bulk of Henry's teen years in far off New Zealand, helping to turn his son's favorite books into movie magic.
"I started thinking it's also an interesting exercise as a parent to say, what if I devoted every single second to the best possible forming of my children, giving all my attention to give them a best possible start I could?" says Mortensen of his attraction to the Captain Fantastic script. "What if you gave them a start that was intellectual in every way, that encouraged open discourse? What if I really walk-the-talk in terms of not being a 'no, because I said so' dad, but being 'I don't think so and let me explain why and then I'd love to hear if you know differently?' It takes time and energy to be that second dad. That's the kind of dad this guy is."
Mortensen—Hollywood's most outspoken Dennis Kucinich supporter in 2008— shares a similar political viewpoint as his character. Still, it was important to him that the film not be a progressive polemic.
"You think at first, this movie is going to be some kind of liberal utopian fantasy," says Mortensen, whose character's political and societal opposite number in the film is his wife's disapproving father, played by The Father's Frank Langella. "But one would be mistaken. I guess if I were a conservative person, I would have figured okay, great, the enemy is going to be all people like me. And then you realize after awhile, it's not like that. Actually, our lifestyle choice isn't condoned. It's not condemned either. Neither is their grandparents' way of life. It's much more gratifyingly layered, profound and complex than that."
For Mortensen, Captain Fantastic is a film of the political moment, even if it is not a political film per se. He sees it as cut from the same cloth as canonized '70s films like Taxi Driver and Network, or even his own more recent collaborations with Cronenberg. And he is not wrong.
"This film talks to, indirectly, a communication problem that I think we have in the U.S.," says Mortensen, who dressed the Cash compound with many of his own books and objects from his home. "You hear it echoed by political campaigns, and the media feeds it, but it's not all invented. It's actually based on the reality that people are polarized. People are not talking to each other based on things like religion and race, and that's a real problem. That leads to things like Britain exiting the European Union."
Suddenly, Mortensen flashes on a connection to Captain Fantastic. "Jesus, they're isolating themselves in a way like the Cash family is in the woods!" he exclaims. "Yeah, they want to take care of their own thing and be authentic but what happens when you're not talking to the other people in the world? A few years from now, this film will feel like a movie very much of this time."
***
The truth is, despite the rugged outdoorsiness he displays on screen, Mortensen is built more for intellectual pursuits than physical ones. (That said, his full-frontal nude scene in the film puts an entirely new spin on the term "dad bod.") He gives the vibe of an individual who much prefers a stroll to a hike, and might even take this hotel full of movie industry functionaries over a night on the cold hard ground. Might.
Before the next journalist tumbles in, I asked him what he'll make a point of doing during his brief stay in Los Angeles, a city in which he once lived and blazed a bright trail. His answer is alternately low key and more romantic, in the Wordsworth-sense of the word, then anyone should ever be when talking about a hot, overcast Los Angeles June.
"I like to go to the movies. So if there's an opportunity, I'll do that," says Mortensen, as if seeing a movie while on a junket were some sort of caper. "I like to just walk around and see a different environment. I've always loved trees and plants.  I just like to walk around and see what's growing and see what's happening."