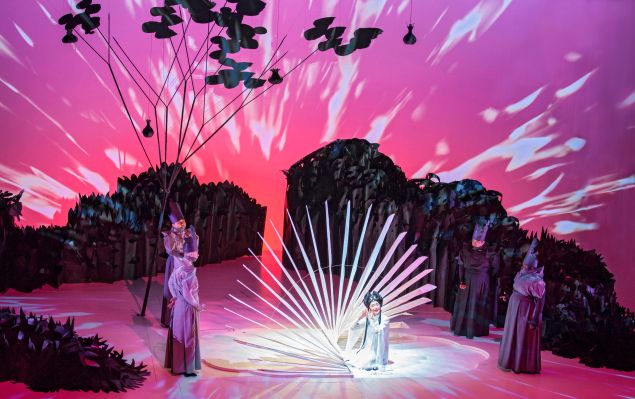 Traditional Chinese Kunqu opera is a tough sell for new audiences. Productions can span over 20 hours and minimal props and setting offer little help in understanding the story. But when is a challenge too challenging? Is that why art forms die?
Visual artist Jennifer Wen Ma embarked on a reinterpretation of the form four years ago. She was organizing a public program at Beijing's Ullens Center for Contemporary Art around her massive installation—a 60-foot long, six-ton hanging garden of live plants painted with Mo, or Chinese ink. Alongside the work, Ma wanted to direct an excerpt of The Peony Pavilion, an epic Chinese Kunqu opera.
"Let's just deconstruct it a little bit, we don't have to do it so traditional," Ma told the performers. "Let's simplify some of the gestures, some of the movements." One woman pushed back, telling her the work was already perfect, that she could not alter a single gesture or step.
Ma speaks passionately against this attitude. "Well that's why it's dead, you know! If you don't let art evolve, well of course it's just a museum piece… if you don't reinvent…even reinterpret to make it relevant for today, then it just becomes a dinosaur."
Shortly after the incident, Ma began working on an opera, Paradise Interrupted (she's credited as both a librettist and director/designer), which previewed at the Temple of Dendur at the Metropolitan Museum of Art in 2015 and at the Spoleto Festival in Charleston, S.C., later that year. This week, the production is running at the Lincoln Center Festival and has already garnered rave reviews. Ma and her team are taking the project to Singapore in August, and then to Taiwan. They're receiving interest from Europe and China as well. For the latter, Ma is cautious in choosing a venue. The Chinese singer Qian Yi, who plays the opera's main role of The Woman, has not performed in the country since 1999. She was banned for years. "It's a big comeback for her," said Ma. "She's a legend there."
Needless to say, Paradise Interrupted is anything but a dinosaur. Exploring themes of sexuality and individuality, and employing projections and 3-D printed objects of Ma's design, the opera infuses an old form with contemporary ideas and technology. Throughout the production, a lavish garden of black paper unfolds and refolds as in a pop-up book. A giant white paper flower emerges from the stage floor. A woman rises from a pool of ink. It's a thrill to watch. You hardly need the libretto, which is also well-crafted.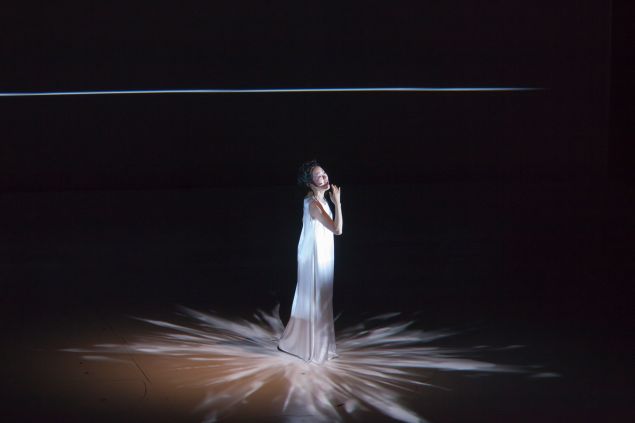 The simple story takes inspiration from both The Peony Pavilion and the story of Eve's expulsion from the Garden of Eden. "The two women have something in common, which is they both have experienced something blissful and euphoric. They are both now without," said Ma. The opera opens with its principal character, The Woman, alone on a dark stage, experiencing the pleasure of a dream. The more she sings, the more light fills the stage. When she awakes, she laments the "paradise" she lost and begins a search to regain it. The Wind calls to her, and she follows him into a garden, where the Elements (four male singers) roam. She seeks fulfillment here but ends up imprisoned within a flower. Eventually The Woman breaks free, the garden disappears, and she recognizes her power to find paradise within herself, particularly in her own voice.
As opposed to the paradise in Milton's poem, Paradise Lost, The Woman's isn't gone forever—just temporarily interrupted, until her epiphany. For the opera's tagline, Ma chose "The story of a woman on a quest for an unattainable ideal in a world activated by her lone voice." As she explains, "everything is birthed from her singing." Light shifts on the stage according to the sounds The Woman makes. Qian Yi is mic'ed so that her voice feeds into a computer, literally altering the scenery.
"I've come late to Chinese opera," Ma said. "My grandparents listened to it when I was young. I was a typical youngster. I turned way from it." It wasn't until she began to work on a project for the 2008 Olympics that she was able to appreciate the form. In particular, she loved its abstract and symbolic gestures and connections to Chinese philosophy. "It's not meant to be a recreation of life," said Ma. "It has to be filtered through the artist's heart and mind, has to offer a transcendent experience. That idea came very early into Chinese culture."
With its fusion of different art forms—writing, singing, dancing and instrumentation—Kunqu opera is "the pinnacle" of Chinese cultural production, according to Ma. In Paradise Interrupted, while one woman discovers the strength and pleasure of her own internal voice, Ma reveals new possibilities within Kunqu opera that lend the form a new, contemporary language and strength as well. It is certainly not "just a museum piece," but a living, vivid variation of one of humanity's oldest stories.
Paradise Interrupted runs through July 16 at the Gerald W. Lynch Theatre.